Taxis in Dushanbe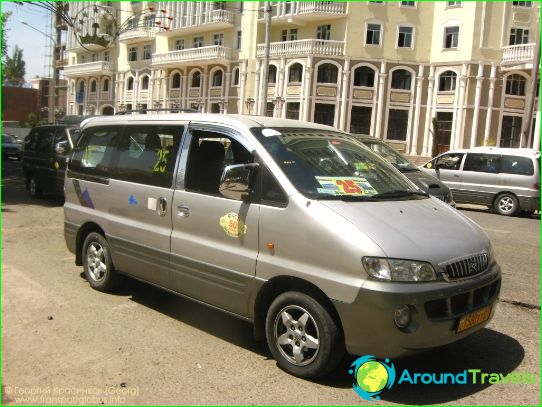 Licensed taxis in Dushanbe - cars with yellow license marks, ready to take its customers anywhere at any time of the day or night.
Taxi services in Dushanbe
Stop the machine can be free on the street show of hands, but you can make an order for the supply of the machine, turning into one of the taxi companies:
"CityTaxi" (available in the taxi park, sedans, and business-class cars with personal drivers and buses): + 992 90 400 44 44;
"Allo Taxi" (famous drivers perfectly knowing the city, who are regularly exposed Pre-trip inspection in medical offices): + 992 37 233 33 33;
"Shitobin": + 992 48 701 95 95;
"AsianExpress": 16, 16.
Girls can use the services ofspecial female taxi (this service provides "Asian Express"). They are very easy to distinguish from the normal taxi - driver in a taxi is a woman, and the car itself is decorated with flowers and butterflies.
Council: the taxi driver to understand where you need to drive, you should write the name and address of the desired location on the paper in the Tajik language. If you decide to name your destination along the street, it is better not to do so, because the drivers are guided not street names, and significant monuments or buildings (Rudaki monument, Opera House).
Important: should not use the services of illegal cabs (often they become parties to the accident, as Illegal drivers lihachat and do not have the required driving experience) - the driver have to be licensed. Another "minus" use private taxis - they are not equipped with meters, and drivers arbitrarily set prices for travel, which are often higher than the tariffs in force in official taxi.
The cost of a taxi in Dushanbe
"How much is a taxi in Dushanbe?" - A question of interest to all travelers in the capital of Tajikistan. To sort out the pricing, should review the tariffs in force in the local taxi:
1 km of track is 2-3 somoni;
the cost of travel on the night tariff costs 40% more expensive on average than in the daytime.
So, for a trip around the city you will pay 5-8somoni and from the airport to the city center - 10-15 somoni. For trips outside the city fare will be calculated as follows: when traveling a distance of 50 km 1 km of track will be charged at the price of $ 2, and a trip to a distance of 51-100 km will cost you $ 1.50 / 1 km. In order to avoid misunderstandings, the driver should be in advance to ask about the price for travel to the desired destination.
You can hire a car with driver, if desired - this service costs about 60 $ / 8 hours.
If you are from those who are accustomed to rely on the convenience, comfort and quality to get around the city you should take advantage of the local taxis.
Photos Taxi in Dushanbe