Traditional cuisine in Tajikistan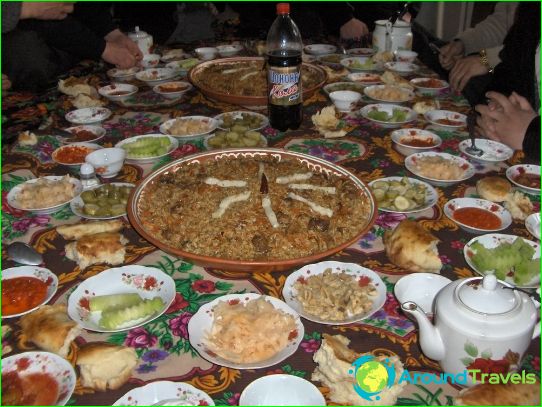 Power in Tajikistan - is not a problem: places where you can eat, meet you at almost every turn. But the richness of choice of dishes depends on the size of the village - the bigger it is, the wider the range. For example, in Dushanbe you will meet a lot of cafes and eateries, offering its visitors a menu with dozens of dishes, while in the Pamir Highway in local tea houses, you can offer just one soup.
Food in Tajikistan
Tajik food ration consists of fruits,vegetables, meat (lamb, goat, beef, poultry, game), rice, beans, soups, baked goods. Tajiks like to spice their dishes anise, saffron, barberry, coriander, zira, parsley, chives, dill.
Tajiks are very fond of flour products: Local women regularly prepare cakes, firewood, Lagman, Finno. To prepare Tajiks pastry dishes using eggs, dairy products, vegetables, herbs, meat. Their favorite food is dumplings, pies with meat (sambusa), various types of noodles with meat (Lagman, Shima).
In Tajikistan, worth a try kebabs; "Kazi"(National horse meat sausage); kabob (a dish of minced meat - lamb); kaurdak (hot in Tajik); shahlet (cabbage rolls in Tajik); pilaf; Soup of lamb or goat meat with vegetables, garlic and basil ( "shurbo").
A sweet tooth, for sure, will appeallocal sweets - halva, firewood, sweet puff pastry, Pichak (traditional sweets), nishallo (mass in the form of a cream, made from whipped egg whites, sugar and soap root).
Where to eat in Tajikistan? At your service:
cafes and restaurants;
fast foods of the Western type, where you can order french fries and hamburgers;
oshhony and teahouse (national table).
Drinks in Tajikistan
Tajiks are popular drinks tea (green, black), shirchoy (milk tea), sorbets (fruit teas with sugar), ayran (yoghurt).
With regard to alcoholic beverages, there are popular vodka, brandy, wine, champagne and beer.
Gastronomic tour in Tajikistan
If you think that the dishes are the same cuisine Tajik cuisine of the peoples of Central and Middle Asia, you should go on a gastronomic tour to Tajikistan, to ensure the return.
Try national dishes you can ina variety of local food establishments, but even better to go on a visit to one of Tajik families (they are friendly to guests of the country). Here you will be served a variety of delicious dishes, and, of course, green tea, which you will be served into a bowl, and also offered to eat fruits, cakes and sweets a bit of sugar with tea.
In Tajikistan, you will not only see the lakeKarakul, Pamir mountain system, healing mineral springs, ancient monuments of Zoroastrianism, but also taste the pilaf (the country has more than 400 recipes for this dish) and other delicious national dishes.
Photos national dishes Tajikistan