Kitchen Tajikistan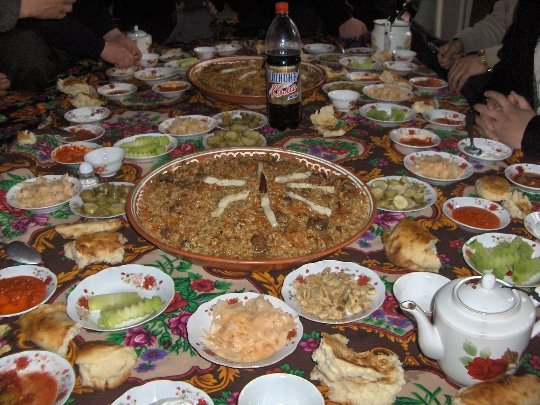 Despite the fact that Tajikistan kitchen has similarities with the gastronomic traditions of the peoples of Central and Middle Asia, it is colorful and unique.
National cuisine of Tajikistan
Basis Tajik cuisine - meat dishes,preparing from horsemeat, lamb, goat meat. Individual attention, the first dishes - to cook their meat or touch using the broth, at least - milk or vegetable broth. So, you can try "Naryn" (soup with smoked horse meat or mutton, noodles, peppers and onions) or "Siauliai" (soup, which is added to the rice, onions, lamb, carrots, peppers).
It should be noted that the salads and first courses oftendressed with clotted cream, kurute, suzma. As for the spices, local dishes seasoned with barberry, saffron, anise, zira, red pepper and spicy herbs as parsley, Rayhan, cilantro, dill, chives, mint. In Tajikistan before lunch served necessarily vegetable snacks or salads - in the course are squash, eggplant, radishes, tomatoes, peppers, cucumbers, carrots.
Since the complete meal made dessert, youoffered to eat liquid halvah with nuts, almonds, vanilla ifistashkami ( "halvaytar"), the sugar mass with whipped cream and soap root in the form of a cream ( "nishallo"), traditional local sweets ( "Pichak").
Popular dishes Tajik cuisine:
"Oui-tuglama" (dish of rice porridge with boiled mutton, carrots and onions);
"Sambusa barracks" (pies of puff pastry filled with meat);
"Kaurdak" (roast, which is prepared with lamb, potatoes, tomatoes, passaged roots, onions and peppers);
"Shahlet" (Tajik stuffed cabbage).
Where to try Tajik cuisine?
In Tajikistan, many food establishments - theyfound on virtually every corner. Satisfy your hunger in Dushanbe recommended "Amonjon" (in the teahouse of the national dishes offers enjoy barbecue, dumplings and rice, but if you want you can enjoy shisha in a cozy atmosphere) or "Dilkushod" (this teahouse pleases visitors tandyrnymi cakes, lagman prepared according to old recipes, rice, tea, oriental sweets, enchanting music).
Cooking classes in Tajikistan
Cooking classes for those who may be held inone of the institutions of power (in advance specify when and how much they will be carried out). If you are interested in home-Tajik kitchen - take a local resident, an invitation to come for a visit (show interest to the national dish and ask them to participate in the preparation).
Visit Tajikistan possible during the Food Festival (September, Dushanbe), where guests will be able to try dishes from different cuisines of the world, including the Tajik and, at an affordable price.
Photo