Resorts in Tajikistan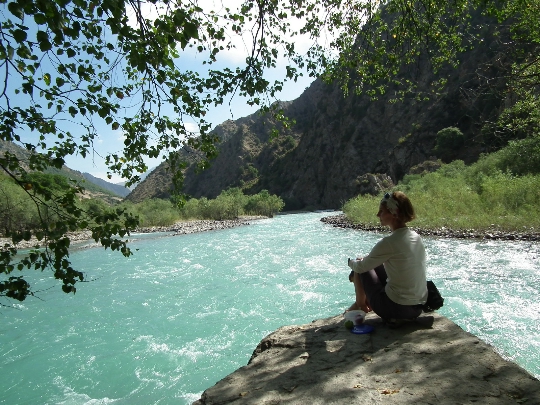 Not too popular tourist destinationfor Russian travelers, Tajikistan, however, is worthy of close attention. It is not only the ancient minarets and architectural attractions that are like gems scattered on the streets of the ancient Tajik cities. In the most mountainous of the CIS countries, there are great places to relax and natural beauty will compete with the amazing hospitality of the locals, so arrange for themselves the priorities and highlight the "most liked" are unlikely to succeed. Fly to Tajikistan resorts at any time of year, but spring and summer provides more opportunities and pleasures.
Water from the mountains of the heart
Located mostly in its territorymountains, Tajikistan is rich in unique natural resources, including - thermal and mineral water. On the local sources are built resorts and sanatoriums, transformed nowadays in the popular resorts of Tajikistan:
"Hot water" - this value is the name of the resortObigarm in motels which are undergoing rehabilitation and treatment of patients with cardiovascular disease. In addition to mineral water in the resort are widely used mud from Muksinabada. Enriched with minerals, they contribute to the recovery of patients with gynecological and rehabilitation of sportsmen after injuries.
Nervous system after stress or especiallya hard working year can be put in order of time, even a short holiday spent in a sanatorium Hatavag. This resort is famous for Tajikistan healing thermal water, healing and dermatitis and other skin diseases.
The resort is spread Shambarov just half an hourof the capital and specialization of local doctors - diseases of the musculoskeletal system and blood vessels. The main curative factor in the resort of Tajikistan - mineral thermal water of local sources, used for baths, applications, massages and other indulgent treatments.
Metabolism and digestion in order to leadZumrad resort. This resort is popular far beyond the borders of Tajikistan and its famous experts in the treatment of male and female infertility gave the resort the opportunity to enter in a list of the best resorts in Central Asia.
Useful things
Before booking the tour to the resorts of Tajikistan should consult a doctor and bring a medical card for the ride.
Going on the road, you should not rely on the use of credit cards - ATMs and terminals, even in the capital is extremely small, and therefore should be reserved cash.
Photo