Trip to Tajikistan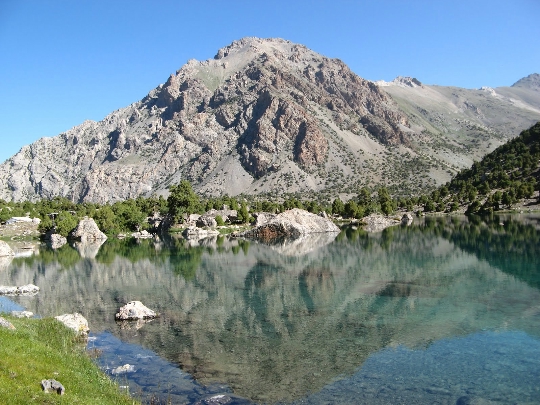 Tajikistan - one of the most interesting countries. Where you can admire the myriad of ancient sites. And if you've always wanted to see the monuments of Zoroastrian civilization, then a trip to Tajikistan will give you that opportunity.
Automobile transport
Almost all transportation in the country is carried out cars. The total length of roads 13 000 kilometers.
Although the road network is quite extensive, but distributedroutes across the country is uneven. The quality of the road depends on the geography and the total number of people living in the area. Better road surfaces can be found in Northern Tajikistan: the territory of the Syrdarya valley; Kulob region; Hissar valley; Vakhsh valley. Difficult terrain (mountains) makes it impossible to create a good road surface in · Zarafshan Valley; Gorno-Badakhshan. But difficult climate, despite the good quality of the coating does not allow to enjoy all year round the following highways: Kalayhum - Khorog; Dushanbe - Ayni. These roads are open only six months a year. Major highways: Kurgan-Tube; Termez; Kulyab; Khujand; Kulma-Karokurum.
Railway transport
The total length of railway lines in all490 kilometers as the difficult terrain does not allow the use of land for railway tracks. The main part of the road is located on the southern part of the country.
Trips are made between states is by rail.
Air traffic
If you need to quickly get to a certain place, it is recommended to use the services of local airlines. The total length of the domestic airlines - 4 800 kilometers.
As a landlocked country, the country is not present, precisely because the country air in communication with the outside world. Obligations of the national carrier has taken the company "Bank"
The airline's fleet is composed aircraftremaining in the country after the departure of "Aeroflot". Daily flights are carried out in the largest Russian cities such as Moscow, Novosibirsk, Samara, Yekaterinburg, and many others. Flights of international importance are made only once a week on the following routes: Dushanbe - Kabul; Dushanbe - Çorlu - Munich; Dushanbe - Tehran; Kulyab - Moscow.
In addition, there are regular flights charter.
Photo