Airports in Bhutan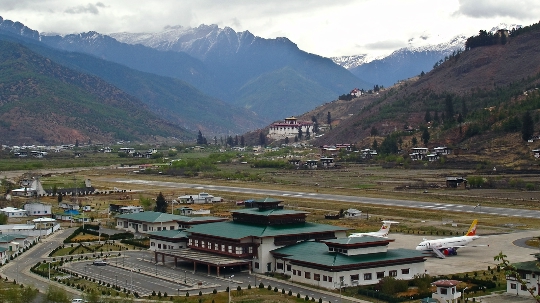 Travel to exotic Bhutan, wedged betweenhuge Himalayan mountains - the company is not cheap, but it's worth it, if you want to be at the margins, which are still a couple of decades ago were virtually isolated from the outside world. Airports Bhutan have no direct connection with the Russian and to get there from Moscow or St. Petersburg can only be with a connection in Delhi, Bangkok, Mumbai or Kathmandu. Total time in the air around 9 hours excluding grafting.
The international airport of Bhutan
The only airport in the country, has the right to take international flights, is located in the west of Bhutan. The city where the airport is located, called Paro, and has the same name and air harbor.
Airport in Bhutan Paro can rightlycalled high-altitude - it is built at around 2,230 meters above sea level. These air gateway to the Himalayas are considered one of the most complex object in the world for pilots, because they surround-five thousand meters peaks.
How it all began
Runway in the valley of Paro in Bhutanwas built in 1968 and was first used for helicopter operations, the Government of Bhutan. Length "Vzletka" was originally only 1200 meters and the airport could not take large airplanes.
Work on the reconstruction of the airport in Bhutanallowed to lengthen the runway to 1964 meters, which made it possible to take a class here board the Airbus-319. The passenger terminal was put into operation in 1999, and uses it to two hundred thousand people each year.
Only when visibility conditions
Difficult to operate in Bhutan and the airport makesthe country's climate. Due to the frequent fog and precipitation at high altitude Paro operates only during daylight hours. Its sole runway is not designed to accommodate extra large jumbo jets and flying here because performing a limited number of flights:
The sides of the national airline of Bhutan companies Drukair regularly fly to India, Thailand, Nepal and Bangladesh.
Nepalese airline Buddha Air sends its planes to Bhutan from Kathmandu airport.
Transfer from the airport to the city are available at the hotel or take a taxi. The passenger terminal and Paro center shared by only six kilometers away.
Spare airfields
In addition to the international airport in the country of Bhutanthere are three airport whose activities are suspended or not started so far. Airports Yongphulla, Bathpalathang and Gelephu have runways with asphalt, but according to the passengers service for 2015.
Photo