Airports in Guadeloupe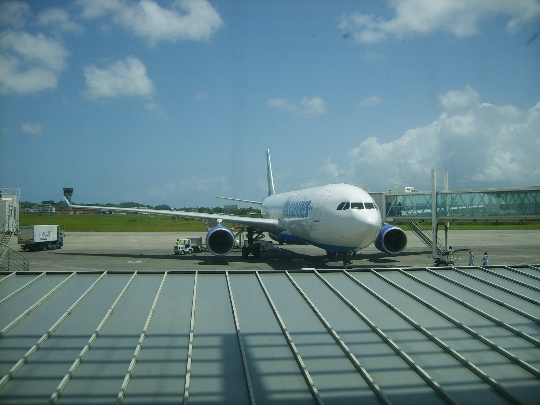 French overseas department in the eastern partCaribbean, Guadeloupe is famous for its white sand beaches and colorful noisy carnival, passing the islands in January and February. At the direction of Russian tourists is not too popular, but sometimes at the airport in Guadeloupe is still possible to meet compatriots prefer the romance of semi-wild beaches.
Getting to Guadeloupe easiest way to transfer inParis. Total travel time from Moscow to Pointe-a-Pitre will be about 13 hours, excluding docking. The city in which the Guadeloupe airport - the largest not only in the country but in the whole of the French West Indies. Its population is thus at least 30 thousand people!
The international airport in Guadeloupe
Air Gates overseas department of Francelocated less than three kilometers north-east of Pointe-a-Pitre. The only international airport in Guadeloupe is home to Air Caraibes and Air Antilles Express airline aircraft. In addition, there are permanently stationed two Airbus A320 from Air Franse, intended for the implementation of regional flights. Despite the small size of the city and the state, Guadeloupe Airport serves annually to 2.5 million. Passengers and takes the second place in popularity in the region of the Lesser Antilles.
Past and Present
Airport on the island of Grande-Terre was built in 1966year. Its runway has a length of 3125 meters and is able to take such a big side like the A380. Among the regular visitors to the airport Pointe-a-Pitre - and well-known in the Western Hemisphere air carriers and European companies:
Air Canada from Toronto.
American Airlines and American Eagle, flying from Miami.
CorsAir International, delivering passengers from Paris Orly airport.
Norwegian Air Shuttle, the budget company operating seasonal flights to the Caribbean from Scandinavia through Baltimore, Boston and New York.
Air France, whose side followed from Paris. Accredited at the airport Guadeloupe aircraft carrier that can deliver passengers to Haiti in Cayenne, French Guiana, and Fort-de-France on the island of Martinique.
Servicios Aereos Profesionales connect Guadeloupe with Punta Cana in the Dominican Republic.
WinAir Aircraft flying to Dominica.
LIAT will move to Antigua and Barbados.
Transfer of a single passenger terminal is possible by taxi. A popular tourist destination service for their meeting at the airport and practiced hotels in Guadeloupe.
Dispersal field
Guadeloupe airport on the island of San BarthelemyIt serves passengers of regional flights, and from it you can fly only on Antigua, St. Martin and Pointe-a-Pitre. Aircraft that are capable of receiving this air harbor, carrying not more than 20 people.
"Vzletka" their airport. Gustav III ends right on the beach, which is not uncommon in the Caribbean. This is a small airport in Guadeloupe is among the five most dangerous in the world.
Photo