Airports in Laos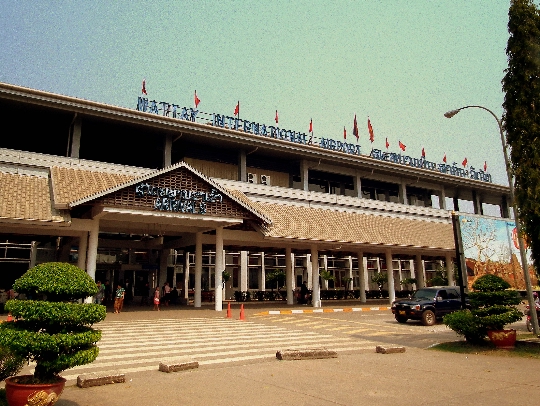 A dozen more airports in LaosThey resemble small airfields, in which even the runway is "betonku" or altogether grass field. The only serious air port is located in Vientiane. The city where the airport is located, - the capital of the country, and this is where all international flights land.
Russian tourists to travel to Vientianeusually choose the flights of "Aeroflot" to Bangkok or Ho Chi Minh City, where transplanted to Thai Airways and Vietnam Airlines airline planes, respectively. Travel time between the capitals of Russia and Laos is about 10 hours, excluding direct.
International Airport in Laos
Wattay Airport is located only 5 km from the centerLaotian capital of the north-west of the country. At the disposal of its passengers - three terminals. Two old - big and small - are taking domestic flights, and the new serving international flights. In addition, the airport is used by Laos and military.
Airlines and destinations
Basic airline of the country - Lao Airlines,fulfilling both domestic flights and international flights. Her schedule has flights to the airports of Bangkok, Busan, Danang, Guangzhou, Hanoi, Ho Chi Minh City, Kunming, Phnom Penh, Siem Reap, Seoul, Singapore. In addition to Cambodia, China, Vietnam and Korea aircraft Lao Airlines regularly sent to all parts of Laos and deliver passengers to Huasay, Luang Prabang, Oudomxay, Pakse, Savannakhet and Siaburi.
Foreign air carriers are represented by a small list, but it will be easy to reach from the airport in Laos to neighboring countries:
Air Asia operate regular flights to the capital of Kuala Lumpur, Malaysia.
Board Bangkok Airways fly to the international airport of the capital of Thailand.
Cambodia Angkor Air connects Vientiane to Phnom Penh, not only, but also with Hanoi.
China Eastern Airlines flies to Kunming and Nanning.
Jin Air transports passengers to the capital of South Korea, Seoul.
Aircraft flying Thai Airways to Bangkok.
Vietnam Airlines to help all who wish to be in Hanoi, Ho Chi Minh City and Phnom Penh, Cambodia.
Infrastructure and transfers
It offers international terminal passengersLaos Airport - branch bank and currency exchange, Duty Free shops and post office. Waiting for the flight you can eat and use the internet café to send emails.
Transfer to the city center by taxi and carriedlocal public transport "tuk-tuk". Parking located downstream of the arrival zone. Negotiate with the drivers of any vehicle prices, the best advance.
Details on the airport site - www.vientianeairport.com.
Photo