Airports Vanuatu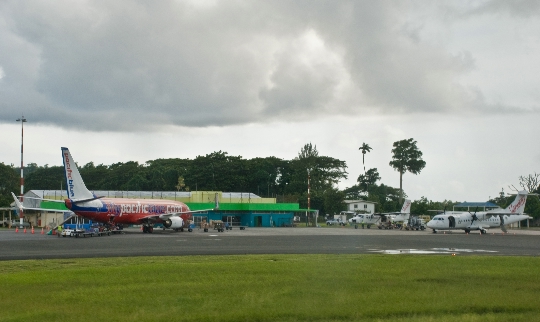 The island nation in the Pacific Oceannortheast of Australia - not the most common direction for Russian travelers. But wealthy tourists are also flying here for the magnificent diving and searching for unique opportunities for fishing, with visa-free entry strongly simplifies border formalities. Direct flights from Moscow to Airports Vanuatu, of course not, and get on the exotic island is via Australia or New Zealand. Flight with multiple docks will take at least 36 hours, but even that does not stop the rest of these fans on the uninhabited Pacific islands.
Vanuatu International Airport
The only international airport in VanuatuIt is not like having a solid status as air gates of the European and world capitals. Its terminal resembles Aboriginal huts erected on the roadside runway near Port Viloy. The city where the airport is located, - the capital of the country on the island of Efate.
Technical details
Despite his almost kind of a toy airportVanuatu is quite able to take aircraft such as the Airbus-330, which uses local airline and Air Vanuatu. She performed two weekly flights to Auckland, three - to Brisbane and daily flights to Sydney. Several times a week from the airport area are made flights of the following air carriers:
Aircalin the capital of New Caledonia, Noumea.
Air New Zeland in the city of Auckland in New Zealand.
Air Niugini Port Moresby, capital of Papua New Guinea.
Air Vanuatu to other airports in Vanuatu.
Fiji Airways in Nadi and Suva in the Fiji Islands.
Solomon Airlines in Honiara in the Solomon Islands.
Virgin Australia in Brisbane in Australia.
Transfer to the city from the international airportVanuatu is not difficult, because the passenger terminal is located on the outskirts of the capital. Taxis are inexpensive and to the other islands and resorts can be reached by commuter planes.
A little history
Construction Vanuatu International AirportIt began in 1942, when the US Navy decided to design and construction of a naval base in the Pacific Islands. Airport built Marines and initially it was called Efatovym field. During the Second World War on the territory of this air harbor deployed several squadrons of US fighters.
Spare airfields
More than 30 airports operating in Vanuatu,the vast majority of whom have no asphalt surface runways. Light aircraft provides a shuttle service to outlying islands and seaplanes interconnected coral atolls.
Photo