Balearic sea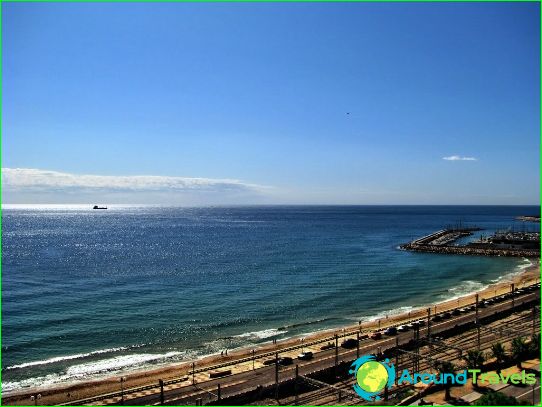 Balearic Sea washes the Iberian Peninsula. From the Mediterranean Sea is separated Balearic Islands. Sea covers an area of ​​about 86 thousand square. km. The most significant depth - 2132 m On average, the Balearic sea depth is 767 m in its waters flow into rivers such as the Júcar, Ebro and Turia...
Balearic Sea, in some cases calledthe area of ​​the Mediterranean Sea to the west of Corsica and Sardinia. But in fact it is less than the water area. Sea territory - is the area between the Balearic Islands and the north-eastern part of the Iberian Peninsula. Map of the Balearic Sea makes it possible to see that the size of its small. The depth decreases from the north-east to south-west. The seabed is covered with silt and sand. Balearic Islands (Minorca, Formentera, Mallorca, Ibiza) are the Spanish province and autonomous community are.
Climatic features
At the sea surface water temperature reaches 12degrees and 25 degrees in winter the summer. The salinity of the water is 38 ppm and is increasing at depth. The sea is considered to be warm, because it is located in the subtropical zone. The area is dominated by Mediterranean vegetation. Almost all year round on the sunny coast, with the exception of the rainy season, which accounts for the winter. Heavy rains are strong but short-lived. The sun shines in the summer to 11 hours a day. On the islands the average annual temperature is 18 degrees.
sea ​​value
Balearic Sea heavily used by people. There are well-developed navigation and fishing. The coast of the Balearic Sea is formed by the spurs of the Iberian and Catalan mountains. They come close to the water very close. Valleys and coves formed through river systems. In the sea there are small bays. The largest islands there is little. The relief of the islands is very diverse: gorges alternate with plains.
Balearic Sea has been mastered for a long time. It has for centuries been a source of seafood and fish for the local population. On its shores lived the Phoenicians and Greeks. The waters in the past thrived piracy. Today, the largest port in the Balearic Sea is considered to be Barcelona. In addition, the city is the port of Valencia, Tarragona, Palma.
On the coast and the Balearic IslandsIt is famous resorts. The environmental situation there is favorable, but some species of marine animals are threatened with extinction. The most popular resorts are Ibiza, Mallorca, Dragonera, Formentera and others.
Photos of the Balearic Sea