The best ski resorts in the world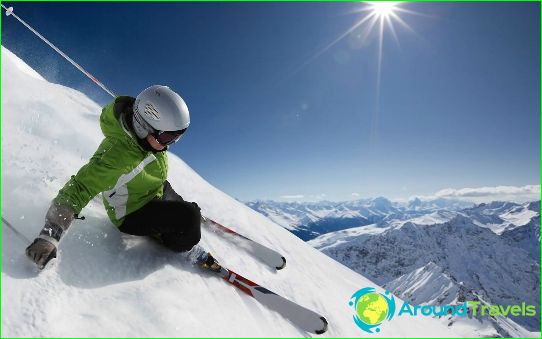 The taste and color, as they say, no friends, andwhat pleases one person may well seem too impressed by his colleague or relative. Ski resorts in the world - is no exception, and attempt to build them in any order of size is doomed to failure. However, you can try a huge list of ski areas to identify those that are appropriate to specific groups of skiers or boarders, and are the best for them.
Available Alpine resorts
It is European alpine resorts traditionallyconsidered the best. Tradition there formed for many decades, and the level of well-groomed trails and technical equipment can hardly be compared with any other on the planet. One problem - the price of the best resorts of the Old World can not be called democratic. And yet there are few places in Europe where you can ride from the heart, without causing appreciable gap budget.
Zell Austria - resort, which includesthe slopes of different levels. Its slopes are suitable for relaxed riding, and the lack of snow on the southern slope of the Hohe Salve offset by snow cannons. The cost of the weekly ski pass - about 230 euros, ski kit rental - 100 euro, private lesson with a coach - 125 euros.
Morzine in France and attracted newcomers, andprofessionals. Local trails are distinguished by unprecedented diversity, and the infrastructure meets all the notions of a mountain village. Ski passes for seven days - 240 euros, and hire a private lesson - to 120 euros.
Activities for the whole family
Skiing is becoming a favorite among differentgenerations, and often on a board or skis tend to get both children and parents. The level of skating with different members of the family, of course, different, but because for them it is important to choose a resort where you can safely engage in their favorite sport. Such resorts should have slopes of various difficulty levels, a snowpark, if a family has a fans of boards, and ski school. As a rule, such a range of services now offered by many ski areas around the world, but the most adapted to the needs of the family found a few small regions.
Morillon in France love for many generationsathletes for the pure mountain air and the opportunity to have fun with the whole family. It is considered the best for those whose children have not stopped the age mark of 10 years. Also great lessons of skiing or snowboarding and equipped simple trails here can offer sledging and dog sledding.
Lungau in Austria is famous for its weather - greatof the days in a year the sun shines here. The resort has competent instructors who put on board any budding athlete, and developed network of ski lifts and bus service allows you to try out the slopes and the neighboring regions. Children and adults especially like to participate in the January week of balloons.
For the green
Skiing and Snowboarding is becoming morepopular types of winter pastime, and now people are much more likely to go in the winter in the mountains than on the beaches. But learn to be confident on the slopes can teach only experienced instructors, and beginners can ride only on suitable routes, which have the lowest degree of difficulty. That is why young athletes are choosing resorts in which they are granted green runs and give the green light.
Bansko in Bulgaria - the best option, where you cantry their hand and decide on skis or board will be a faithful companion for many seasons. For beginners, here everything is worked out to the smallest detail, from the ski lifts and slopes finishing green. Rental equipment will allow to pick the right size skis and boots before to acquire own, and beautiful views of the surrounding mountains help to love winter holidays.
Kilington in the US - a luxury resort in the heartVermont mountains. In addition to groomed slopes with a low category of complexity, the condition of which carefully watched, it employs the best ski schools in the country. The price of five three-hour lesson with equipment hire and ski pass will be slightly more than 400 dollars.
Tignes in France, it seems, is specifically designed tothe fair sex. Female instructors with a wealth of experience behind him will learn to stand on skis or board any lady. This will take into account all the fears, moods and ailments. After riding ladies having a great time at the spa and beauty center.
Poiana Brasov in Romania, except for a very nice priceall offers luxurious nature, a lot of sunny days and the correct snow. Trails of varying difficulty categories presented at the resort include a ski area and two for green, beginners to learn that professional help, including, and Russian-speaking coaches. In between lessons athletes can tickle your nerves and get an extra shot of adrenaline on an excursion to the castle of Dracula.
Photos of the best ski resorts