Ouagadougou - capital of Burkina Faso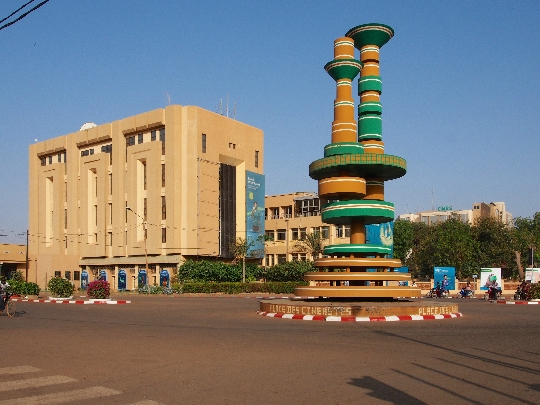 On the world map you can find a lot of amazingcountries, in the form of interest or location. There are states and major cities, with a funny name. For example, the capital of Burkina Faso Ouagadougou called, though clever townspeople not to break the language invented a shortened version - Uaga.
Secrets of titles
For the first time the place-name appeared in the XV century, when theseliving areas, or rather moved, ninsi tribes, engaged in cattle breeding. Between them was a constant struggle for power and land, has not announced a leader, led his tribe to victory. The stories kept his name - Vubri, as well as the associated legend to change the name of a place to "Kambi Tengah" to "Vugudugu". Translation of the latter with the local language is quite clear - the word means the place where it was conquered glory.
Because without the later invasion of the colonizershas not done as well at the French Burkina Faso lands they began to, the name "Vugudugu" began to say and write in the French manner - Ouagadougou. Capital status he carried in 1441, as the main city of the Empire Mosi. In memory of those distant times every Friday held a special ceremony. Then Ouagadougou became the capital of the French colony, and later - an independent state.
Tourist sites
In the capital, not many attractions, butThere are several interesting places worth a visit even the much-traveled guest. Primarily attracts travelers, local gardens and parks. One of them had previously been a sacred place for the ancient inhabitants. Park Bangr-owned Veugu leaders Mosi, who spent here their rituals, including the initiation rite.
French colonists significantly pushedindigenous people, it's good that they did not touch the very forest zone, and turned it into a park. Today this place is called the "Forest of knowledge", which recalls the ancient inhabitants and their rituals.
On the territory of Ouagadougou, there is another park where involved in breeding animals. On the territory of the park is located the Museum of Burkina Faso's history.
The Catholic shrine
Catholic Cathedral was built of red brick,traditionally produced in this region of the country. building style - Romanesque, European, but with elements of West African architecture. It has this building and its features - such as its central part resembles the rich house of a local resident. Notably, two of his towers, firstly, they are of different heights, and in addition, there is an impression that they are not completed. Inside the cathedral is a beautiful carved wooden altar.
Photo