Moroni - Comoros capital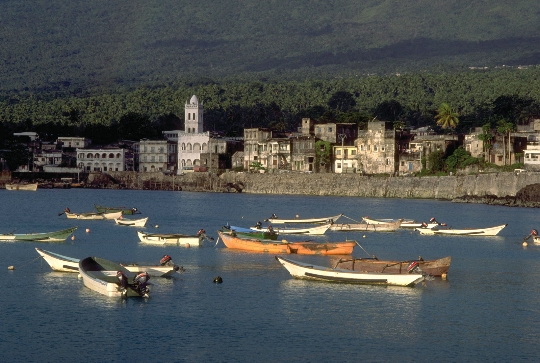 Moroni, capital of Comoros, is the largestcity ​​in the country, as well as a place where the government is located. The full name of this sovereign state - the Union of the Comoros, and in fact, it takes a number of islands in the Indian Ocean.
With the language of local people "Moroni" is translatedvery nice - "area in the center of flame." There are several theories to explain the place-name, the closest to the truth version is that in the vicinity of the capital is an active volcano Karthala.
The choice of the capital
Scientists date the formation of the settlement on the sitethe present capital of the X century AD. They also claim that the first of its inhabitants were Arabs, who do not just inhabit the territory and the settlement made the capital of the Sultanate. This city has been entrusted with the important mission of a transit point, as he was lying on the path to a distant Zanzibar (now - Tanzania).
Then Moroni lost its value in the pastCentury features the administrative center of the city of Dzaoudzi performed, the location of which - the island of Mayotte. But in 1958 the capital of the Union of Comoros Moroni has once again become, it still plays an important role of a transit base. Here is located the international airport and sea port, which connects the country with the countries located on the African continent, Madagascar and the other numerous islands of the Indian Ocean.
In the center of attention of tourists
The capital of Comoros, of course, is not the most attractivespace in terms of travel. There are interesting places to explore, but not so much. Beach vacation is also in its infancy, in the capital areas for sun and sea bathing there.
In Moroni's historic center can be foundsome ancient buildings in Arabic style, reminiscent of the founders of the city, the narrow eastern streets, alleys. The highlight of the Old Town - Friday Mosque, it - the center of pilgrimage for the local Muslims and the main attraction for travelers.
Scientists have dated Friday mosques around1472 year, since it is the true Muslims, virtually no competitors. Religious buildings preserve the historical appearance. The main architectural features of it are:
white walls, built of coral limestone;
arched gallery, built in two levels;
carved frieze running along the perimeter of the roof;
minaret square with a green dome and Muslim symbols - a crescent moon.
The second attraction is the volcano Karthala, which at times reminds himself eruptions.
Photo