Malabo - the capital of Equatorial Guinea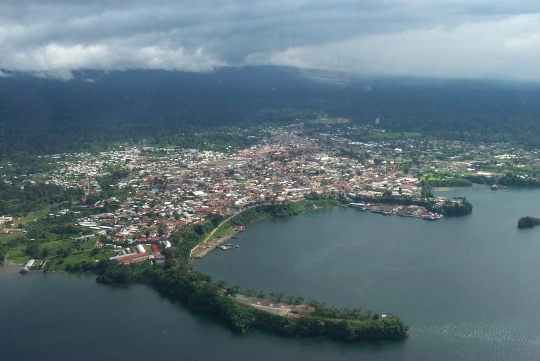 Malabo, capital of Equatorial Guinea, a beautiful,Unlike many other cities in the world with such a status it is not located on the mainland and on the island of Bioko. Therefore, in addition to government, public buildings and urban areas, there is a port, and one of the deepest in the world. To get to the capital of Equatorial Guinea, simply from anywhere in the world - there is an international airport, the only problem is the cost of the ticket.
Hard climate
Indeed, scientists have made a list of Malabocities, where climatic conditions are considered to be very unfavorable for a person, especially white men. In the capital, very little precipitation falls, especially difficult in December and January, when the critical level. The average annual temperature is kept at around + 25C °, the lower the minimum + 19C °, it is extremely rare, only in January.
Journey into history
The first name of the island of Bioko, whereIt is the capital - Fernando Po. They named it as the Portuguese in 1472 in honor of their captain, who commanded the expedition to this part of Africa. A little later, it began the colonization of the territories, and it is Portugal. After a hundred years trying to master the Dutch island, but they did not work. But everything turned out in Spain, and which bought the island and the mainland in 1778.
In the XIX century there were British, theyWe founded a small settlement called Clarence Town, now it is the capital of Equatorial Guinea. But the struggle for land continued, members of bloody battles were English, Spanish and a local tribe Bubi.
City Tour
Modern Malabo - is an amazing cocktailold buildings of the colonial era and modern architecture, brand new hotel in the center and slums on the outskirts of the city. There are major attractions, description of them is found in every tourist brochure, including the Cathedral and the Bahia Hotel, whose windows offer stunning views of the ocean and the mountains of Cameroon.
The most beautiful building in Malabo and the whole islandBioko clearly recognized the Cathedral of Santa Isabel, belonging to the Catholic Church. Construction of worship on the Spanish Square (now - it's Independence Square) lasted from 1897 to 1916. He - a vivid witness to the colonial era, reminiscent of the period of Spanish rule.
Photo