Kingstown - the capital of Saint Vincent and the Grenadines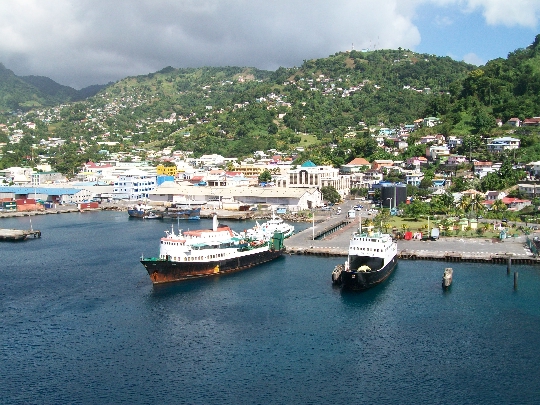 About many things can tell the name of which isthe capital of Saint Vincent and the Grenadines, an independent state, is located in the Caribbean, especially for an Englishman or a tourist who knows the English language. Translated from the language of the inhabitants of Albion is simple - "the royal city".
Climate and weather conditions
Kingstown is located in a very cozy place, incharming bay on the island of St. Vincent. In the capital of the island state is always windy: the north-easterly wind almost never leaves the city's neighborhoods. On the other hand, during the year the temperature is around + 30C °. February and spring months - relatively dry, then begins the season precipitation.
The pages of history
The city was founded in 1722, after fifty yearsthere already being ruled by settlers from Great Britain. Then the French authorities intercepted, making their settlement colony, but not for long. United Kingdom returned their possessions, adding to Saint Vincent island located near the archipelago of the Grenadines. In 1979, the era of colonization of these beautiful tropical islands over. Today it is an independent state with its capital - Kingstown.
capital Attractions
Urban sprawl Kingstown is surrounded by greenerypalms and other tropical flora representatives. Snow-white houses, which are located steps on the slopes of the hills, the azure sky merges with the sea of ​​the same color - almost idyllic picture.
Walk on Kingstown - a familiarity withmodern city life and its inhabitants, a journey through history. In the city there are numerous monuments and interesting architectural structures. Among the most attractive from the point of view of the tourist are:
Fort Charlotte, named after the wife of King George III;
gorgeous Botanical Garden;
Anglican Cathedral, consecrated in honor of St. George;
Grenadinskaya harbor, construction of the XIX century.
Lovers of beautiful landscapes and species tendto get to the fort, named in honor of Queen Charlotte. For defensive structure chosen the right place - at the top of the ridge. It differs from the other forts, available in the Caribbean, in that it is designed not to protect against external enemies who came from the sea, and from the inner - Black Caribs, have left their terrible mark on these lands. Hurricanes and time have caused irreparable damage to the Fort Charlotte.
Photo