The capital of Sao Tome and Principe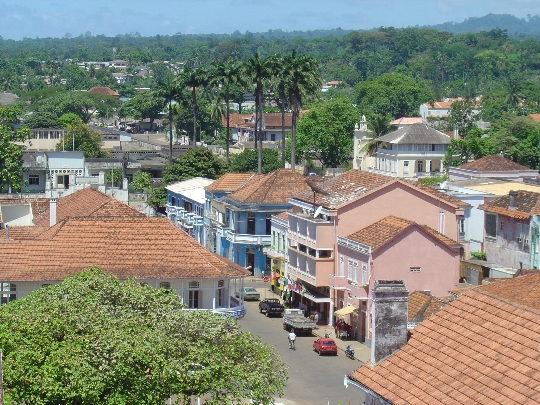 Who would have thought that its name capitalSao Tome and Principe was in honor of St. Thomas, one of the apostles of Jesus Christ. This apologist for the Christian religion gave its name not only major cities but also across the state, and one of its provinces.
Rather, the apostle Thomas himself was not involved in this, for it made all Portuguese navigators, who came here at the end of the XIII century. They are considered the founders of the current and capital.
A new point on the map
Year of Sao Tome - 1485, so sayhistorians, based on the preserved documents and certificates. However, the main goal - not the city, and the development of agriculture in the region, so the area around the capital became plantations for growing sugar cane. Good yields were provided by ideal weather conditions, the equatorial climate and the labor of black slaves from the Congo.
City status was granted settlement in 1525. Juan II, king of Portugal. So little time remains before the 500th anniversary from the date of receipt of "high calling" of the city.
Sao Tome has been part of the Portuguese colony, thenterritory for a short time came under the protectorate of the Dutch and are back under the wing of the Portuguese. 1975 was an important milestone in the history of the land, as the government of Sao Tome and Principe received the long-awaited independence. In the same year, the city with the same name as the country, received the status of the capital.
Attractions Sao Tome capital
Sao Tome, may not be so interested in experiencedtourists, a lot of things seen during his travels. Among the attractions, the description of which can be found in the booklets and brochures, often referred to as the following:
Presidential Palace, surprising a beautiful gallery and pale pink facade;
Catholic Cathedral, built by the first settlers from Portugal;
The building of the local cinema.
Quarter of San Antonio becomes the ideal placefor an evening promenade. A walk along the shady streets turns into a fascinating journey into the past, when the first European colonizers built homes here for themselves and their families. Excellent examples of Portuguese architecture and today you can find in the city.
Many memories and beautiful pictures on the memorytourists get when visiting any of the two local markets: the mountains of fragrant fruits and vegetables, often complete strangers Europeans, amazingly rich palette of colors and flavors.
Photo