Dakar - Senegal capital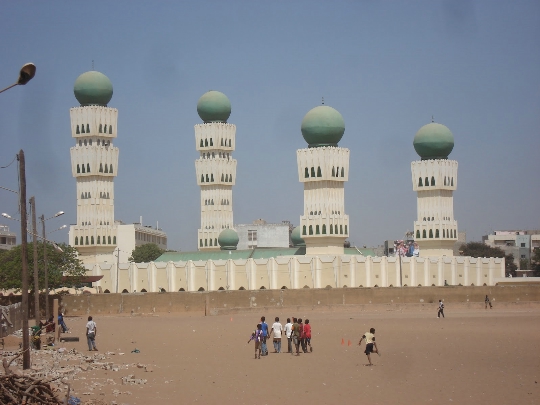 The beautiful capital of Senegal particularly reveredmen - lovers of wild speeds, as one of the world's most famous rally begins in Paris, refined, and passes through the sands of the desert and ends in Dakar. But this city is interesting and different categories of tourists who come here to relax on the beaches, wander through the ancient center to visit the main Senegalese museums.
Beaches in Dakar
Senegal capital is different from mostmajor cities in the world that offers, in addition to all other kinds of entertainment, another - beach. Les Almadies - the best resort in the country, he is just twenty kilometers from the capital. Rest here and love the locals and many tourists.
A little closer to the city, you can also find places foracquiring a beautiful tan and take sea baths. The picturesque island with mysterious-sounding names - Joffe, La Madeleine, Ngor - offer great places to relax. The laziest remain in the city as the local beach Bel Air is no worse than their "colleagues".
Dakar Attractions
Familiarity with the masterpieces of local architecture canIt takes more than one day, especially if you find a knowledgeable guide who will tell more than a dozen of interesting facts and myths. The main objects of this trip: the Presidential Palace; Grande Mosca; IFAN Museum, dedicated to various arts of the Black Continent.
In the photo almost every other touriststill image of a beautiful snow-white palace, which is home to the country's leader. For this amazing architectural structure is selected and the appropriate surroundings - Palace is located on the ocean, and because the contrast of azure waves and the blue sky further emphasizes the whiteness of the walls.
Grande Mosca - the name translates as "Bigmosque ", and it really is the most grandiose religious building in Dakar. Unfortunately, most of the tourists from Europe will not be able to get inside, as only Muslims are allowed to access. But outside of the building looks amazing.
There is another amazing place in the neighborhoodSenegal capital - this lake Retba. Its main feature - the pink color of the water. This is a natural body of water, to the appearance of the shade a person to do. But the cyanobacteria that live here in huge quantities, turns ordinary lake in the magic that attracts millions of tourists.
Photo