Lusaka - Zambia's capital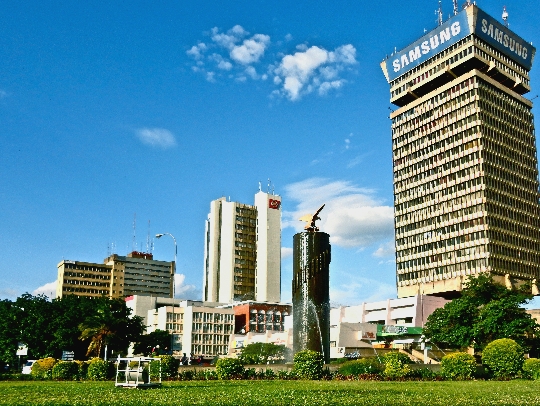 Lusaka, capital of Zambia, it seems at first glancequite a small town, nice, cozy, consisting of the old, typical of the African, quarters and modern buildings. The capital of the African state will never be able to become a real center of attraction for tourists, as Zambia is far more interesting and mysterious place for guests visiting. This flavor of the Black Continent is felt far beyond the neighborhoods.
Lusaka - a city of museums
Travelers coming to the capital for the first timeZambia, noted that there is, indeed, not so many historical monuments, but a large number of unique artifacts collected in local museums. Moreover, local masters of the brush like to show their skills in the galleries and exhibition halls.
The most famous gallery is named after Henry and ThayaShowgrounds is located in the area. Painters, sculptors and craftsmen Zambian arts and crafts are regularly in this gallery his work. The tourists a unique opportunity to not only learn the art, but also buy them as a gift or souvenir.
Another interesting place is open right in front ofthe hotel, which is called the Garden House and located in the city center. The name can be translated as the hotel garden, but the garden is not understood in the usual sense. Guests of the hotel can enjoy the beautiful artwork by local artists in the so-called Garden of sculptures.
On the map of the capital, you can find a lot of museums,with valuable archaeological and historical collections. The most popular among visitors to the city are the National Museum - main treasury of the country; Anthropological Museum; Village Museum that introduces the ancient way of life of the indigenous population.
In addition, the locals pay tributegreat traveler David Livingstone, who studied in his time of life, language and culture of the local people and actively fought against the slave trade. A museum dedicated to the traveler and protector of indigenous people, tells about the life of the hero and his role in the development of the countries of the Black Continent.
Another interesting museum Lusaka - Museum Zinta introduces community, first of all, the traditional crafts and primitive art of the ancient peoples who lived on the territory of Zambia.
Among other cultural attractionsCapital tourists call Zoological and Botanical Gardens. Amazing photos will remain after a visit to Market Kamvala - it occupies several blocks and gathers artisans from across the country. Not only photos, but also numerous souvenirs from here go to different countries together with happy tourists.
Photo