Coat of arms of Gabon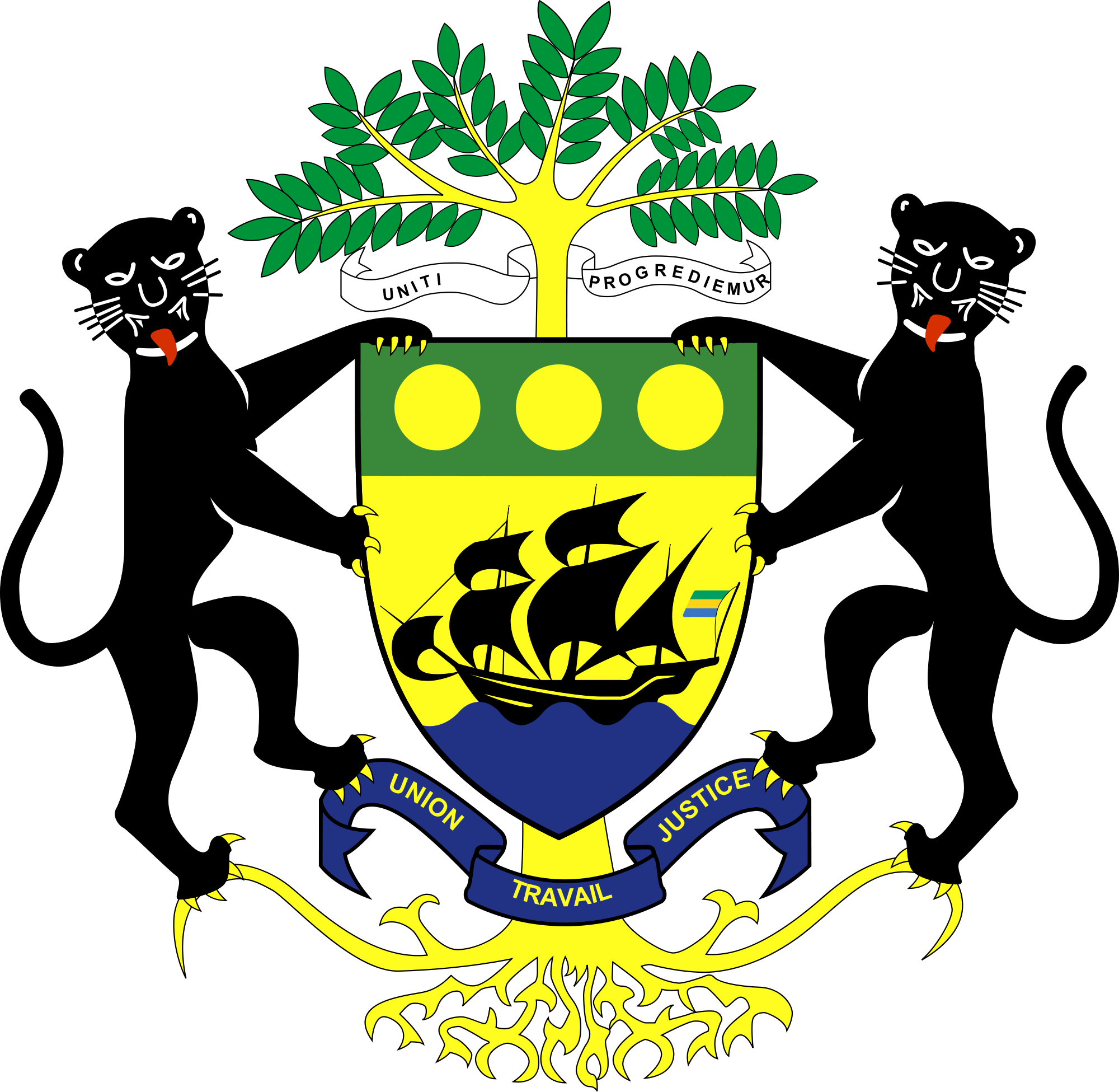 This emblem was designed by Swiss heraldry L. Myulemmanom. He has developed and the arms of another country - Congo. Coat of arms of Gabon began to be used in the heraldic practice since 1963.
Brief description of the coat of arms
Coat of arms of Gabon - a shield of golden color with greenhead with golden Besant. Above is an image of a black ship. At the stern of the ship is the flag of the country. As chargers - Black Panther, looking straight ahead. They have adopted a golden color and show scarlet tongue. Behind the shield there is another heraldic symbol - golden tree that has a green crown. At the roots of this tree and rest Supporters, Panthers.
Above the shield is stamped with tapeState motto - Uniti Progredimur, which means "Moving together". On the motto ribbon is also another inscription, translated as "union, labor, justice." This - the main support statehood Gabon, depicted on the emblem.
Description and value of character
Black ship - a symbolic image of the country's movement towards a bright future prosperity.
Besant golden color display richness of the country's natural resources. This is - the most important source of Gabon's wealth.
Black Panther - is a symbol of courage andthe courage of the President. Its mission - to protect the nation and calling panthers - to help him in this. Panthers - it is also a symbol of the constant readiness of the armed forces of the country to defend it from enemies.
The tree - a symbol of timber trade, bringing the country great wealth.
The motto of the coat of arms is the main support of statehood.
What does the flag on the country's coat of arms
Gabon Coat also uses the image of the flag. Modern country's flag - a rectangle, which is divided into three equal horizontal parts - green, yellow and blue. The symbolism of the flag is chosen due to the geographical position of the country. Coat also highlights the favorable position of Gabon. Blue - is the sea, the green - wood. A yellow color - not that other, as the sun is bright and generously illuminating the country. In addition, it is a stylized confirmation of a finding of Gabon at the Equator.
Coat of arms of the country is required for use in all public institutions of the country, schools and so on. All citizens are obliged to respect the country's coat of arms and prevent the abuse of them.
Photo