Coat of arms of Guyana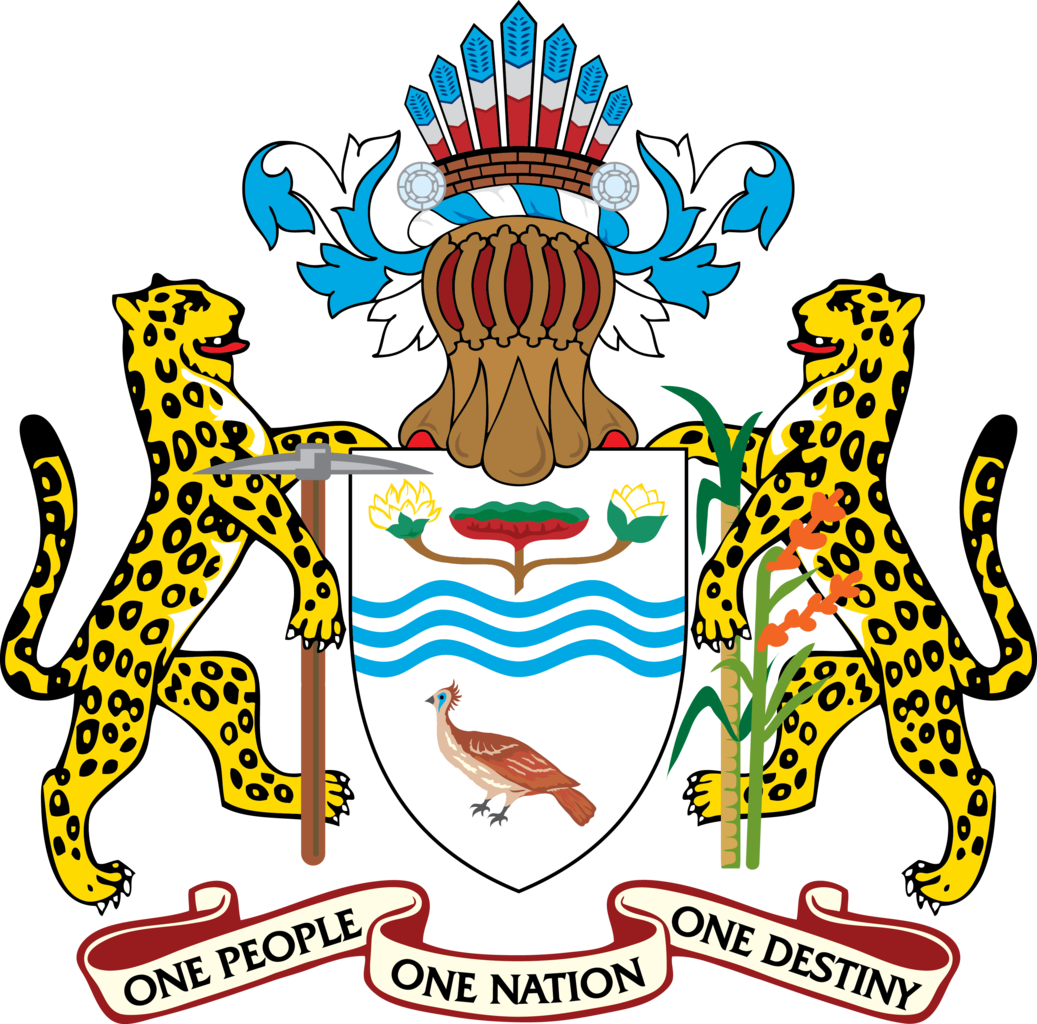 Not many countries on the planet Earth,received as a gift the characters becomes the official emblems. Co-operative Republic of Guyana - among the lucky ones. Initially Guyana coat of arms was granted to Elizabeth II, Queen of England, and was then approved by Parliament. A significant event occurred a little less than sixty years ago, February 25, 1966, together with independence.
At the heart of the main state symbolsRepublic are European heraldic tradition, used the elements found in many countries in the arms of Mother Europe. But there are also national motifs, characters.
Description Guyanese Emblem
Traditional European heraldicelements present in the coat of arms of the former British Guyana, include: a classic shield; Knight's helmet; torse two-tone; animals as chargers; ribbon with the motto of the state.
At the same time are present in each elementGuyanese traditional symbols, images. In the center of the shield settled wavy lines of blue, reminiscent of the three main rivers of the country (Demerara, Essequibo, Berbice).
Above the waves is blooming imageplants. This Amazonian Victoria (second name - Victoria regia), tropical plant, surprising all sizes of water lily flower. It was his Guyanese elected its national symbol and given a place on the emblem. Below the waves settled tropical bird Goatsin, also referring to national shrines Guyanese residents.
Another two representatives of the world fauna found their placethe main symbol of the Cooperative Republic of Guyana - a jaguar, which had the mission of chargers. They are the personification of wildlife, strength, speed, courage.
One paw Jaguars held the shield in the other theyarticles speaking about the main directions of the country's economy. So, one of the animals holds Escape rice germ and sugar cane, because agriculture plays an important role in the economy of Guyana, these plants are planted more often. The second leg is in a pick - a symbol of leading mining industry.
The value of mining is emphasized also by twoprecious stones, located on the sides of the helmet. The decoration of its feathers are that refer to the Indians, the indigenous population of the country. Sam hat with the symbol stands ties and relations with the United Kingdom.
Photo