Angola Coat of Arms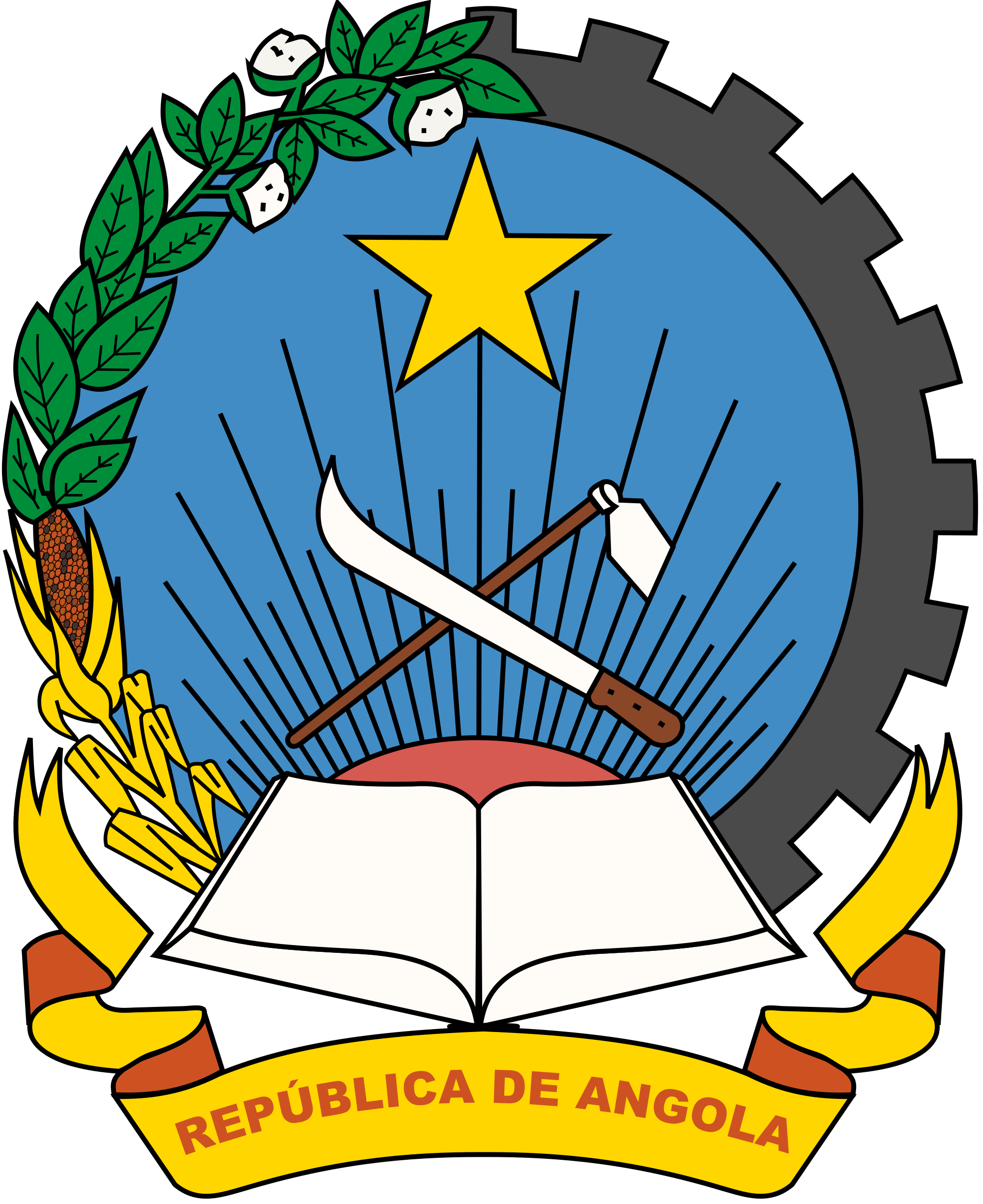 The main character of this African countryIt is crossed machete and hoe, dominated by the pentagonal star in the rays of the sun in red against the blue disc. This whole composition is framed with a wreath, woven from corn, cotton wood, coffee, half a wheel. At the bottom of the coat of arms of Angola has an open book, a silver and a golden ribbon. It is written in Portuguese name of the country.
The value of some characters Angolan Emblem
In the center of the emblem there is a machete and a hoe. They mean the struggle of the Angolan people for their independence.
The book - a symbol of education, prosperity and a high level of culture.
The five-pointed star - a sign of solidarity, progressive development.
Rising Sun - a sign of the new country.
Half of the wheel - a sign that has developed industry in Angola.
Sheaf of the cotton tree, corn and coffee indicates the main crops in agriculture, grown in this country.
The tape with the name of the country (golden color) means wealth and confidence in the prosperity of the country. The same color symbolizes nature and wealth of the African continent's interior.
The red color of the rising sun - it is nothing like the blood shed for the people of Angola's independence. The black color in the coat of arms symbolizes the African Black Continent.
A Brief History of the Angolan Emblem
The above is the official symbol of the coat of armsState since 1992. And until that time it was obligatory emblem of the People's Republic of Angola. He was required after the country declared its independence from Portugal in 1975. Both emblem exactly repeat each other. The only difference between them - in the name of the state which they represent.
Note also that this coat of arms is somehow connectedAngola's revolutionary past. After all, until recently Angola belonged to the so-called countries of the socialist camp. That is why it is attended by the five-pointed star - the mandatory character of the socialist countries.
Hoe and machete are also characters yetthe recent revolution and civil war in Angola. A open book shows how important it is for the Angolan education and a high level of culture, as the country has a lot of illiterates. And only recently the literacy rate had begun to rise.
Photo