Mozambique Coat of Arms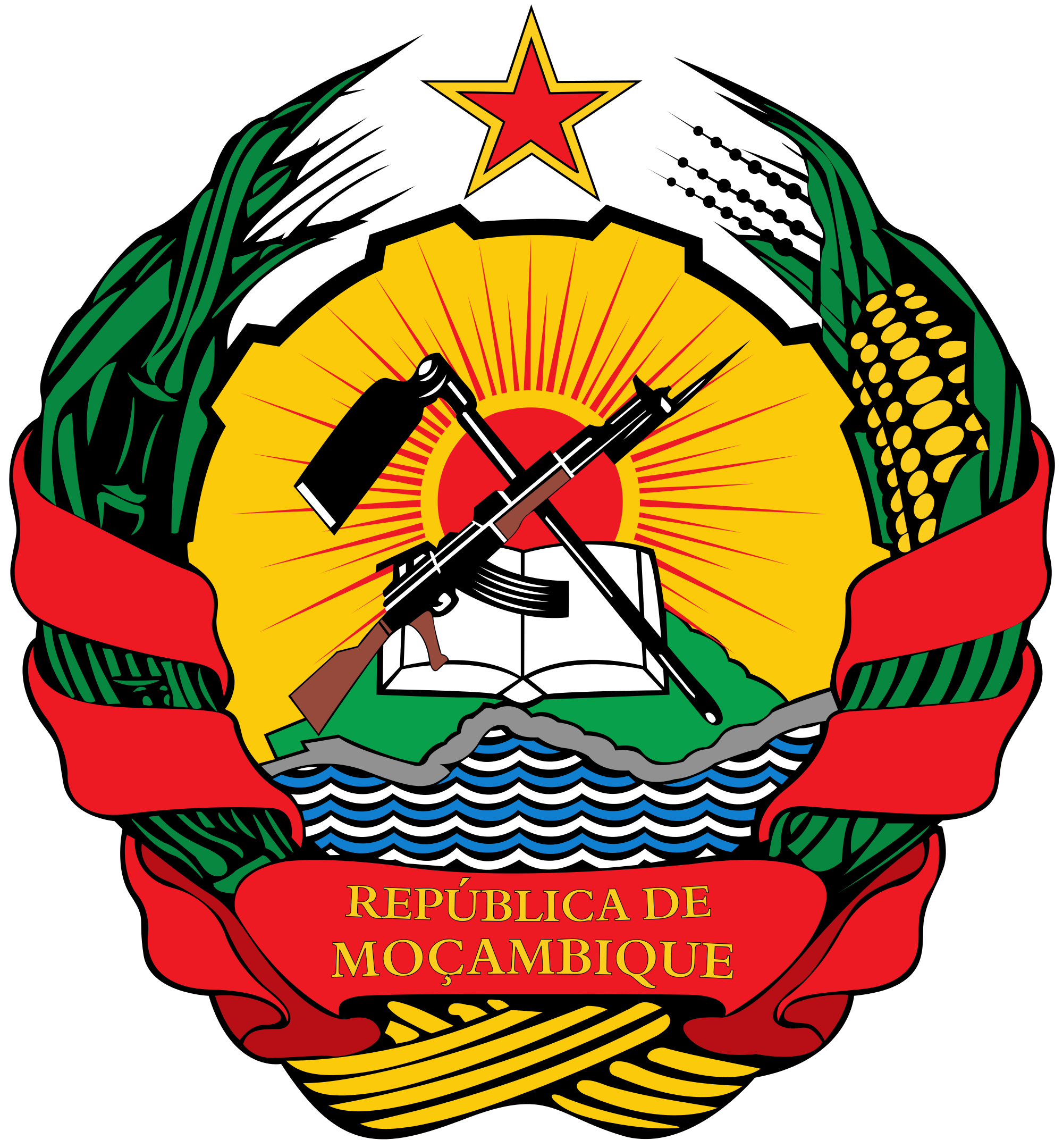 Home Mozambique emblem in its present formIt is reflected in the 194 th article of the Constitution of the Republic of Mozambique. The very same main law of this African state was approved in 1990 during the civil war. Coat of arms of Mozambique is very similar to the emblem of the People's Republic of Mozambique, which existed from 1975 to 1990. In the 70 years of the twentieth century HPM gained independence from Portugal and adopted a new emblem, the style of which the mark is a little different from the present.
Symbol of new life
Coat of arms of the Republic of Mozambique is composed of a number ofcharacters that are important for the people of Mozambique. Against the background of a yellow mechanical wheels shown rising red sun rises above the high green hill overlooking the calm waves among the sea surface. Against the background of the mountain itself depicts an open book, as well as crossed hoe and a Kalashnikov rifle. All this construction is framed by the stems of sugar cane and corn placed on the sides of the mechanical wheel. The stems are interwoven at the bottom of the coat of arms and it runs through the tape, on which is written the name of the republic in Portuguese. At the top of the logo depicts a five-pointed red star.
The symbolism of the main emblems of Mozambique meets the African conception of the struggle for independence and a peaceful life. Each character has its own meaning.
Stalks of corn cane and became a symbol of wealth.
Mechanical wheel symbolize labor.
Hack shows the power of agriculture.
Kalashnikov - an attribute of the struggle for independence, symbolizing vigilance.
Red Star has become a symbol of the spirit of solidarity of people of Mozambique.
Red sun - a symbol of a resurgent new life.
Kalashnikov Question
The Kalashnikov rifle has been portrayed on the emblemPeople's Republic of Mozambique, was then postponed and a new coat of arms. In recent years, many political leaders require little to correct the country's main emblem and remove it from the machine. The main motive in this case is the desire to make this coat more modern, relevant current status as a Kalashnikov refers to the reality of the struggle for independence. In 2005, the national coat of arms of the question changes shall be made in the parliamentary hall, but the majority of the deputies then voted against the proposal to change the country's main logo.
Photo