Flag of Burundi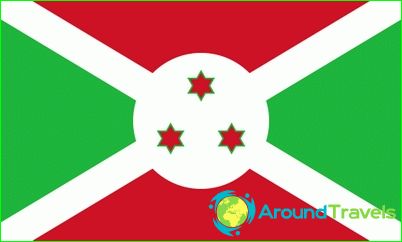 The first national flag of the Republic of Burundi, was raised in July 1982.
Description and proportions of the flag of Burundi
State symbol of Burundi, the country has a flagshape, a classic for the majority of national flags in the independent countries of the world. Rectangle whose sides relate to each other in the ratio of 5: 3, white stripes diagonally divided into four triangle. The top and bottom are identical in size and painted in bright red. The triangles whose bases are the free edge and the shaft, and are also applied to the flag of Burundi in light green.
In the center of the flag is white, round disc with three red six-pointed stars. The figures are arranged in a triangle pointing upwards, each of which is outlined in green outline.
The stars on the flag of Burundi symbolic meaning of the wordsState motto - "Unity Work Progress..." Flag Colours also have important implications for the country's inhabitants. The red field of the flag - the memory of the blood shed in the struggle for independence. Green triangles symbolize the hope for a better life and the desire for positive change, and the white color indicates a desire to live in peace.
The red color of the flag of Burundi is repeated on the armsstate. It is a heraldic shield, behind which there are three crossed spears. Red shield bordered with gold. The same color and a lion's head depicted in the center of the shield. White Ribbon at the bottom contains the motto of the Republic.
Burundi Flag can be used for all purposes on land, including citizens and non-governmental organizations, of the Army and the authorities.
The history of Burundi flag
In 1961, after independencefrom colonial Belgium, the country had its own flag. It was a rectangular panel divided vertically into three equal parts. Near to a staff band was red, white was followed, and the free edge is green.
Proclaiming the Kingdom of Burundi in 1962,the authorities have adopted a new flag, which almost coincided with the current state symbol. The only difference was that in the white circle in the center has a stylized image of a tobacco flower. In the future, until 1982 only changed the image is in the white center of the disc, while a six-three stars have not taken it its rightful place at the flag.
Photos Burundi flag