Eritrea Flag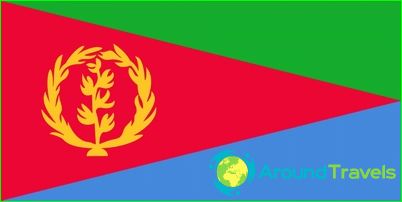 State symbol, flag of Eritrea was approved in December 1995, two years after independence from Ethiopia.
Description and proportions of the flag of Eritrea
African state flag Eritrea hasa rectangular shape, adopted by a majority of independent flags for world powers. Its width is half the length, and a flag field is divided into three triangular portions. The boundary lines start at the corners of the hoist side and converge in the middle of the free edge of the flag of Eritrea.
The top field of cloth painted in bright greencolor, mid-flag - red and the bottom - blue. On the left half of the Eritrean flag within the red triangle applied gold olive wreath, covering the escape of the olive tree. The number of leaves on the wreath symbolizes the equal thirty and the number of years during which lasted civil war in the country.
The greens on the flag - is agricultureAfrican state, which gives a basic income to development. Gold symbolizes wealth olive shoots Eritrea subsoil and branch itself - peace and the revival of the state foundations. Red box on the flag - a tribute to all those who died for the independence of the homeland, and blue - a symbol of the sea, washing the land of Eritrea.
The history of the flag of Eritrea
The history of the flag of Eritrea is closely linked with the pastcountries. Until 1941, the state was in the colonial dependence of the Italians, and later - until 1952 - was ruled by the British administration. During these years, the country flags were Italian and British. Then, the state of Eritrea gained independence and adopted as the official symbol of the blue flag with an olive wreath of green in the center. It was a tribute to the role of the UN in resolving the situation. In 1958, of the country of Ethiopia flag was raised, annexed in the next few years the territory of Eritrea.
Front for the Liberation of the Eritrean people for30 years waged an armed struggle for sovereignty. In 1977, the participants raised the flag of Eritrea, which is almost identical to the modern variant. The only difference was that the olive wreath on the flag replaced the five-pointed yellow star.
In 1993, the star changed the olive branch, butcloth proportion somewhat different from today. During the two and a half years, the width and length of the flag of Eritrea correlated with each other as 2: 3. The modern version of the current flag of Eritrea adopted in late 1995, and since then the form and dimensions of the flag remained unchanged.
Photo Eritrea flag