Flag of Guadeloupe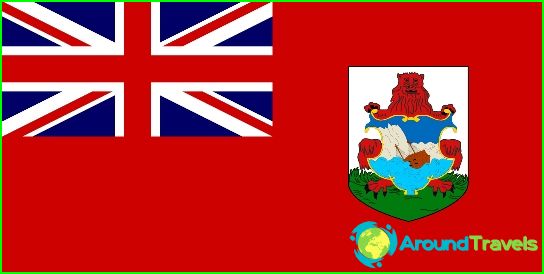 The official flag of the French overseasDepartment of Guadeloupe has a square shape. In addition to his on the islands are popular and informal rectangular panel considered civil flag of Guadeloupe.
Description and proportions of the flag of Guadeloupe
Regional Council adopted a flag thatmanages the affairs of the overseas department of Guadeloupe, is a square white cloth. At the center of its inscribed square smaller, which is divided into two unequal parts by a central figure. The upper part of the square has a light blue color, and the bottom - green. Figure is a stylized image of a flying sea bird dark blue color on a background of the rising sun, made yellow. "Checkmark" birds and divides the flag field into two unequal parts. Under the green field of the central square of applied inscription black French "Region Guadeloupe". Below the inscription is yellow horizontal stripe.
Unofficial flag of Guadeloupe has classicrectangular and is divided horizontally into two unequal parts. The upper band of smaller width is painted in dark blue deep color, and three stylized French gold heraldic lilies are located on its background. The lower part of the unofficial flag Guadeloupe is black. In the center of the sun is depicted in gold, which is located behind a sheaf of green stalks of sugar cane - the main crop of the island nation.
The history of the flag of Guadeloupe
Earth island nation in the Caribbean SeaIt was declared French territory in 1674. Since Guadeloupe at once fell into dependence on other European countries, but France stubbornly regains the island. In 1916, its colonial claims were legislated, and in 1946 the islands gained the status of an overseas department. Flag of Guadeloupe has long been a national flag of France.
Today, Guadeloupe is an overseas department, managed by a prefect and an elected General Council has its official flag, and coinciding with the emblem of Guadalupe.
Photos of Guadeloupe flag