Flag of Reunion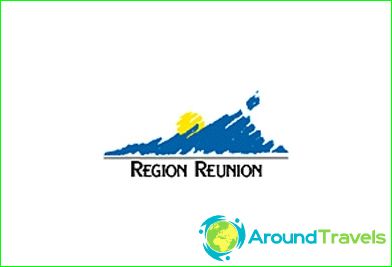 Flag overseas department of Reunion - an unofficial symbol of the island. The official national flag of Reunion is considered the French tricolor flag.
Description and proportions Reunion flag
In addition to the official French flag, whichrises on the island of Reunion for all purposes at sea and on land, the country adopted a regional flag. It is a white rectangular panel on which a stylized image of blue coated mountains. Because of her yellow sun rises, and the bottom image is emphasized thin gray line. Under it there is an inscription in French, meaning "Region Reunion."
Another, this time unofficial flagReunion, was developed in 2003. Rectangular panel has as a primary color - blue. Below in the flag field cuts isosceles triangle whose base is the lower edge of the cloth. The top of the triangle coincides with the center of Reunion flag. The red triangle symbolizes the mountain of Piton de la Fournaise. This volcano, which is the hallmark of the island nation in the Indian Ocean.
From the top of the red triangle on the projectthe national flag of Reunion depart five yellow rays. Three of them have a triangular shape and ends in the middle of a spear and a free edge of the flag and in the middle of its upper edge. Two beams are shaped like rectangles and rest on the upper left and right corners of the cloth.
The colors shown on the draft Reunion flagused when creating the coat of arms of the state. It is a heraldic shield, divided into four fields. The upper left has a green background, which shows the chain of mountains and the volcano Piton de la Fournaise. To the right of his red-and-blue box is an image of a sailboat. At the bottom of the shield is a depiction of three French gold lilies on a blue background and golden bees - in the red. In the center of the heraldic shield is placed a small panel overlay image, repeating the colors of the French flag.
History of Reunion flag
French overseas departments island is officially considered since 1946. Prior to this reunion called a French colony.
Reunion flag was designed by veksillologicheskoy Association state but has not yet been adopted at the official level.
There are several projects Reunion flags, which are represented by various public figures of the country.
Photo Reunion flag