Sao Tome and Principe Flag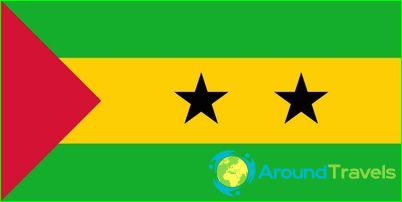 The national flag of the Democratic Republic of Sao Tome and Principe
It was approved in November 1975, a few months after independence.
Description and proportions of Sao Tome and Principe flag
Flag of Sao Tome and Principe has a classicrectangular shape, and its length is exactly two times the width. It is an essential symbol of the state, along with the anthem and coat of arms. The cloth can be used for any purpose on the water and on land. It is allowed to raise to all citizens and public authorities, companies and officials. Flag of Sao Tome and Principe may be on the masts of any ships, including private boats and ships of the Navy of the country.
Flag The flag is divided horizontally into threeunequal parts. The upper and lower bands are pale green, and the average flag field - bright yellow. The yellow flag of the one and a half times wider than each of the green. two five-pointed stars arranged in black on a yellow field. One of them is located in the center of a panel, and the second - in the middle right part of San Tome Principe and flag. From the edge of the flag at the flagpole in the body juts isosceles triangle red.
The colors on the flag of Sao Tome and Principe have theirvalue for the citizens of the country. Red - the color of spilled blood of fighters for freedom and independence. The stars represent the islands belong to the black continent, and a wide field of yellow reminiscent of that of the island of Sao Tome and Principe are at the equator. Green stripe - is a rich fauna and natural resources of the state.
The colors of Sao Tome and Principe flag and repeatedCoats of Arms, approved in 1977. It is an image of two birds - falcons and parrots - who hold the shield of yellow color with the image of the cacao tree with green foliage. The parrot is on the right, and the color of the feathers of his tail repeats triangle color on the flag of Sao Tome and Principe. Yellow like the flag, the ribbon color stresses inflicted on it the motto of the state.
History of Sao Tome and Principe flag
State of Sao Tome and Principe flag wasIt is based on the flag, which belonged to the liberation movement that fought for independence from Portuguese colonizers. This flag is identical to the present, with the only difference that the yellow box on it was equal to the width of two green stripes.
Photos of Sao Tome and Principe flag