Inland Sea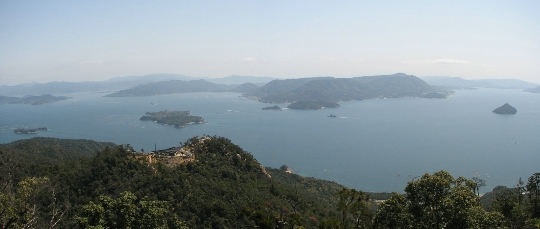 Seto-Naykay or inland sea,It refers to the Pacific Ocean. It is a group of the straits and sea basins between the islands of Shikoku, Honshu and Kyushu. Viewed pond connects the Sea Bingo, Iyo, Hiuti, Harima and Suo. Its length is about 445 km and a maximum width of 55 km. Naruto Straits of Kii and connect it with the Pacific Rim to the east, and Hayasui and Bungo - the south-west. With the waters of the Sea of ​​Japan combined with the help of the Strait of Shimonoseki. Sea has an average depth of about 20-60 meters, the maximum depth is 241 m. The water area is not less than 1000 islands of various sizes. The largest island of Awaji is considered. Map of the Inner Sea of ​​Japan shows that its shores are heavily indented.
Climatic features
In the area of ​​inland sea prevailstemperate climate. Seasonal winds do not penetrate here through the mountains in Shikoku and Chugoku regions. The weather there is quite warm. surface of the water during the winter months warm up to 16 degrees in the summer the water temperature is 27 degrees. The salinity of the sea water is 30-34 ppm.
Undersea world
Inland Sea is home to all kinds of fish. Marine fauna includes more than 500 species. Here the usual horseshoe crab, porpoise, fish amfidroma, white shark, and others.
sea ​​value
For Japan, the coast of the Inland SeaIt is of paramount importance. This is one of the most industrialized areas of the country. On the beach are the largest industrial centers in Hiroshima, Osaka, Kobe, Fukuyama, Hatsukaichi, niihama, Kure. Shipyard concentrated on Innosima island. These regions also specializes in tourism, agriculture and fisheries. Sea coast is a popular tourist destination. The area of ​​the sea and the coast, with the exception of Wakayama Prefecture and Osaka, is considered by the National Park "Seto-Naykay" since 1934, tourists from around the world come here to see the beautiful landscapes and attractions.
Inland sea - a place of education"Red tides." They are formed by the active reproduction dinoflagellates and bloom. Algae accumulate in the surface layers of water, causing its unusual hue. Allocated algae toxins enter the body of mollusks and fish. These sea creatures are dangerous to humans and animals. "Red tides" are harmful to aquaculture and fisheries.
Photos Inland Sea