Ionian sea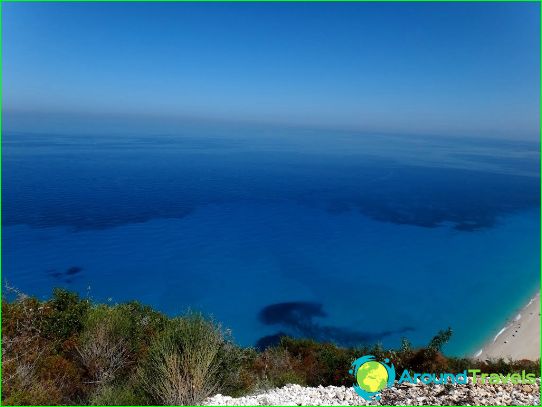 The deepest sea in the Mediterranean basin is Ionian. The deepest place reaches 5121 m. Coastal areas have shallow water, which makes it convenient for families.
Geographical position
Ionian Sea stretched between the islandsSicily and Crete, Italy and Greece sharing. Its area reaches 169 thousand square meters. km. Straits connects it with the Tyrrhenian Sea and the Adriatic Sea. Map of the Ionian Sea shows that it strongly indented coast, especially in the eastern part, near the Ionian Islands. In the sea there are bays as Patras, Corinth, Taranto, Arta and Messinian. The name of the sea obtained thanks to the Ionians, who once upon a time occupied the western lands of Greece. The seabed of its shape resembles the basin. It is covered with sediments: silt, sand and coquina.
Climatic conditions
The water area is located in the Mediterranean areaClimate. The water is warm in the Ionian Sea. In winter, its minimum temperature is 14 degrees. The water warms up strongly in August - up to 27 degrees. Sea water has high salinity (more than 38 ppm). Ionian Sea is very calm. There are no strong and cold winds.
Natural riches of the sea
Ionian Sea is famous for its picturesque scenery. It houses the island of exceptional beauty, which are completely covered by forests. These islands are characterized by fertile land, azure coastline, mild climate, white sand beaches. The most northern and the most green is the island of Corfu. The flora and fauna of the Ionian Sea is rich and diverse.
Because the vegetation is dominated by algae,phytoplankton. In the sea are found bottlenose dolphins, octopuses, large turtles, different species of fish: tuna, flounder, mackerel, mullet, etc. The tourism industry on the islands of the Ionian Sea is poorly developed.. Therefore, the environmental situation there is very favorable.
The Ionian Sea is famous
This body of water appears in the myths of ancient Greece. It is associated with many legends. Today, the Ionian Sea is a resort area. The local population is actively engaged in tourism and fishing. In the port cities of Greece and Italy, numerous monuments created during the heyday of ancient Rome and ancient Greece. From the most popular resorts are considered the island of Corfu and Kefalonia, Rocca Imperiale, Patras, Sicily, Catania, Taranto and others.
Photos of the Ionian Sea