Ligurian sea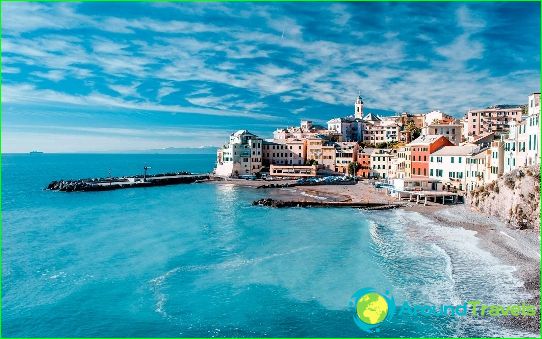 One part of the Mediterranean isLigurian Sea, which washes the shores of Italy, Monaco and France. It stretched between the island of Corsica, the Tuscan Archipelago and the north-west coast of Italy. Map of Ligurian Sea makes sure that its size is small. It's more like a bay than on the sea. This body of water identified by name Ligurians tribe that once lived in the north-west of Italy.
Deep sea is considered as indicatoraverage depth is 1,200 m, and the maximum depth -. 2546 m beauty of the landscape is famous for its northern shores. There rock combined with bays, valleys and beaches. Smooth coastline devoid of bays and large peninsulas. The largest bay is Genoa. The water area has an area of ​​approximately 15 thousand square meters. km.
Climatic conditions
The coast of the Ligurian Sea - a placeRiviera resort location. There prevails a mild Mediterranean climate. The water temperature in winter is 13 degrees minimum. In summer it warms up to 25 degrees. The cold wind did not penetrate here through the mountains. The salinity of the sea water is 38 ppm.
waterfront covered with olive groves, lemonand orange trees. There grow oleanders, magnolias, laurels, and others. The water has a very beautiful shade, and the air is filled with scents of flowering plants. The mild climate and interesting sights of the coast makes local resorts are attractive in every season. From spring to mid-fall continues swimming season here.
natural world
The unique geographical locationLigurian Sea causes a particular nature. In this area, there was a special climate, due to which the flora is very varied. On the coast of the Ligurian Sea are more than 3200 species of Mediterranean trees, grasses and shrubs. In the western regions of Provence and the Pyrenees growing species, and in mountainous areas - alpine plants. The fauna of Liguria is very interesting. Fauna of the Mediterranean type is characteristic of the water area and coastal strip.
The value of the Ligurian Sea
The waters of the sea absorbed from antiquity. The most powerful area of ​​the area previously considered to Genoa. Genoa merchants sent their goods to different parts of the world. Today Ligurian Sea more is known as a resort area. The most important ports of Nice, Genoa, La Spezia and Savona. From the most famous resorts in the Monte Carlo are considered, the Riviera di Levante, French Riviera, Riviera di Ponente, and others. The hotels are located near the sea, they are separated by only a road. The continuation of the French Riviera is the western shore of the Ligurian Sea. Beaches there, mostly sand and pebble or sand.
Photos of the Ligurian Sea