Pechora sea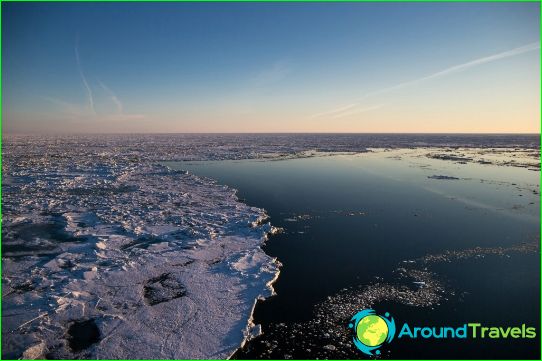 In the Barents Sea, located south-eastcoastal Pechora Sea. It is located between the islands and Vaigach Kolguev. The sea washes only Russian coast: Arkhangelsk region (Novaya Zemlya archipelago) and the Nenets Autonomous Okrug (Vaigach island Kolguev and the mainland). Map Pechora Sea gives you an opportunity to see its settings. In the latitudinal direction it takes 300 km (from the Straits of Kara Gate to Kolguev Islands). By meridian Sea stretches from Novaya Zemlya to Cape Russian reversal. Its water area occupies more than 81 thousand square meters. km.
relief Features
The sea is considered to be shallow. The depth increases gradually as the distance from the mainland. Trench with a depth of about 150 m or more is present near the Novaya Zemlya archipelago.
Along the coasts and wetlands are often foundlowland. The depth of the Pechora Sea is approximately 210 m and the salinity varies from 23 to 30 ppm. The water area of ​​the reservoir is very different from the Barents Sea on natural factors. It formed a special atmosphere thanks to the combination of hydrological, oceanographic and climatic reasons. Therefore, tidal currents, wave processes, and other factors are expressed in the Pechora Sea differently than in the Barents. On the relief is greatly influenced by ice conditions.
Climate
The coast of the Pechora Sea - an areapermafrost. The sea is covered with floating ice from mid-autumn to early summer. Polar night begins in the area in November and ends in January. From May to June there is the polar day. The warmest months are August and July. The maximum ice extent observed in April. Then the ice retreats in the eastern regions and becomes thinner. Fully ice disappears in July. At the same time the Pechora Sea seldom freezes completely. Usually it is the western part remains free in any season. An obstacle to the ice are the warm waters of the Atlantic, coming from the north. Due to global warming and changes in Arctic sea ice, scientists predict a gradual destruction of the coast of the Pechora Sea.
The value of the Pechora Sea
In its waters there are deposits of oil. Today, the commercial development of preparing such deposits as "Medynskoye-sea", "Dolginskoye", "Varandey-sea" and others. The oil marine terminal operating in the village of Varandey. It is there that comes from oil fields. The economic importance of the fishery also has seals, beluga whales and cod.
Photos of the Pechora Sea