Persian Gulf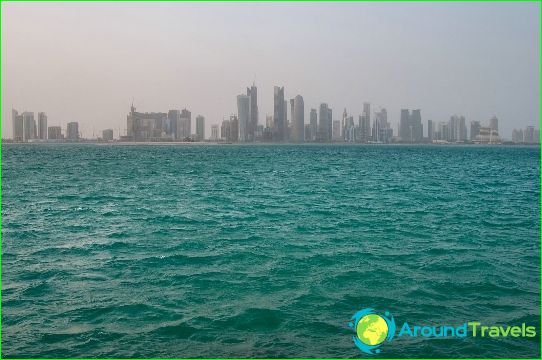 Arabic or Persian Gulf separates ArabiaPeninsula from Iran. It connects the Indian Ocean, the Arabian Sea and the Gulf of Oman via the Strait of Hormuz. Many experts argue that the Persian Gulf properly be called an inland sea of ​​the Indian Ocean as its hydrological regime similar to the sea. But more often this bay is considered the site of the Arabian Sea. Map of the Persian Gulf shows that it flow rivers such as the Euphrates and Tigris. Previously, they were held as separate river systems, but due to sediment gradually increased land and part of the river merged into a single stream.
The economic importance of the Gulf
In the Bay Area there are rich depositsgas and oil. The largest oil field is of Shaphan. States, located on the Persian Gulf coast is produced not less than 25% of world reserves of oil per year.
In addition, there is well-developed production of pearls. Therefore, the economic importance of the Persian Gulf is difficult to overestimate. On its shores are located following States: the United Arab Emirates, Oman, Kuwait, Iran, Bahrain, Iraq, Qatar, Saudi Arabia. The Gulf is one fourth of the world's mineral reserves. Therefore, it plays a vital role in the economy. This connects the Gulf countries of the East and the West. He is constantly subject to the claims of colonial powers. The political situation was always tense in the region.
Geographical features
Bay covers an area of ​​about 239,000 square meters. km. Its length is 926 km, and the width varies from 180 to 320 km. The average depth is 50 m. The most deep-space reaches 102 m. The many islands are located in the area. The State of Bahrain takes three large islands and many small. It is connected to the mainland by a bridge and removed from Saudi Arabia at 16 km.
The largest island of the Gulf - Qeshm, whose lengthIt is 136 km. It is owned by Iran and is situated across the strait from the coast. Iran also belong to the island of Kish, Small and Greater Tunb. Close Bubiyan island is considered a territory of Kuwait. This uninhabited island with swampy soil. UAE and Saudi Arabia also have their own island in the Persian Gulf. There were even artificial islands that are created with the purpose of development of tourist business. In the Gulf, many coral reefs, which makes it even more interesting for travelers. In summer the water temperature reaches 33 degrees. In winter, it is cooled to 15 degrees. Bay Seawater has a salinity of about 40 ppm. Circulation trends happening there counterclockwise. The main ports of the Persian Gulf are Basra, Faw, Abadan, Kuwait, Abu Dhabi, Manama, Dubai and others.
Photos Gulf