The population of Nigeria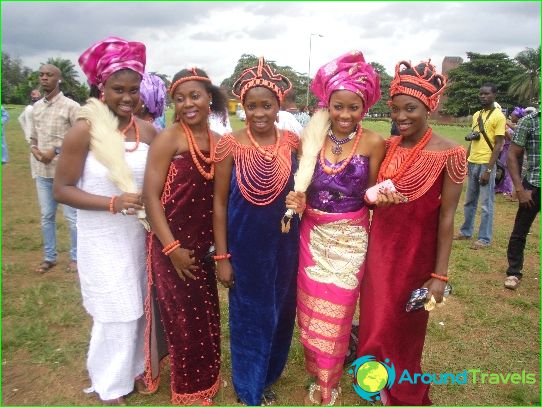 The population of Nigeria is more than 172 million people (Nigeria - the largest country in Africa in terms of population, which inhabits more than 250 peoples).
National composition:
- Hausa-Fulani (30%);
- Yoruba (23%);
- Igbo (18%);
- Ijo (10%);
- Ibibio (3%)
- Other people (16%).
On average, 160 people living on 1 km2, buthigh population density observed in the south-east, just below - the south-western and northern regions, and are less populated state of Kwara, Plateau State center and most of the states of Borno and Yobe.
The official language is English, but many speak dialects of their own people.
Big cities: Ibadan, Lagos, Kaduna, Maiduguri, Kano, Port Harcourt, Benin-City.
Residents of Nigeria are Muslims, Christians, animists ( "heathen").
life expectancy
The average Nigerian inhabitants live up to 47 years.
There is only a little more than half of the people have access to water suitable for drinking (the last cleaning).
In Nigeria, people often die from diseases such as HIV and AIDS, polio, cholera, malaria.
In Nigeria, there are more women who are obese and overweight (in cities - 36%, in rural areas - 19%).
Traditions and customs of the inhabitants of Nigeria
Residents of Nigeria are trying to pass down from generation to generation, oral legends and stories about the creation of the world, the first ruler of the great warriors and heroes, the origin of the different nations.
In Nigeria, as in any other African country, to this day there are temples, with links to traditional religions. In addition, it operates the priesthood hierarchy and secret religious societies.
Modern culture is permeated by the Nigerian folk traditions. This can be seen in the wooden sculptures created by the Yoruba or Ibibio masks from the masters.
Of great interest are wedding traditions in Nigeria. Woman to have married, she should recover well - otherwise it will be returned back to the parents.
Before the ceremony, the bride should be inspecial hut. Before the groom go in unto her, according to tradition, he should give guests tobacco and chicken. Only then begins the wedding feast with dancing, singing, playing the drums.
Today, more and more Nigerian marriage remade in the Western manner, so often weddings are held in churches with costumes and dresses.
Going to Nigeria? Get vaccinated against yellow fever, to exchange money at a bank or exchange office (not the fact that you will be able to use credit cards or traveler's checks).
Because criminals in Nigeria to attract foreign currency, advance exchange them for local currency in small denominations.
Also, do not forget to haggle in shops and markets (in Nigeria is common).
Photo