Resorts of Northern Cyprus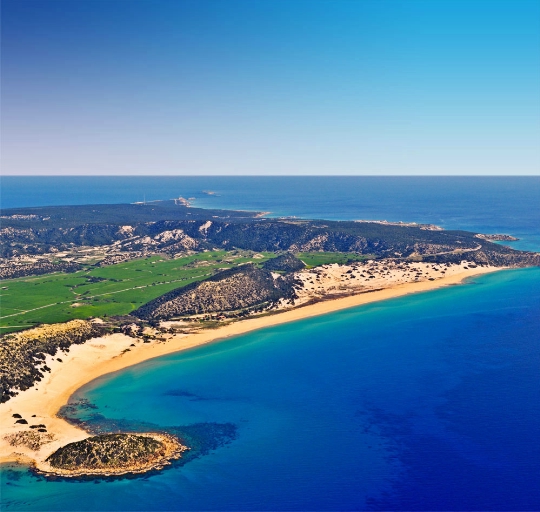 Northern Cyprus is under the jurisdiction of many yearsTurkey is a republic that only this country and recognized. This, unfortunately, does not contribute to its popularity among Russian tourists, but those who have visited this part of the island of Aphrodite in the resorts of Northern Cyprus, were satisfied with the rest. To travel here Russians do not need a Schengen visa and border crossing procedures for them is the same as when entering Turkey. The only downside to choose a vacation in Northern Cyprus is the lack of direct flights to Nicosia. Air traffic is possible only with a change in one of the Turkish airports and sea from Alanya.
Always in the TOP
The most famous resorts of Northern Cyprus pleasedlack of tourist crowds are attractive and clean beaches. Here you can find the secluded parts of the coast without a problem, where there is no campers, and the sea seems to be especially transparent. However, the infrastructure of popular holiday destinations well developed and comfortable hotels and nice restaurants here quite all:
Famagusta, located in the east of the island, withoutnearly two and a half thousand years. In addition to historic buildings and archaeological sites in the city, you can find a nice retail shops and restaurants with an authentic menu - and the Greek and Turkish. Famagusta hotels are designed for a wide range of public, and their level is consistent with the stated on the front star.
In Kyrenia feel comfortable all touristsages and all incomes. Hotels in this part of Northern Cyprus take and wealthy travelers, and those who prefer budget accommodation options. Kyrenia beaches - clean and well maintained. They are considered among the best in the Mediterranean.
Not a single beach
The resorts of Northern Cyprus has something to do with themselvesand leisure swimming and sunbathing time. Water sports and tasting of local wines, shopping in the bazaar and excursions to the many attractions - entertainment program you can create a diverse and fascinating.
Divers love to Northern Cyprus for the opportunityobserve the flora and fauna of the underwater world, and fishermen - for the opportunity to catch dinner on the hook with his own hands. Antiques fans happy exploring a real rarity - raised from the seabed ship sunk during the time of Alexander the Great.
Photo