Niger River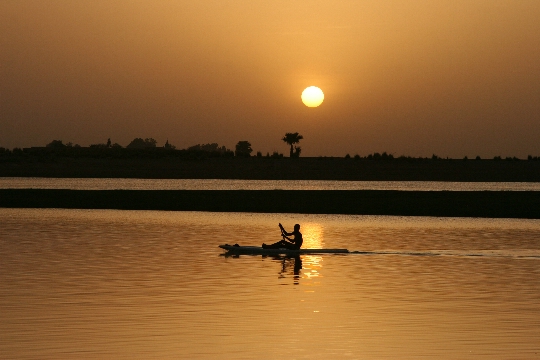 The Republic of Niger is located in the north-eastern part of West Africa. And only the Niger River - is a river of the same name Niger and Yobe River.
Niger
Niger - one of the largest rivers in the whole of WesternAfrica. In addition, Niger also quite long river of the continent, second in length only to the Nile and the Congo. For a long time, the river remained unexplored because its track is very twisty. And scientists even believed that the River Gambia and Senegal, occurring far north of Niger, its sleeves.
Sights:
City Bamoko. It is interesting National Museum, the Great Mosque. Building a local bank (vseo Tower) - the tallest in the whole of West Africa. Interesting is the palace of culture.
City Niamey. During a stop to visit the country's national museum, zoo. The local market - the largest in the entire country. It seems interesting and the city mosque.
Kainji Lake National Parks Lake Park of Upper Niger, and park in the western part of Niger.
An unusual feature of the river - the inner delta. Locals call it Masina. Delta is a combination of many river branches, lakes and marshes. The total length of 425 kilometers Masina and a width of 87 kilometers. During seasonal floods of the delta became a goldmine for lovers of fishing. The main representatives of the kingdom of fish: fish-dog; perch; fish cat; Nigerian catfish; carp and others.
In addition to fishing during the trip on the Niger you can practice and active sports, such as canoeing. And you can just go, using catamarans or motor boats.
Yobe River
The source of the river takes in neighboring NigerNigeria. Then it was over a natural border between the two states. In times of drought the river grows shallow. flood time is in January.
Photo