Sargasso Sea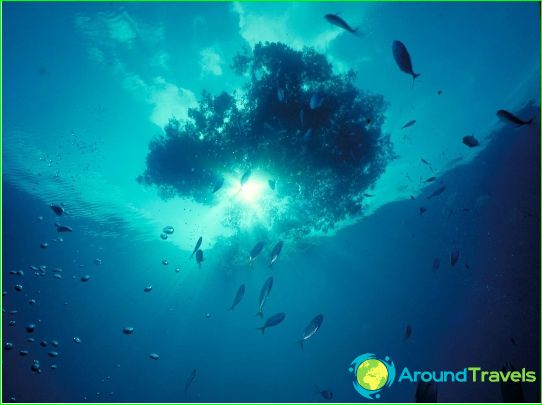 A unique area of ​​the Atlantic OceanThe Sargasso Sea is considered. His limit fickle ocean currents. The water area of ​​the sea stretches between the Canary Islands and the peninsula of Florida. It formed a strong anticyclonic circulation flows counterclockwise: Canary Islands, North-Atlantic, the Gulf Stream, the North Equatorial. If you are interested in the coast of the Sargasso Sea, then you will not find it on the map. It has no sea coast, it is surrounded by water on all sides.
Relief and climate
The area of ​​the Sargasso Sea over 6 million sq. M. km. It has no beaches, except for Bermuda, which are of volcanic origin. The water area is located on the North American depression - deep area of ​​the Atlantic. The maximum depth is marked on the level of 7000 m. Due to the circulation of currents in the sea portion is formed with the surface warm waters. In winter, the water temperature there is 18 degrees. In the summer months, the sea warms up to 28 degrees. Layers of water well mixed due to currents, so even in the deep places of the temperature is below 17 degrees. Even in the tropical seas of the water cooler. The water has high salinity. These conditions have a negative impact on marine life. Fitovodorosley here a little, and they are the foundation of the food pyramid sea. For this reason, the Sargasso Sea differ poor zooplankton and small number of species.
Deficiency of micro-organisms leads to crystalthe transparency of the water. It can be seen at 60 m in depth. Map of the Sargasso Sea shows that its water area remains almost unchanged for several centuries, in spite of the slight wobble of its borders. Even in the days of Columbus Sea occupied the same territory as today. Above this area the wind is rarely formed. Despite the rapid circulation of currents, the sea is considered to be calm and quiet. Frequent and prolonged periods of calm before becoming a real disaster for mariners. They expected a favorable wind for weeks, waiting for a lull in the middle of the sea. Many of them died of thirst and hunger.
The peculiarity of the sea
The Sargasso Sea is unique because there is only formed a huge community of algae, the likes of which are not present.
These algae-Sargassum gave the sea itsdesignation. Scientists have identified three types of algae that have some differences. Strong storms formed over the Gulf of Mexico and in the Caribbean, Sargassum carry into the ocean. There they were picked up by the flow through which accumulate in the Sargasso Sea. In total there are approximately 10 million. Tons of seaweed in the Sargasso Sea. Sargassum form a large-scale arrays, completely covering the surface of the water.
Photos Sargasso Sea