Baffin Bay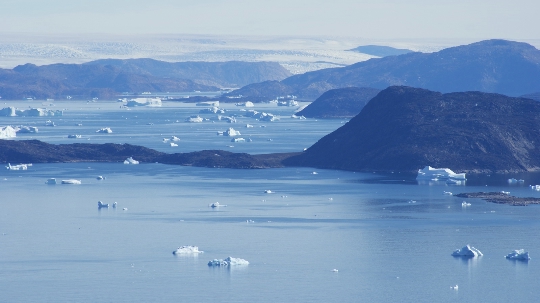 Greenland to the Canadian Arctic Archipelagoseparates Baffin Bay. The southern and northern boundaries of the reservoir relative. The sea stretched out along the meridian and belongs to the insular oceanic type. With the Atlantic Ocean, it is connected through the Davis Strait. Sea Baffin weakly associated with the cold sea of ​​Lincoln Basin of the Arctic Ocean. The area of ​​the reservoir is about 530 thousand square. km. The greatest depth is 2414 meters and the average depth -. 804 m on the coast of Baffin Bay has lots of fjords and bays. The largest of them: Hom, Melville, Karrats Fjord, Disco and others.
Climatic conditions
Baffin Sea Map allows you to see that itIt is entirely within the Arctic Circle. The water area stretches between the Atlantic and the warm section of the harsh Arctic Ocean. Therefore, the climate in the Arctic sea area of ​​Baffin. Temperature varies greatly with the seasons. There prevails overcast weather, blowing north-western and northern wind. Summer misty and cold, and the winter is dry and frosty. In February north temperature drops to -30 degrees.
Near Greenland little warmer - around -18degrees. In winter cold winds speed up to 9 m / s. eastern and north-easterly winds are often observed on the west of Greenland, through which the air temperature rises. Wind sometimes turns into a storm. Dry and warm winds that Greenland called "dryers", per day may increase the air temperature at 20 degrees.
Baffin Sea Ice
In the waters of the ice present in any season. However, their number and distribution vary by month and season. Ice begins to form in the northern part of the reservoir at the beginning of October. In November, the fast ice covers the sea. In winter, the water formed and fixed floating ice. Sea ice fields formed connected individual ice floes. Baffinsky ice massif is located in the west sea. Sometimes it does not exist, but it is usually formed by the fall again.
The sea is considered to be very cold and unfriendly. Navigation in the summer time is almost impossible because of the numerous ice floes and icebergs. Marine expanses furrowing only small transport and fishing boats. Connections to Greenland and Baffin Island is only possible with the help of shipping. The inaccessibility and complexity of navigation - these are the factors that have a positive impact on the state of the underwater world. The Baffin Bay is home to over 20 thousand whales. There are found narwhals, herring, cod, haddock, capelin and others.
Baffin Sea Photos