Koro Sea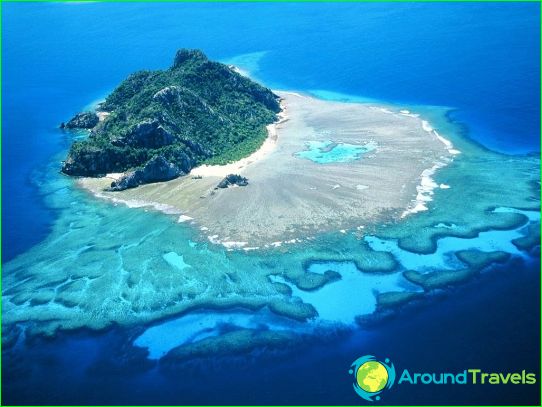 One of the most beautiful and picturesque places on the planetconsidered Koro Sea. It is located in the south-western Pacific Ocean, between the islands of Fiji, Taveuni, Vanua Levu and Lau. Sea has been designated by name Koro islands of the archipelago of Fiji. Waters has a conventional boundaries, as defined by the general depression, which sometimes reaches 7500 m.
Sea Map Coro shows that it is limited toSouth of New Zealand, and in the east of the Kermadec Islands. Its southern part is in contact with the Tasman Sea, and the western - with Coral. The average depth of the sea Corot is 2741 m, and the limit of 7633 m. The bottom has a complex relief, because there are a lot of underwater volcanoes and valleys.
Features sea Coro
The main advantage of this unique body of waterIt lies in its exotic and diverse underwater world. There are ridges and coral reefs, where it was allocated a lot of inhabitants. Koro Sea is sometimes called the coral capital of the world. Nature in the area is not affected by human influence. Come here divers from around the world to enjoy diving. In the sea all year round continues Corot favorable season. There are no strong currents and dangerous, so nothing prevents sea bathing. Flows observed in some places, which is not recommended for novice divers.
Weather
Since the mid-autumn to spring water temperature is27 degrees and above. Water can be seen at 40 meters. A little colder in the period from April to September, when the water temperature is 22 degrees. Indicator average salinity is 35 ppm. The water area is located in a tropical climate. On the coast, sea Coro periodically drop heavy rainfall. Heavy rains followed by periods of drought. The average annual temperature on the island is + 23-25 ​​degrees. Many of the nearby islands are exposed to harmful natural phenomena such as typhoons, tsunamis and volcanoes.
Undersea world
In the coastal areas of the sea water is very clean. Near the island there are beautiful reefs with amazing marine life. Dives here can be performed even in the dark, as the fish swim in the water, lights, illuminating the depths of greenish light. Around the picturesque island of Koro are found and gray reef sharks. The sea is rich in a variety of corals and sponges. There you can see tuna, barracuda, fish-moon, shrimp and other creatures.
Photos Koro Sea