Sibuyan Sea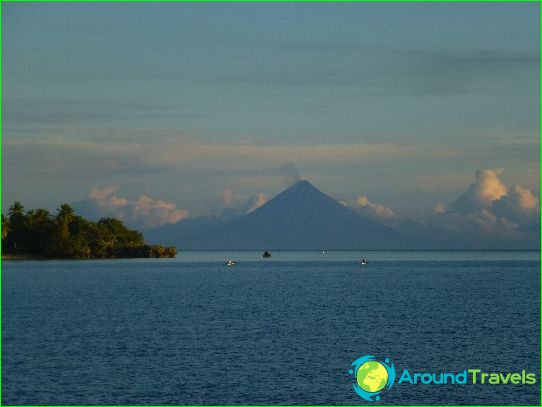 Inter-island Sibuyan Sea is located withinPacific. Its water area stretches between the points of the Philippine archipelago: Tablas, Panay, Luzon, Masbate and Marinduque. Between the islands of Mindoro and Luzon Strait Verde has a connecting body of water to the South China Sea. In the southern part of the Sibuyan Sea is bordered by inter-island seas and Samar Visayas.
Limit the depth of the sea is 1700 m. In the central part of the area is the island of the same name, as the sea map Sibuyan. Deep space were found in the central and western area. In other areas dominated by shallow water. In the south and east of the sea has many reefs, shoals, rocks and cans.
Weather
In the sea area and on the islands prevailtropical climate. In coastal areas, it is always warm and humid. During the summer, it increases the amount of precipitation. In the central parts of the island the climate is drier.
The water temperature is about 23-29 degrees. Waters differs semidiurnal tides wrong, during which the water rises up to 2 meters. There often arise hurricanes and typhoons. The annual rainfall less than 3000 mm in the area. precipitation. Salinity is 33-33,5 ppm.
Features of the natural world
The coast of Sibuyan Sea - a tropical paradise, whereyou can see the rare plants. In the coastal waters of a lot of bright fish and shellfish. particularly attractive pearl forming a pearl among sea creatures. On the islands there are wonderful places to relax. Tropical mild climate creates favorable conditions for diving. Dives can be performed in any season.
A popular tourist destination isBoracay Island, where the best beach in the world. Many holidaymakers also on Marinduque Island, which is famous for the richness of the underwater world. There are coral formations, caves and shipwrecks. Naval battles took place here in the last century, leaving the wrecks.
Sibuyan Island in Romblon province is(Philippines). It occupies an area of ​​not more than 445 km. square meters and has a crescent shape. Almost half of the island is covered with tropical forests, which are not affected by civilization. In 1996, part of the island was declared a nature conservation area. Demographics of the Philippines are employed in fishing, farming, hunting. A significant disadvantage of the islands are frequent earthquakes, since in this region increased seismic activity. However, this feature is not deterred holidaymakers who are drawn to the coast of Sibuyan Sea from around the world.
Photos Sibuyan Sea