Sulu Sea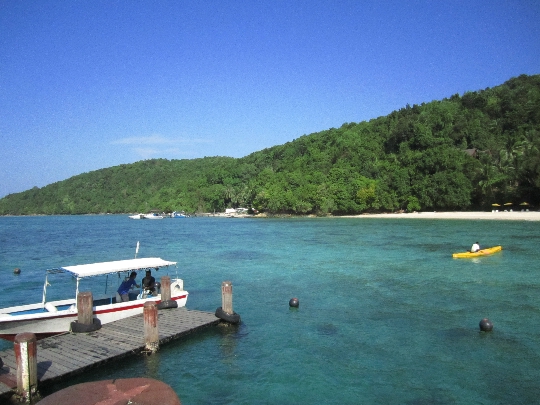 Sulu Sea is an inter-island and refers toPacific Ocean. continents Beach is not washes, but differs clear boundaries running along the island. Philippine archipelago limited reservoir to the north-east and north. Palawan Island is the sea border in the northwest. In the south, the border runs along the islands of Borneo and Sulu. Water area reminiscent of a deep bowl filled with water.
Sea Map of Sulu showing that it stretchedbetween the islands, straits uniting seas such as Sulawesi, Philippine and South China. Considered the sea has gained great popularity among tourists because of the unique areas where diving is possible wonderful. In the southern part of the reservoir, there are magnificent coral reefs. Among them stands out Atoll Tubbataha, which is the most attractive place for divers. This atoll is included in the UNESCO World Heritage List.
Geographical characteristics
Sulu Sea area is 335,000 square meters. km. On average, it has a depth of just over 1,000 meters. The deepest point fixed at 5576 m. The shallow inter-island straits. Strait Mindorro, for example, different depth of about 450 m. The deep-sea bottom is muddy. Mostly mud mixed with volcanic particles. Near the coast of the sea is pebbly, sandy and rocky bottom. Near there are coral formations coral sand white.
Climatic features
Sulu Sea is located in the equatorial zoneClimate. Its waters are always warm and affectionate. In winter, the upper layers of water have an average temperature of about 25 degrees. In the summer months, the water warms up to 29 degrees. On the coast of the Sulu Sea and heat. low pressure areas contribute to the formation of moist and warm air masses. The average temperature on the coast is + 26 degrees in the summer and winter.
Here it is dominated by sunny weather, but in the summerwhile heavy rains fall. In this sea there are medium tides, the height of not more than 3 m. Water exchange between the neighboring seas rather weak due to the shallow straits. The water in the Sulu Sea is surprisingly transparent. Underwater visibility is 50 meters.
nature Features
The fauna of the Sulu Sea is very diverse. Seascapes differ stunning beauty. There are natural coral formation, the remains of sunken ships, interesting plants and tropical fish. Commercial fish are mackerel and tuna. Local residents are engaged in fishing for sea turtles. Large sea ports are considered to Iloilo, Puerto Princesa City, Zamboanga, Sandakan.
The largest inhabitants of the warm seaconsidered stingrays, dolphins, swordfish, sharks. In this body of water inhabited by different species of shark, especially a lot of reef. Dangerous inhabitants of the sea are not only sharks, but also jellyfish, blue-ringed octopus, barracudas, moray eels, clams cones.
Photos Sulu Sea