What to take a child on the road: a few useful ideas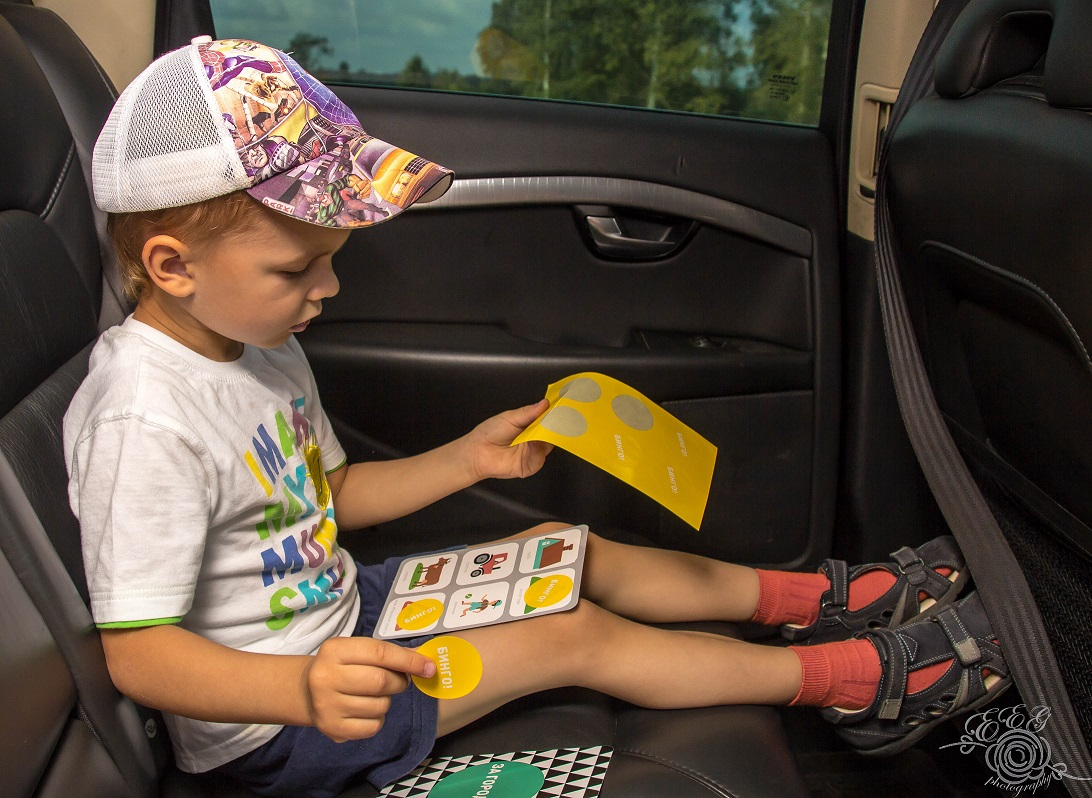 The photo sets "Bingo for Kids" and "Road bingo"
If you go on holiday with your baby and youdriving a long way, it is worth considering what to do with a baby on the way. A few days on the train or tiring trip in the car can be a real challenge for both adults and children. To vacation was not spoiled even before it started, you need to consider how to organize leisure travel.
Here are some ideas for games and activities in the journey.
Coloring, drawing tool, puzzles
Going on the road, take a colorpencils, crayons, coloring books, conventional notebook or notepad. If you are traveling in the car, grab a tray or a large-format book. They can put to paint it easier.
You can give the child freedom. Let draws in the favorite colorings. Or play with him. For example, draw on a piece of an object or part of the animal's body, and ask your child to guess what it is. Then switch roles.
Bingo & Games
Do not forget about the good old board games. Checkers, imadzhinaruim, bingo, puzzles and other help to brighten up the time.
And, for example, bingo - ideal for the road. You can go and look for items around. Today there are special collections, such as "Bingo for Kids" and "Road bingo." Bright cards, stickers, funny job - what you need kids. This game will not only be great fun, but also will benefit: help remember new words, expand the horizons of the child will develop attention and observation.
word games
These games are good because they do not need to scrap materials in them. Play it will turn out, even if you're behind the wheel.
Here are some ideas for games with the kid:
- Lists the items one by one with one common feature. For example, iron, glass, green, square, etc...
- Guessing each other simple puzzles about the things that surround you. For example, square, trolley, inside - all our clothes.
- Put forth a subject that at that moment they see everything and call one of his attributes. For example: "I have before me something in a speck." The player has to guess what it is, with a few tries.
- Play the "synonyms". Offer your child the word, and let him call related words.
- If you are traveling with a child older and want to distract him from his gadgets suitable situation puzzle. Their examples can be found on the Internet. And you can come up with themselves. It will be fun.
Sochinyalki and reading room
On the road, you can make up stories. Set the beginning of the story. For example, "Imagine yourself beetle, trapped underground for millions of years. What will you do before you choose? ". Let the child it will continue.
If you are traveling by train, take a kid's favorite books. On them you can make a mini-quiz or read.
Audiobooks
This is a good option for those traveling by car. Under most favorite fairy tale baby falls asleep, you can listen to, when to play and draw bored.
A little imagination, care and attention to your child, and your trip will be enjoyable from the very first minutes, the baby does not get tired of the road, and you yourself will feel calmer.
Author: Article provided by the publisher "Mann, Ivanov and Ferber"

Photo
The photo sets "Bingo for Kids" and "Road bingo"