Resorts in Laos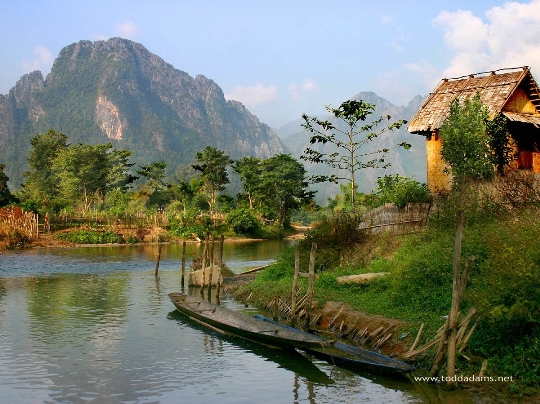 "Land of Million Elephants and the White Umbrella" onceIt is known as the Lao People's Democratic Republic. And both here and now lacking in abundance, but the sea is not, and therefore, rest in the resorts of Laos in the conventional sense of the word travel agencies offer the traveler can not. But Laos is rich in stunning natural beauty and amazing ancient buildings inhabited it Mon and Khmer peoples.
Solo or in an ensemble?
When planning a trip through South East Asia, experiencedtravelers typically include a route that country as a nice makeweight to solid piece of the pie as Thailand, Cambodia or Vietnam. Unlike Laos resorts boast worthy neighbors, and tourist infrastructure in Thai or Cambodian developed much better.
For sightseeing options located outside the cities, it is necessary to hire an official guide or conductor, to get professional assistance in obtaining permission to enter.
Two capitals - two stars
The main interest of tourists in Laos are two republic's capital - ancient and modern:
Vientiane quite cosmopolitan, but notIt causes such large-scale emotions as Bangkok or Phnom Penh. Despite the capital status, the city looks quite provincial and very friendly to the guests. His main pride - beautiful well-groomed parks of all shapes and sizes, and countless colorful Buddhist monuments of architecture will not be bored photographers.
Luang Prabang was the Laotian capital since the midXIV and up to the mid-twentieth century. His main current status - a protected UNESCO World Heritage Site. Famous attractions of the ancient capital, cultural and historical resort of Laos - numerous temples and palaces of the royal dynasty.
Buddha and the Mekong
One of the most amazing places in Laos 25 km fromits ancient capital of Luang Prabang - Pak Ou Caves. Wherever the river meets the Mekong affluent, formed a set of dungeons, which gathered numerous Buddha statues. Carved stone and wood, large and small, old and modern, they are here because of the locals. Lao Buddha bring the top and bottom of the cave for several centuries and today "exhibition" Pak Ou Caves has no less than four thousand sculptures.
To get to the amazing Laos attractions can be only by boat from the ancient capital.
Photo