Turkish Airlines: Eastern airline traveler's dream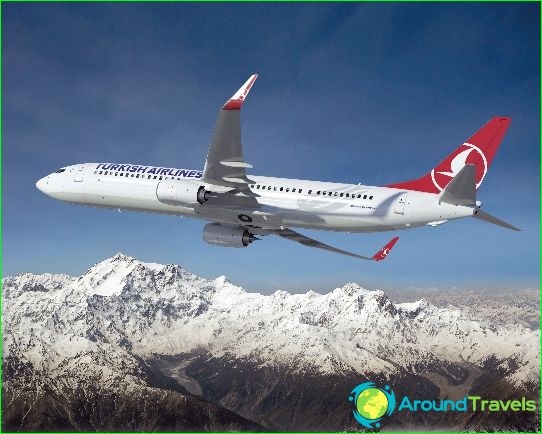 Today we increasingly plan their holidayon their own, without resorting to travel agencies. Having defined the holiday destination, proceed to the choice of airlines. Among the many carriers, we certainly do not want to be mistaken with a choice and dwell on who can transform the way from exhausting pastime on a fascinating journey. If your goal is to find a harmonious combination of nice price, hospitable and friendly staff, modern and comfortable aircraft, a large selection of entertainment, as well as the most delicious and varied meals on board - welcome on board the Turkish Airlines!
Airline Turkish Airlines ( "TurkishAirlines ") was founded back in 1933, and then its fleet consisted of only five aircraft. Today it is - one of the largest airlines in the world with the widest geography of flights. On her map - Airport 262 in 108 countries, and their number is constantly growing. Residents of Russia today can go anywhere from 10 cities (Moscow, St. Petersburg, Yekaterinburg, Ufa, Sochi, Kazan, Stavropol, Astrakhan, Novosibirsk, Rostov-on-Don), and the airline is not going to stop there. The next year plans to open several new flights from Istanbul to Russian regions. So it is quite possible, and at the airport in your city will soon have brand new red and white aircraft.
Turkish Airlines is distinguished by a high level ofsafety and unsurpassed quality of service both on the ground and in the air. The airline has the youngest fleet in Europe, which has 262 modern airliner family of Boeing and Airbus. Over the years, the success of the services of the carrier managed to take advantage of the millions of tourists from around the world. And thanks to their positive reviews Turkish Airlines for the fourth year in a row "Aviation Oscar" in several categories, including "Best Airline Europe" and "Best in-flight catering in business class."
Speaking of nutrition. This is - a real pride of Turkish Airlines. Passengers of the airline even at an altitude of 37,000 feet could feel the genuine Turkish hospitality and enjoy a cup of freshly brewed tea from a samovar, or Turkish coffee, as well as taste the most delicious dishes of Turkish and world cuisine such as oriental sweets, kebabs and stuffed eggplant. In addition, passengers can enjoy a special food, including kosher, vegetarian, low-calorie and children's and seafood. And on intercontinental flights of the aircraft crew includes a real chef!
Aircraft, directions, service - all this, of coursewell, you might say. But how do things with the prices going? Turkish Airlines to this issue special attention. The airline is always possible to find interesting proposals for special rates and promotions. Agree, it's nice to get the highest level of service at very reasonable prices. And doubly enjoyable - for participants of the bonus program Miles & Smiles, allowing earn miles and exchange them for tickets to the next time you are thinking of a vacation or business trip. Also, they can be spent in the newly launched online store Shop & Miles, which features more than 5000 items in 23 main categories and 93 subcategories, including proprietary products with Turkish Airlines logo and slogan of the airline «Widen your world» ( «Look at the world increasingly ") handbags, notebooks, T-shirts, model airplanes and more.
For the lucky owners of Miles & Smiles cardsElite, Elite Plus, the owners of Star Alliance Gold membership card, as well as Business Class passengers, there is another special bonus - CIP Lounge. This round the clock branded lounges in airports Vnukovo (Moscow) and the. Ataturk (Istanbul), where you can spend your time waiting for your flight. They can be treated with freshly brewed coffee, delicious dishes of Turkish and world cuisine, play pool, high-speed WI-FI, children's room, a prayer, and just enjoy the cozy atmosphere and the interior is wonderful to spend time waiting for your flight.
As Turkish Airlines fly to the greatestthe number of airports in the world, and many destinations are only a 2-3 hour flight from Istanbul, among the guests a lot of airline passengers in transit. For them, Turkish Airlines also offer a wide variety of services. For example, if you dock at an international voyage of more than eight hours at the business-class passengers and more than 10 hours in economy class passengers, they are provided with free accommodation at the hotel's partner airlines or tour.
It is quite natural that the popularity of TurkishAirlines growing "by leaps and bounds." Given the positive reputation of the airline, the high level of service, actively expanding the geography of flights and, and a lot of nice "chips", which we were told we can safely say that the travelers all over the world give preference to Turkish Airlines is not in vain.
Photo