The Wadden sea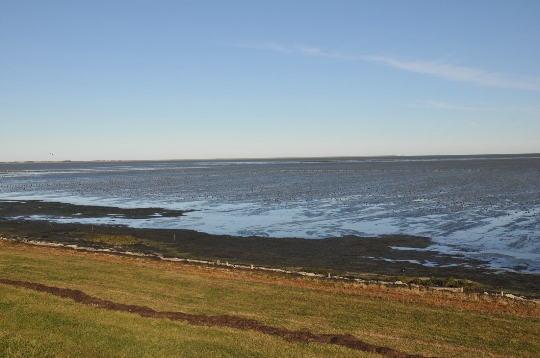 Unusual geographic object isThe Wadden Sea. It is formed by a succession of shallow marine areas, or watts. It is located in the sea off the coast of Denmark, Germany and the Netherlands. It belongs to the waters of the North Sea. The total length of the Wadden Sea is 450 km. As a result, ebbs and flows here landscapes change daily. The water in coastal areas exposes the lowlands and ditches. Ebb drain the area twice a day. The flat and vast coastal zone is represented by a set of transitional ecosystems (between sea and land): shallows, sandbanks, channels, thickets of seaweed, cans, marshes and dunes.
How formed Wadden Sea
Watts formed from sediment composed of silt andsand. Watts of the North Sea - a unique natural phenomenon. Extensive sandbanks found along the islands. Map Wadden Sea shows that Watts is separated from the open waters of the small islands, which were called the East Frisian and North Frisian. Russian geographers do not emit Wadden Sea as a separate geographical entity. He is considered as a site in the North Sea. The designation "Wadden Sea" is often used as a common noun. Examples of other Wadden Sea is the Bay of Fundy, Bay of San Francisco, and others.
Wadden region formed in the North Seafrom X to XIV century. The reason for their formation is that the peat deposits, separated by sand from the ocean, were washed away. The water area is small. A large part of it is occupied by small islands and Watt. Many of the islands completely go under water at high tide.
Natural features
Throughout the waters can be seensmall mound, wetlands, peat bogs, extensive heathland, meadows and small islands. All these natural formations constitute a single ecosystem that is second to none. This European ecosystem is protected by law. national parks and biosphere reserves have been established in the area. One of the sections of the Wadden Sea is listed in the UNESCO World Heritage list. Park Schleswig-Holstein Wadden Sea National Park has an area of ​​about 442 thousand hectares. Much of its area is covered by forests, which spread from Denmark to the Netherlands. Coast Wadden Sea differ diverse nature. Scientists have discovered there are 2,500 species of animals and over 700 species of plants. In seawater live flounder, seals, porpoises, and others. The Wadden Sea has rich gas deposits.
Photo Wadden Sea