Why do I need insurance on a journey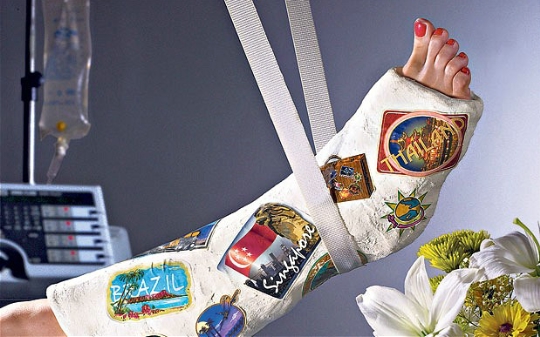 Buying insurance before traveling abroadyou provide yourself free medical care in the country where to send. If the insurance policy you think unnecessary formality, just think about it: the cost of medical services in countries such as France, Italy, UK, Germany, USA and Australia, can be up to several thousand euros.
Therefore, in order to truly protect themselves invacation time, it is better to carry insurance. Moreover, the body often reacts to abrupt climate change, an active sun, unusual products, and travelers have to go to the doctor.
If you buy a tour to travel abroad througha travel agency, it is usually the policy is already included in the overall package of travel documents. On the one hand, it is convenient that the tourists do not need to do it yourself. On the other hand, in case of illness you may find that you do not know where to go and what are eligible. Therefore, regardless of whether you buy insurance on their own or not, it is important to do two things:
Have a policy with you throughout the trip
Examine the terms of insurance.
What are the insurance
Insurance companies offer different options for policies for traveling abroad:
policy for single trip
Repeated annual policy
policy, which applies to one or more countries, such as the countries of the Schengen zone
international policy, valid throughout the world.
You can select the appropriate option depending on where and how often you drive.
What is usually included in insurance
Standard insurance program for traveling abroad is calculated on the sum insured is 30 000 euros. But you can buy an insurance policy with a higher sum insured - 50 000 or 100 000 euros.
The standard program includes:
outpatient and inpatient medical care
emergency dental care
medical repatriation
early return home
compensation for travel abroad of close relatives of the victim.
The expanded program may include primary legal advice, the costs associated with the loss of documents,
regular flight delay and more. It is also possible to insure the luggage and even apartment on the trip.
In addition, few people can fit into one policy. This is useful when traveling as a family.
What to do if you need medical care
The first step is to call the service center at the number listed in the policy. Dispatcher must be reported to name, policy number, address, telephone number and the reason for treatment.
Of course, a preliminary diagnosis byphone difficult. But the manager will orient you what to do next and pick up the nearest clinic, where you will be able to apply. Service centers are working seven days a week, they are bound to have Russian-speaking operators. Therefore, to talk not require knowledge of a foreign language.
If you are unable to contact the operator, with admission to hospital is necessary to have an insurance policy. It has useful information for physicians.
Do I have to pay for medical services or collect documents for the insurer?
"In 99% of cases on their own personal payit is not necessary - we organize the provision of high quality care and customer simply goes to a medical facility and receives the necessary services to him. The only exception - if for any reason a person has no way to contact the call center, it is necessary to make sure to collect all the documents related to the provision of medical care. This can be an account, a certificate from a doctor, a medical report, receipts and other documents, which will serve as a basis for compensation ", - said Director of Insurance INTOUCH Basil Busarov
"Let's start with the fact that insurance for traveling abroad to all countries visa is a necessary condition for obtaining a visa. Without insurance you it just will not execute.
Apart from these situations, the cost ofinsurance in times less than the possible costs of medical advice and treatment during the holidays. For example, insurance for 2 weeks in Turkey will cost 500-1000 rubles depending on the amount of insurance coverage. At the same time one doctor visit (and this is just a visit) there is no less than 50 dollars. Also, always look for additional options - for example, associated with the presence of children in the event of hospitalization of parents. They will cost 200-300 rubles extra, but can be very helpful on occasion. For lovers of active sports and recreation there are special types of insurance policies that cover the expanded number of risks, "- said the commercial director of" The Messenger Travel "Andrey Osintsev
Photo