Here I am, finally, visited Hong Kong and nowit is my turn to share my impressions of this city-country and of our entire unusual trip. This is my first trip here, but Oleg already once was here passing through and told about it (reference 1 and reference 2). And last time he liked it so much that he could not miss the chance and didn't show this country to Egor and me now, especially since tickets from Sanya to Moscow turned out to be much cheaper if we change trains (about tickets separately). And choosing between Beijing and Hong Kong, we chose the latter and decided to spend several days here.
The content of the article
Flight Sanya - Hong Kong
The last month in China was not easy for us becausethe fact that all three of us were constantly alternately sick, and during the flight I pulled out this lucky lot to "get sick", so I flew almost unconscious with a high non-breaking temperature and splitting head, so basically I just slept. But, nevertheless, I managed to notice that our boy grew up and it became much easier to fly with him. Let the flight lasted only a couple of hours, but our no-non-child with dignity and quietly (quietly for Egor) spent this time having fun with dad. Well, Oleg once again grew up in my eyes, like dad and as a husband, he grew up decent Zen and is already quite able to cope with all the tricks of Egor calmly and in a playful way, in general, the boys pleased me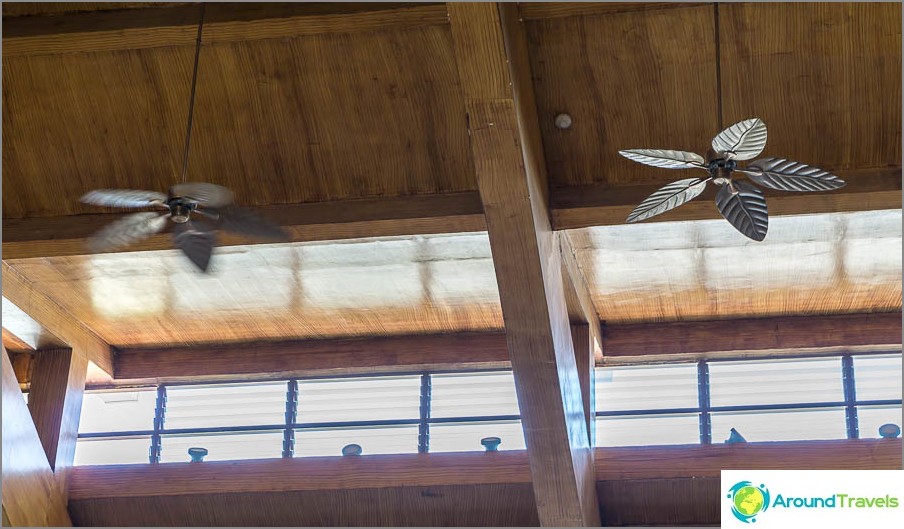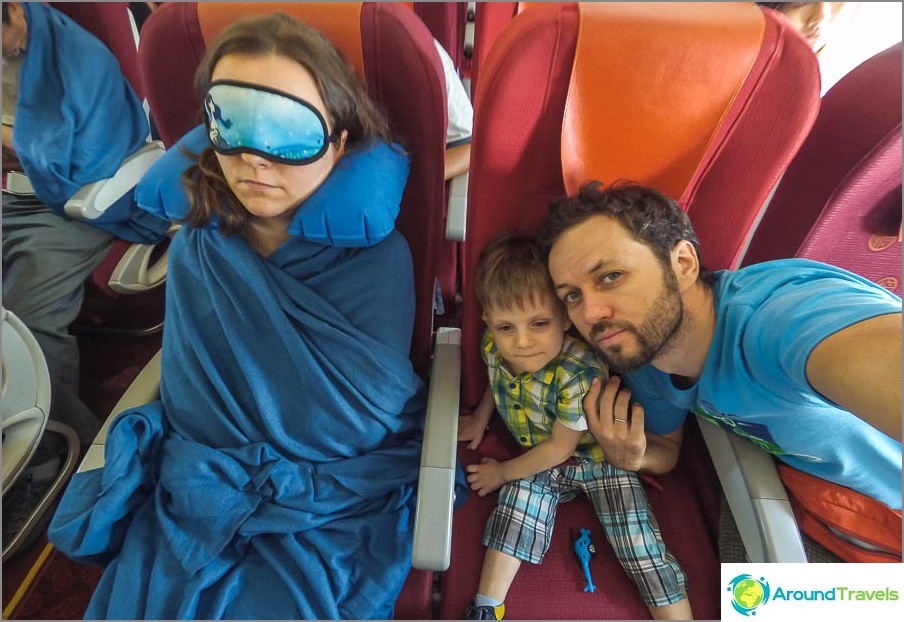 Hong Kong Tours
The hospital is the first sight
Our walks began from the most unusual place - from the hospital where we went to insurance. And the first thing I was surprised to see was still on the way - for some reason we very quickly got there by taxi, despite the fact that it was evening and, in theory, we had to decently knock about in traffic.
About the hospital, probably, then we will separately tell. I just want to note that everything was fast, well-organized, the doctor listened carefully to me and prescribed medicines that I took there, so when we arrived home, the temperature was already asleep and my head was not so sore, and the next day felt quite healthy.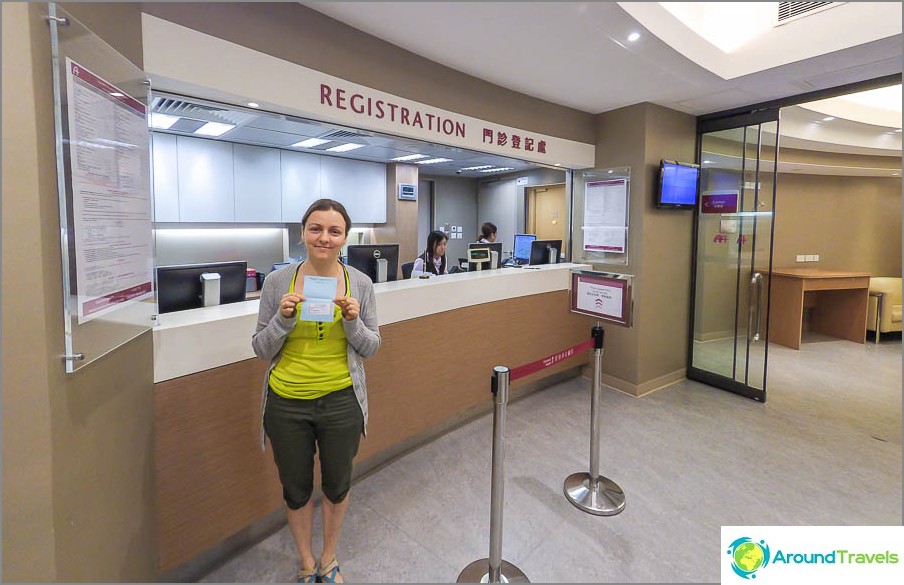 But the next day we noticed that YegorSome very dry and quiet, they measured the temperature and were scared - she was under 40 degrees. Any attempts to knock her down with our means were not crowned with success, and we again went to our first "landmark" - all the same hospital. By the way, we caught a taxi right on the street, it worked out pretty quickly. The only difficulty, despite the fact that Oleg promised me that in Hong Kong EVERYTHING speak English, for some reason it's the taxi drivers who, like true Chinese, never know, well, we still have the skills to explain ourselves on our fingers, we quickly found a common language.
At the hospital, Yegor was helped immediately and by the timewhen we arrived home, the temperature was almost normal. But we didn't dare to seriously walk that day, we just walked around the city for a while, went to the local market, went nuts on prices, bought food and went home to prepare for the next day.
Since we were a little afraid for Yegor, we decided to go around the sights not in a hurry and basically let the boy sleep, quietly spent the first half of the day at home (good, the apartment was cozy and the view is amazing) and got out somewhere in the evening, after Egor's afternoon nap.
Hong Kong overall impression
This is something extraordinary! In the literal and figurative sense! An unusual combination of Europe-America and Asia, glamor with Asian flavor. I have never seen such a diversity of people, styles and nationalities anywhere! It seems to me that there is no such contrast in architecture, living standards and culture anywhere in the world! Here you walk down the street, and from all sides, English, French, then some Spanish or German, or already painfully familiar (hehe) Chinese, fly into your ears. Just before you, a Hong Kong granny was shuffling around with a dilapidated trolley, and after looking at her, you immediately slam into an overworked blond foreigner in an expensive business suit, and he was overtaken by a crowd of cheerful multi-ethnic youth (where there are so many very young "Europeans" ? Are they studying here or are they coming with their parents?).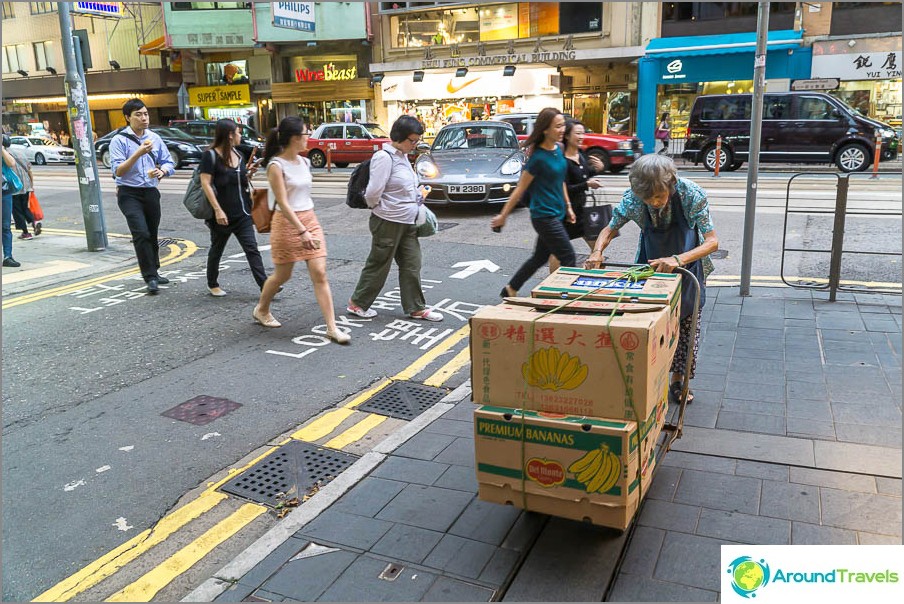 And there are so many people, everything is scurrying around like antsthe sidewalks are so narrow! Everything is narrow and small and it feels even more because of such a large flow of people on the street. But how many cozy cafes, and shops - even more! As Oleg put it interestingly: Hong Kong is one big supermarket! And, unlike products, the prices of clothes and other goods are very different and you can find something cool for quite sane money, but you have to look for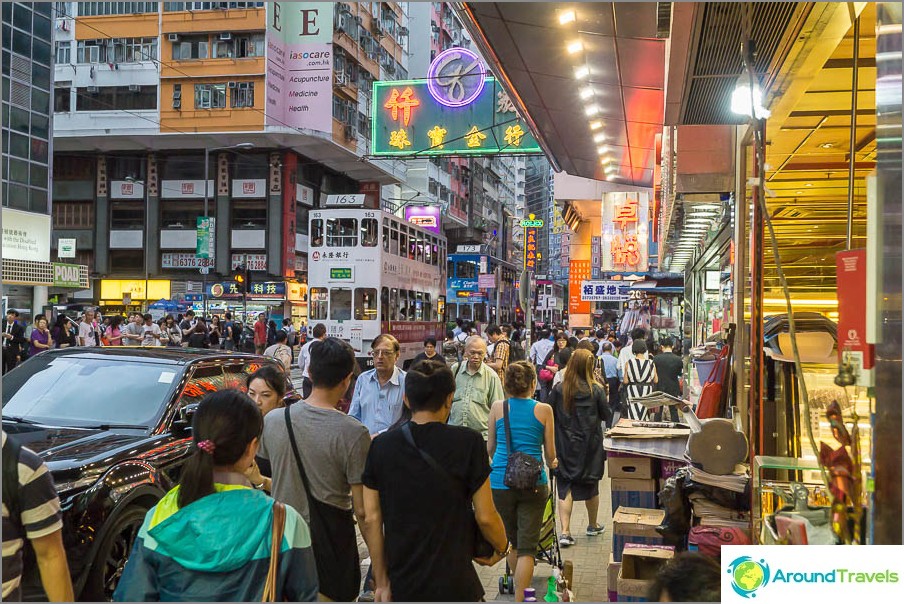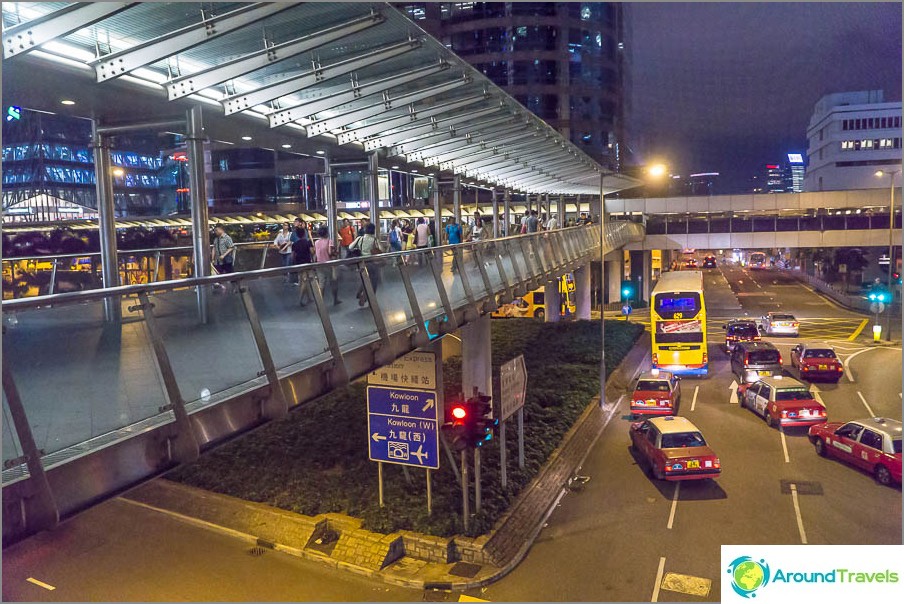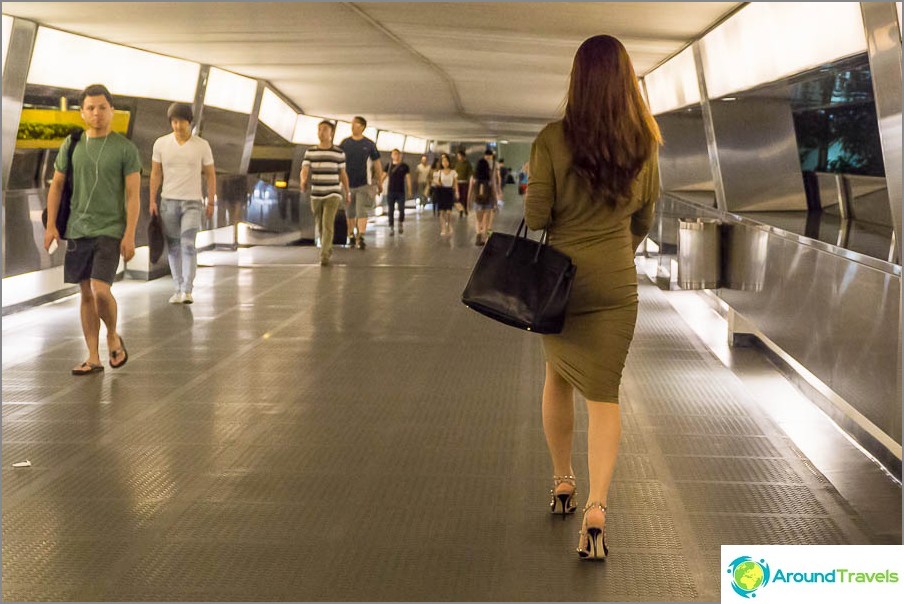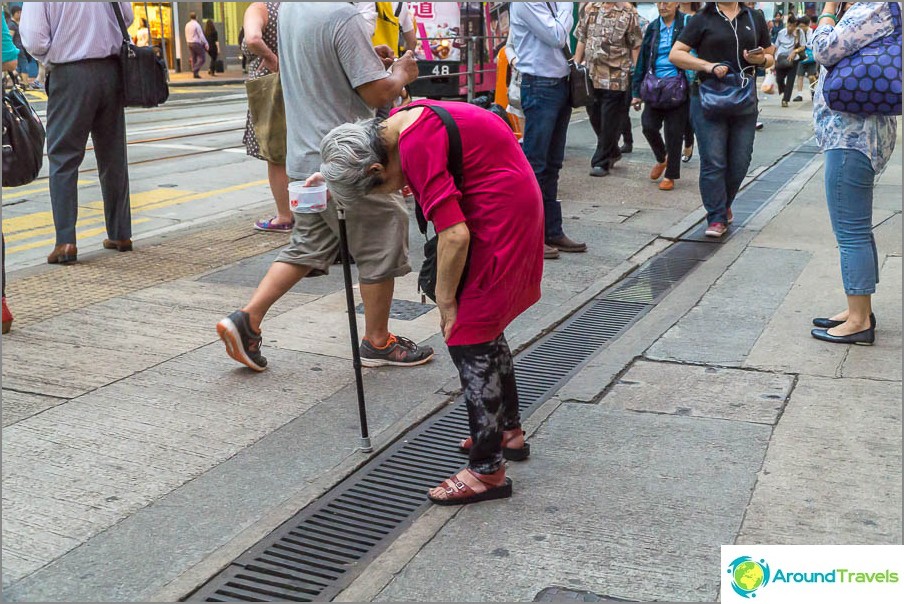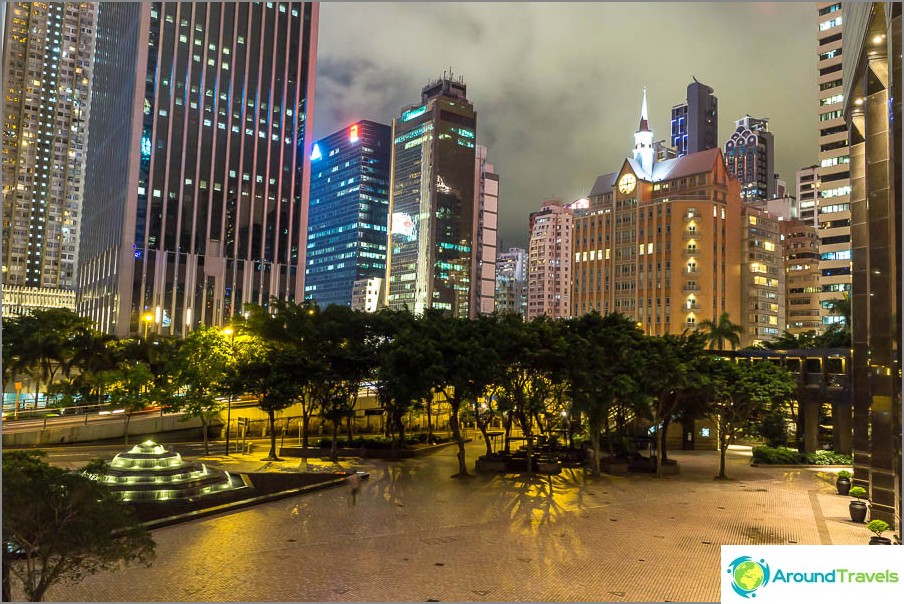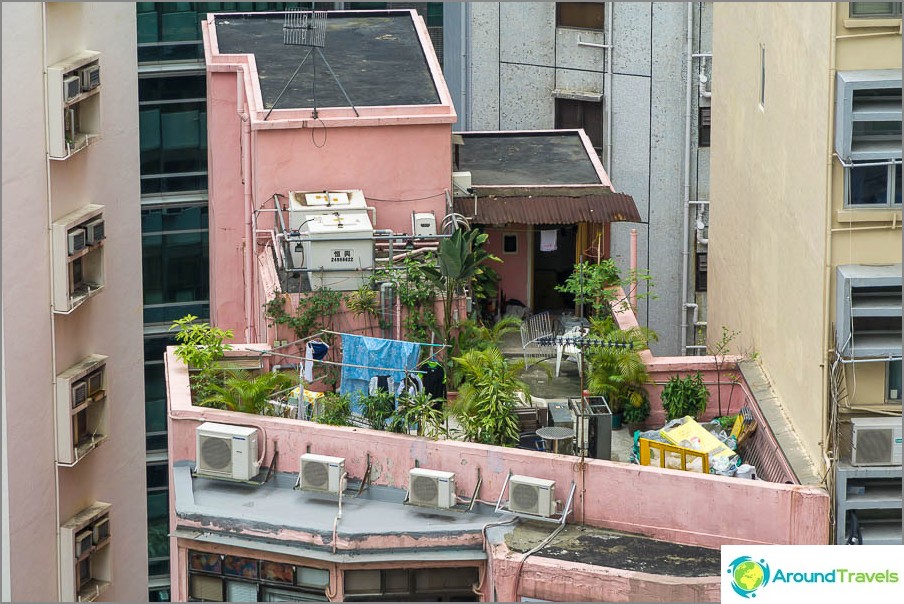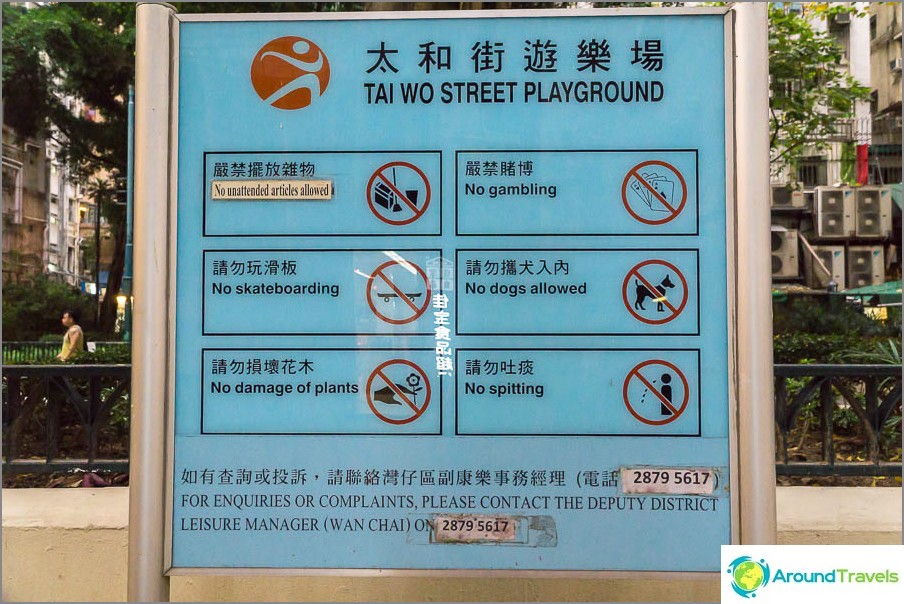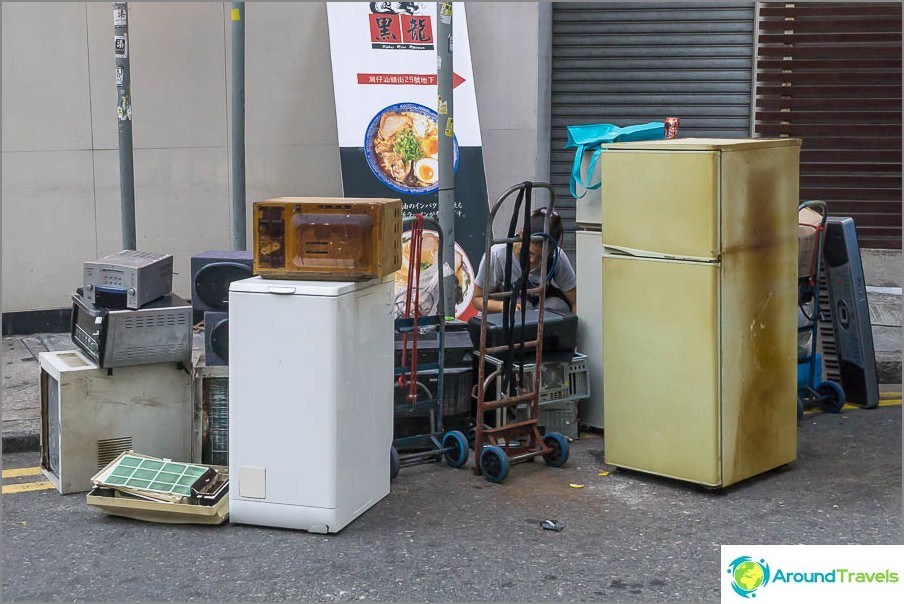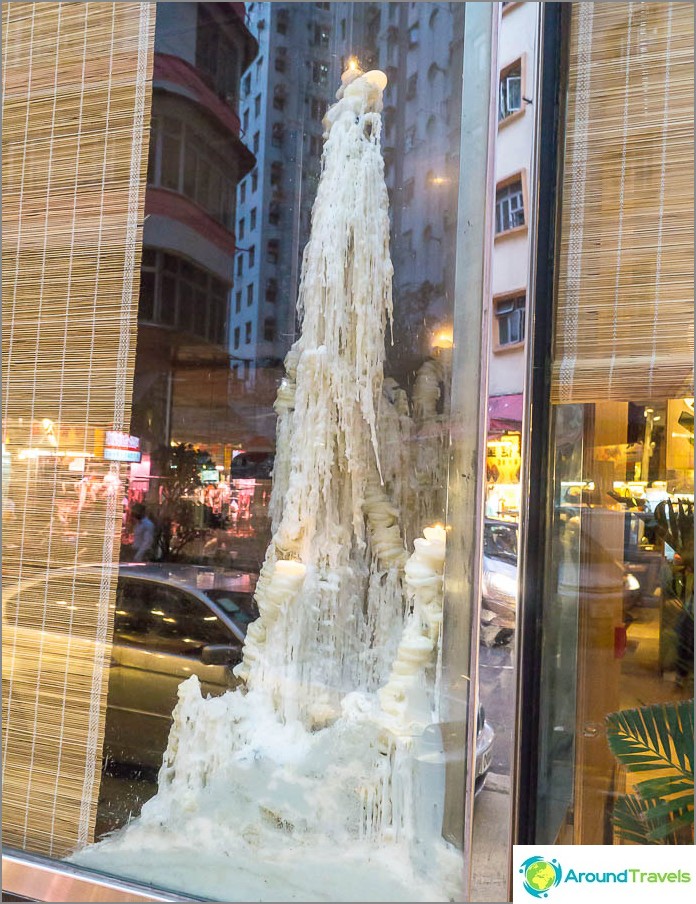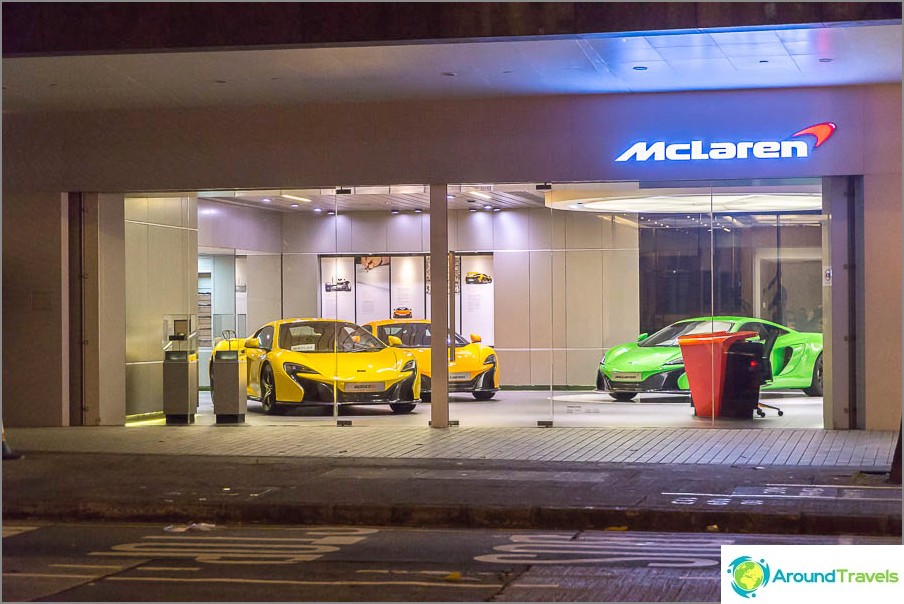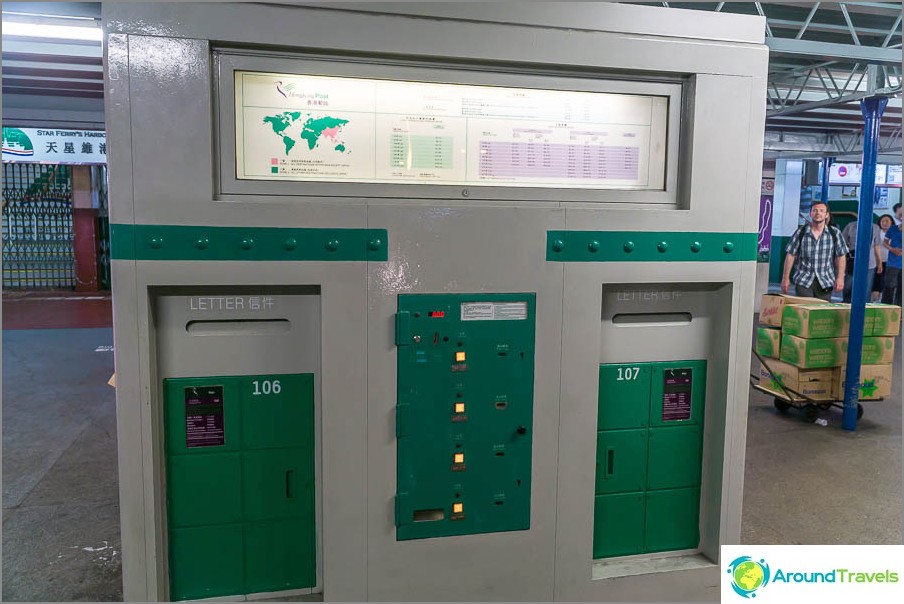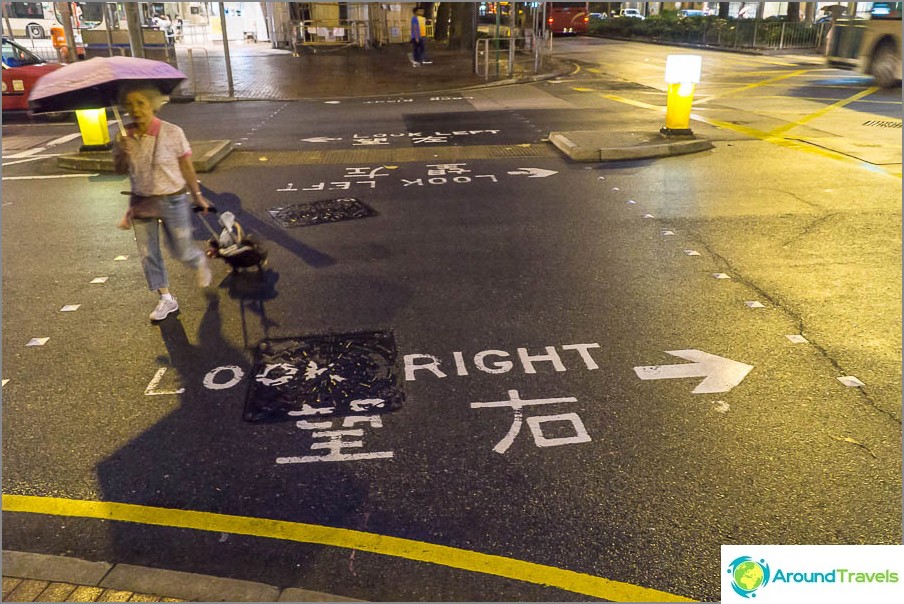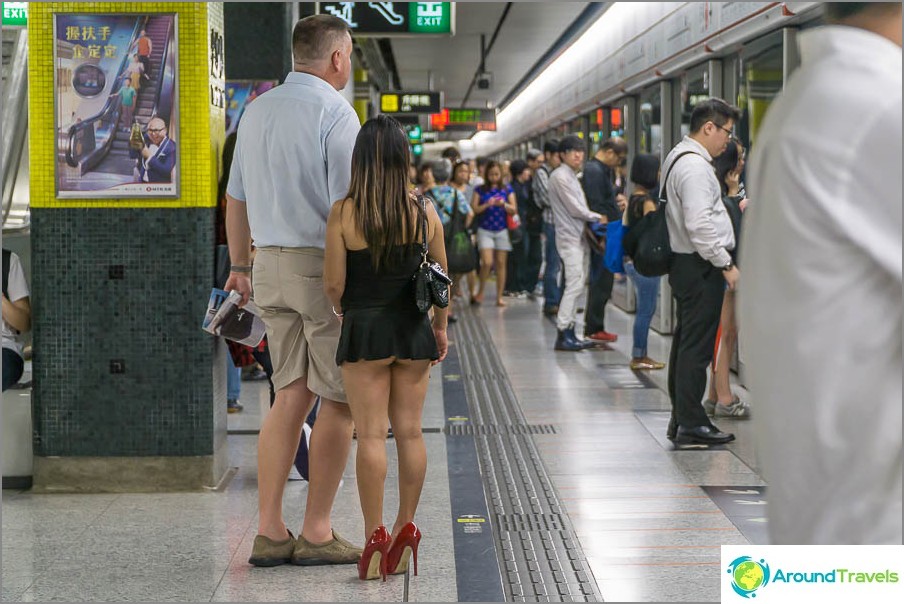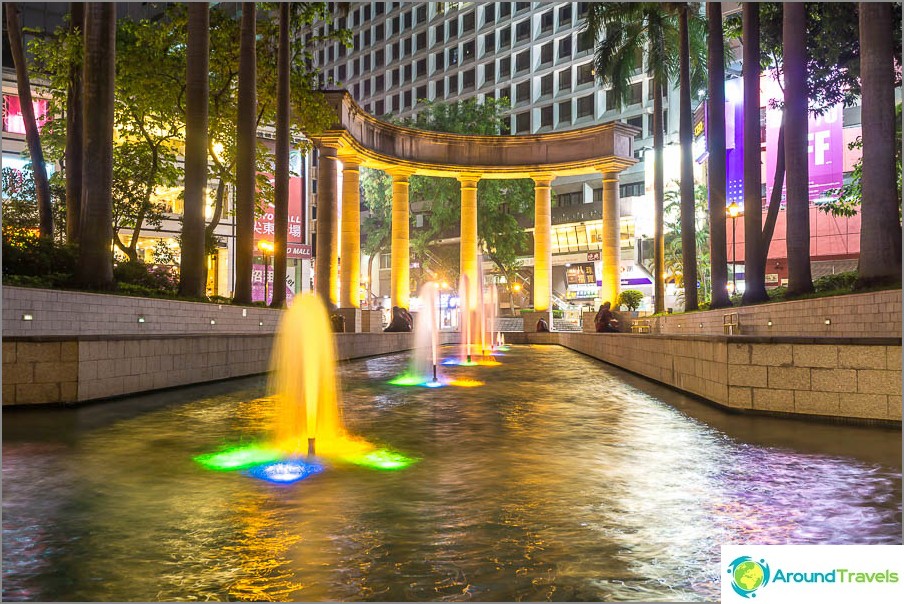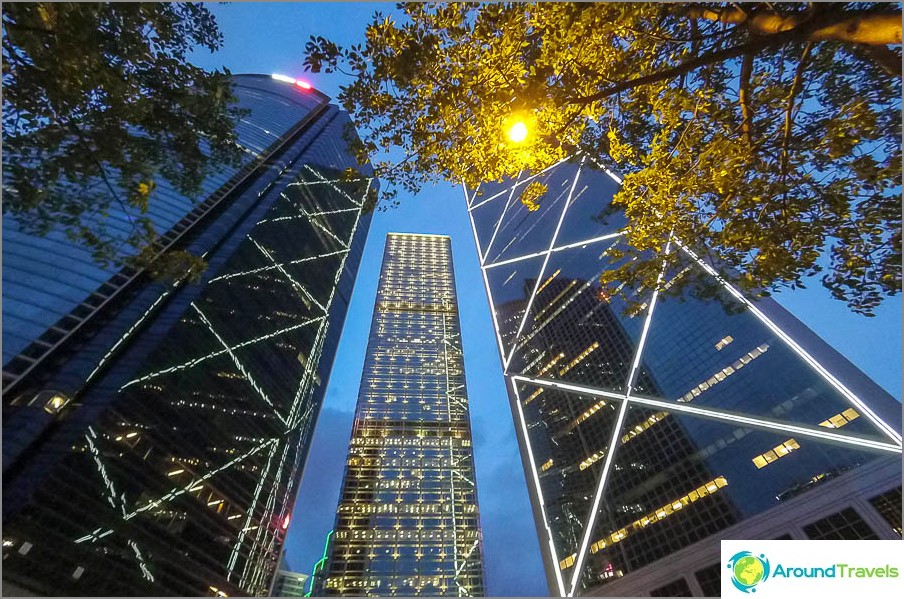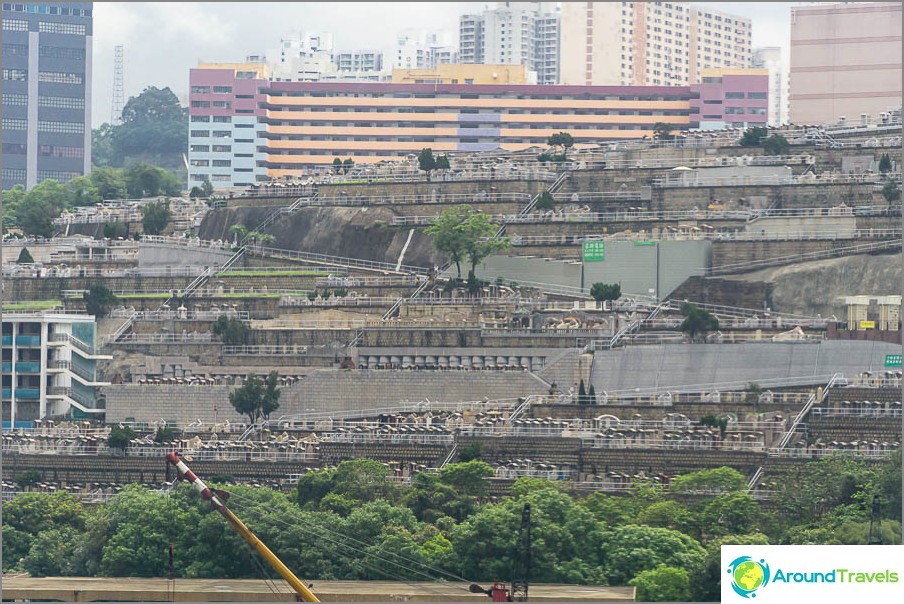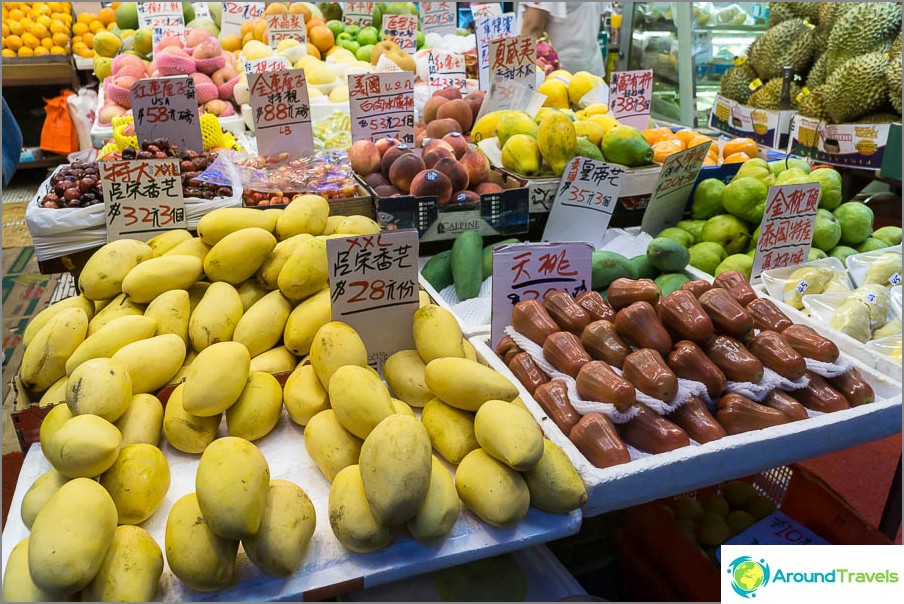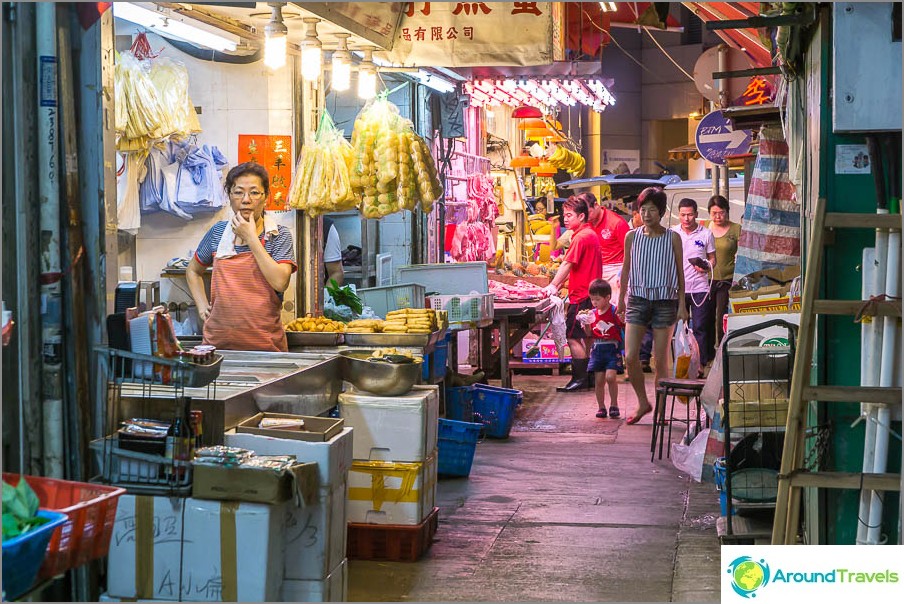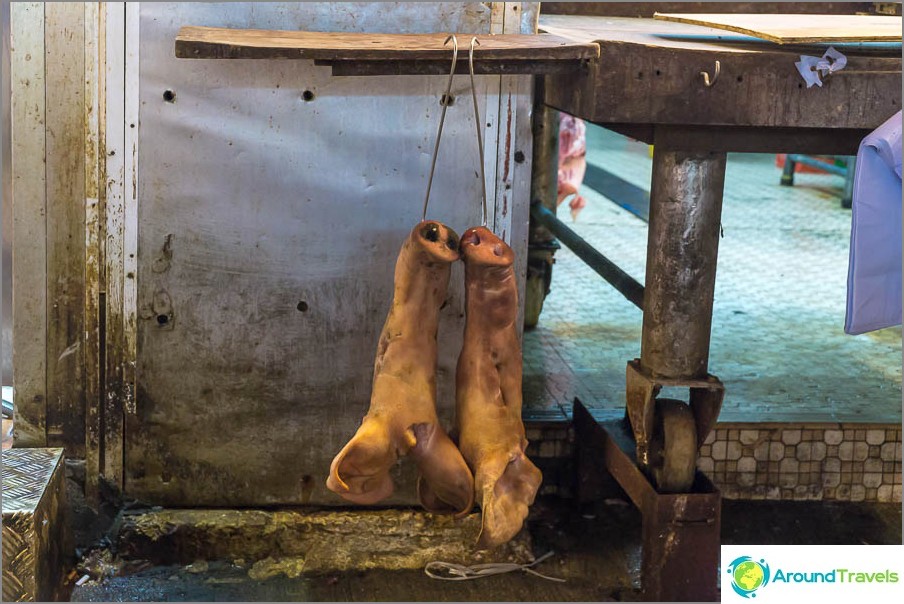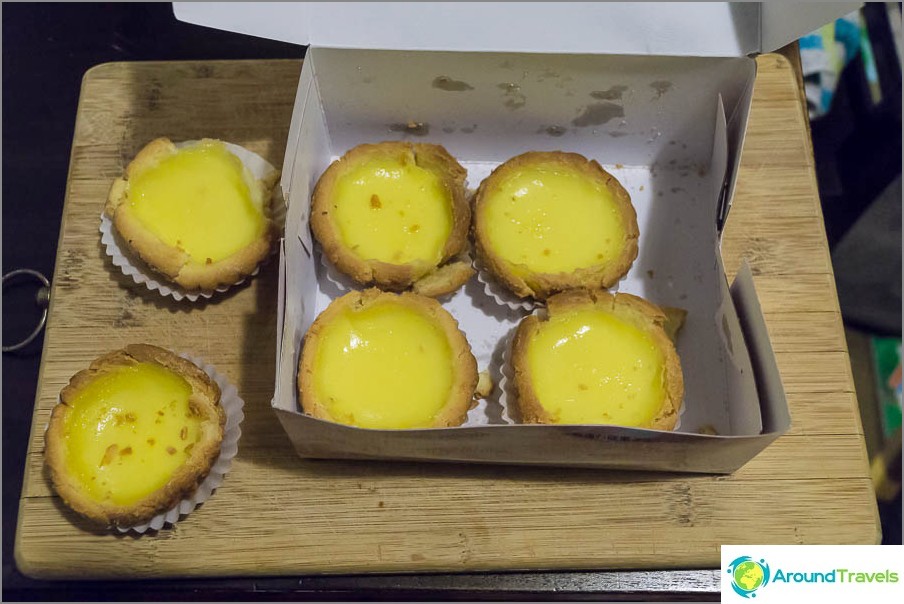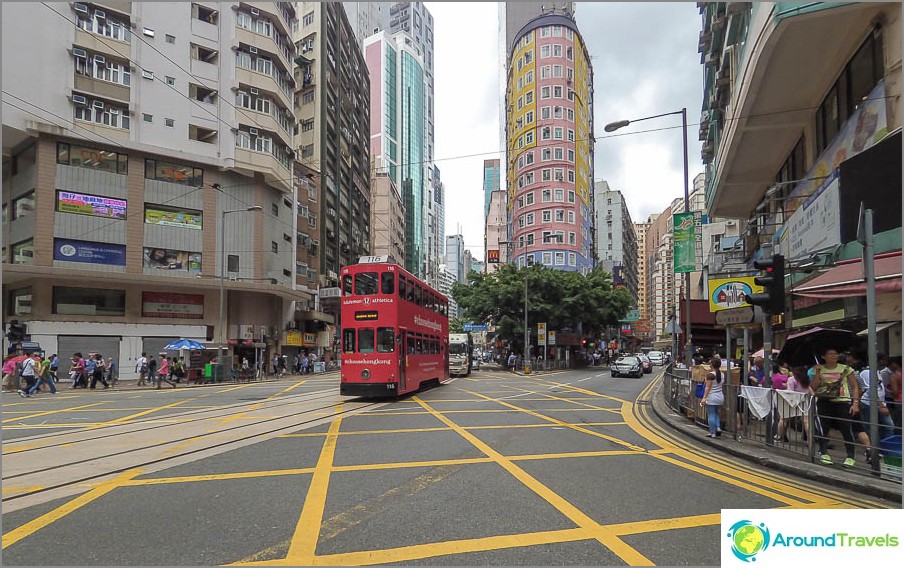 Everything is done, it seems, as well as for people (one public transport is worth it or a single travel card Octopus card!) and at the same time, Asia makes itself felt: take at least broken-down sidewalks and the almost complete absence of normal ramps for wheelchairs. By the way, there is a very large number of slingo-moms, for these crowds, and the truth, it is much more convenient to walk with a child on yourself than with a carriage.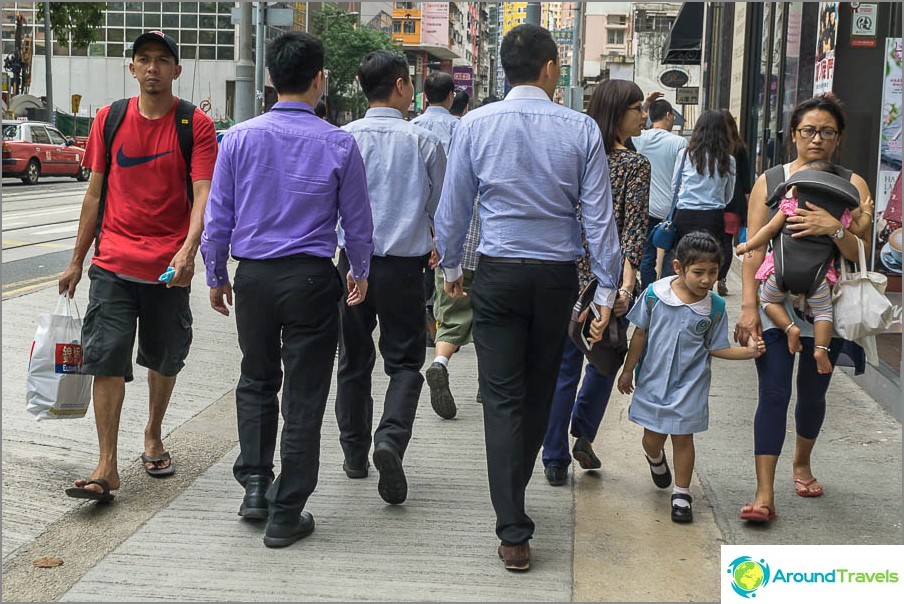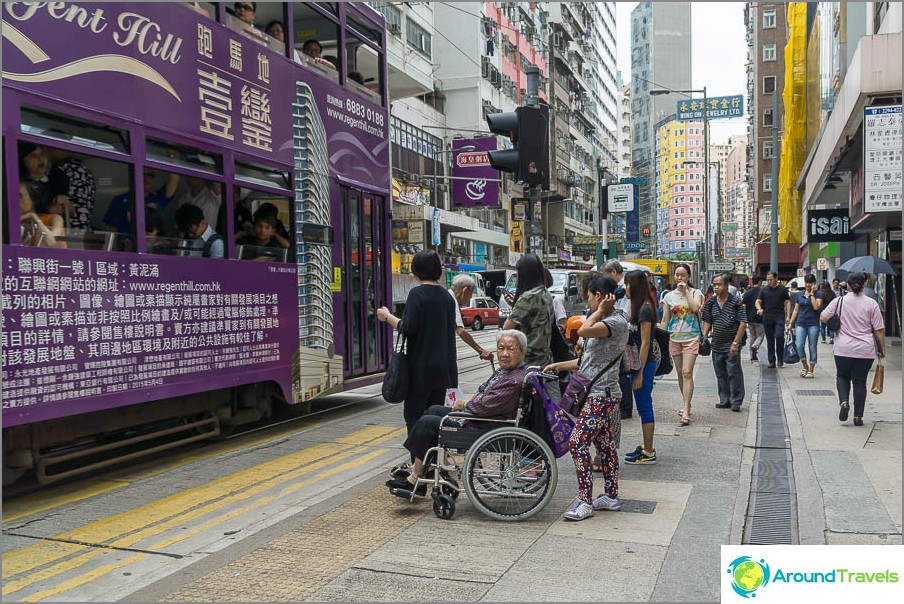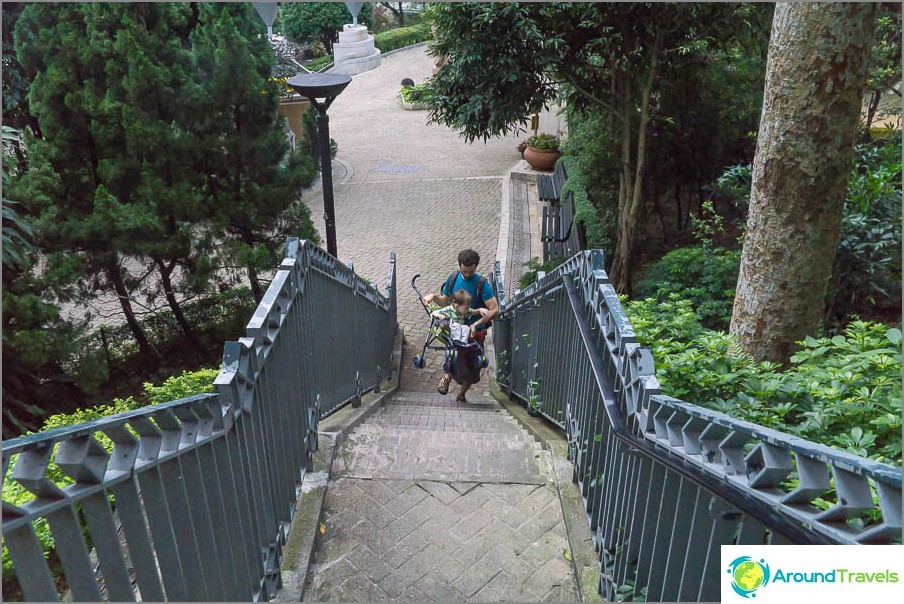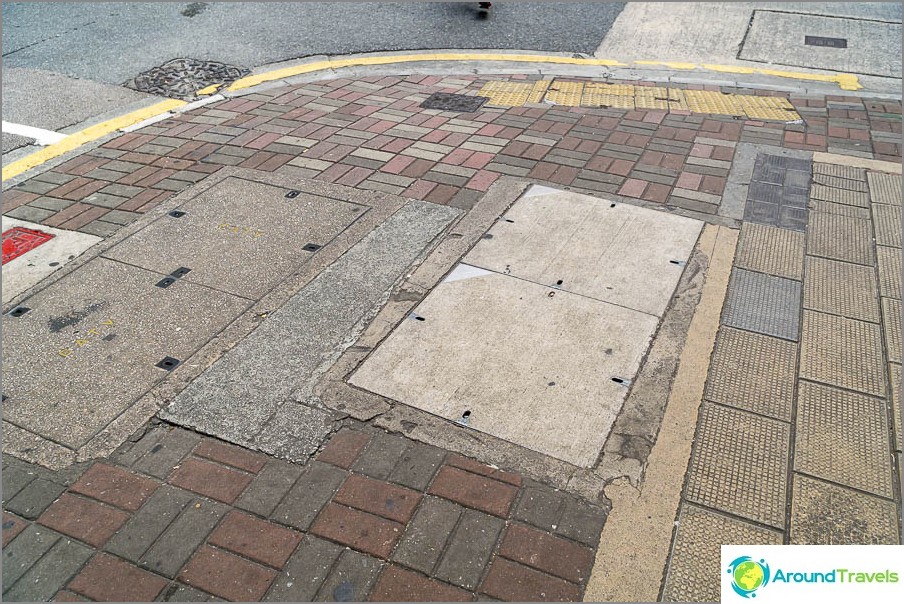 Getting into the subway with a stroller is also separate.quest Every time we honestly wanted to use the elevators provided for this, but almost always it was very difficult to find this mysterious elevator, at each metro station he hid in some unexpected places and even did not manage to get to it by signs, so often we just had to hammer him
Victoria Peak
Our first trip was Victoria Peak, we expected to admire the beautiful views of the night of Hong Kong from a great height, but instead just visited the clouds
That is, a part of the species, of course, was also. But, apparently, I am so lucky: almost every time I climb some height, the view from it is almost always in the clouds (Munich. Kuala lumpur). Well, but walked like hedgehogs in the fog, at 100% humidity. Well, in any case, the trip was interesting, because we went to Victoria Peak and back on a special tram that rolled uphill from a very large angle, and when we looked out the window, it seemed to us that the skyscrapers just fell on us.
If you want to see how everything looks from Victoria's Peak in the afternoon, then on the blog there is already such a post.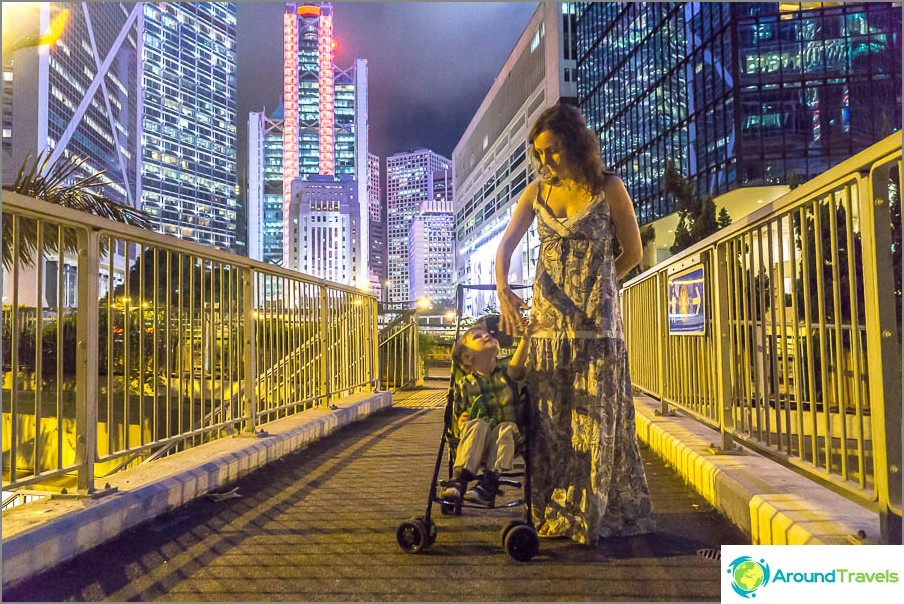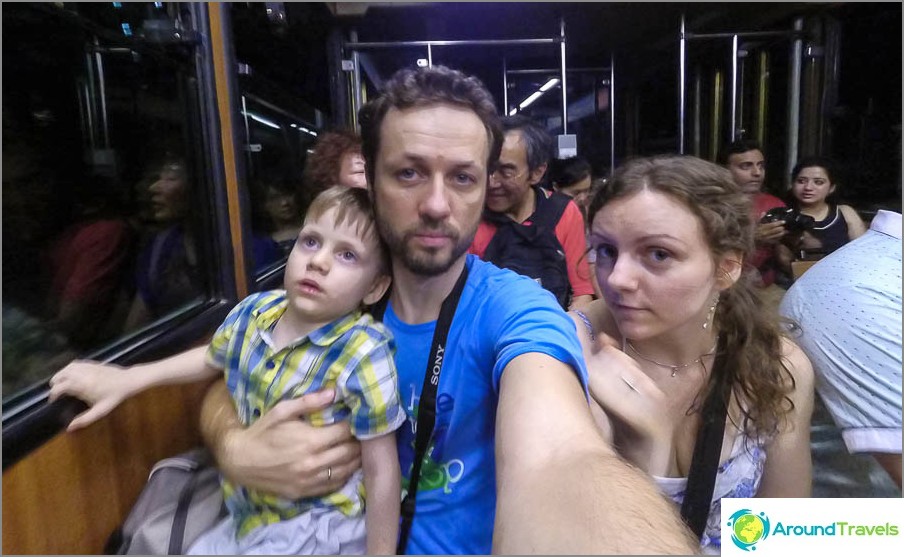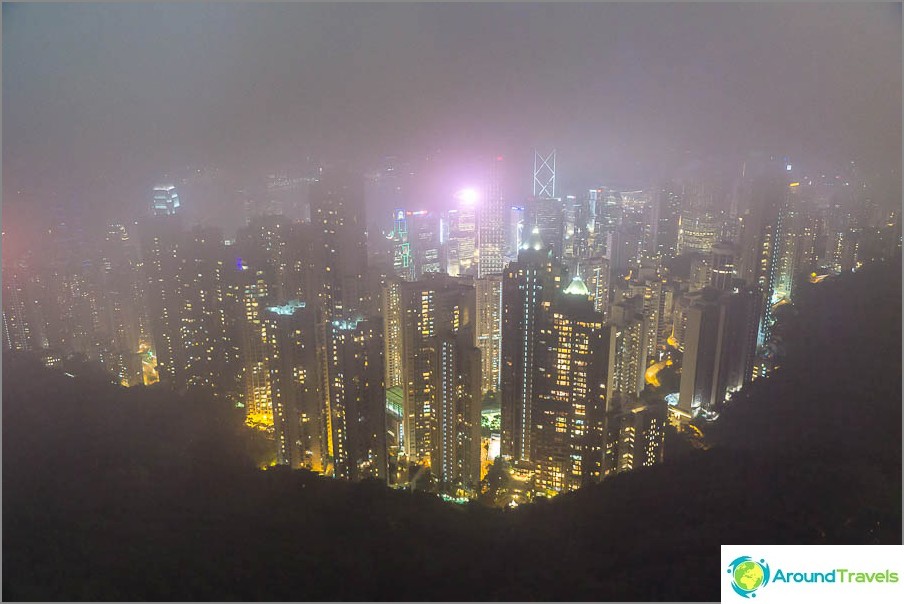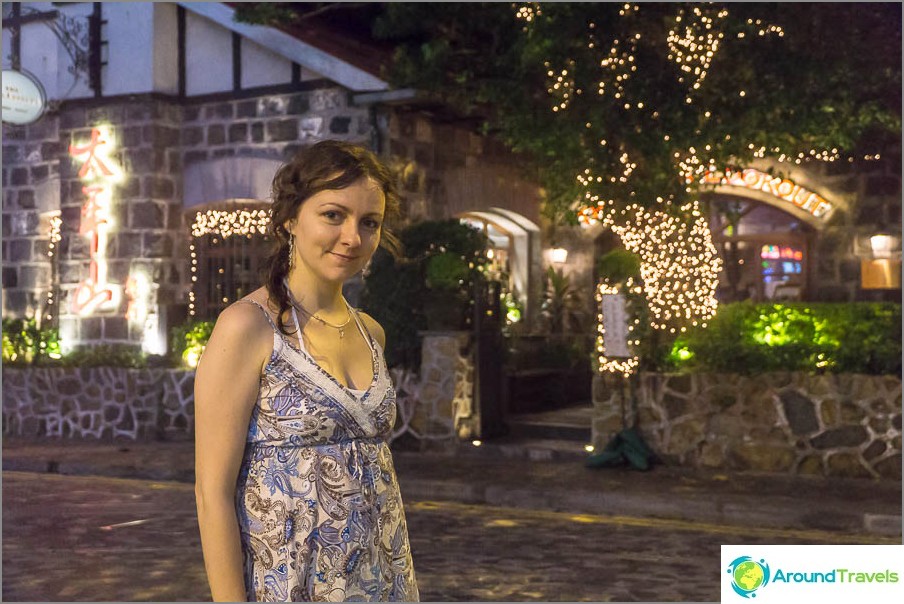 Hong Kong Park
Oleg was scheduled for the next evening.two walks to different places at once, and since we wanted to visit the park before dark, we even had a jog rather than a walk. But despite the fast pace, we managed to stop looking at all the pleasures of the park's landscape finds, and in the end gave Yegor a little to play on the multi-level playground. Generally, somehow they are very comfortable there and they are very healthy that the park is not flat, but rather multi-step, due to this many places are very interestingly beaten, but you won't have to walk around with the carriage, you have to carry it on your hands.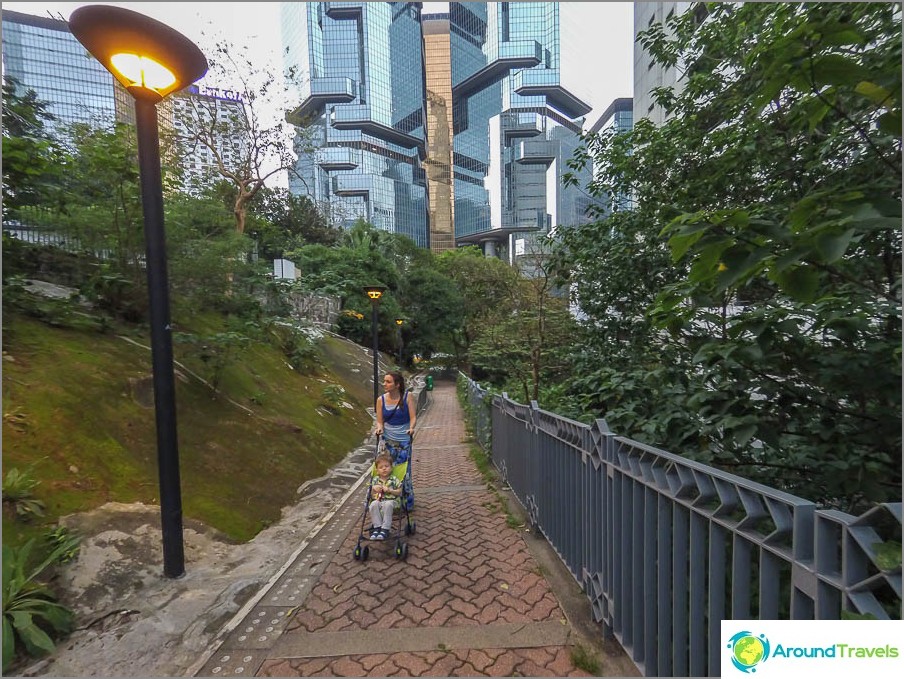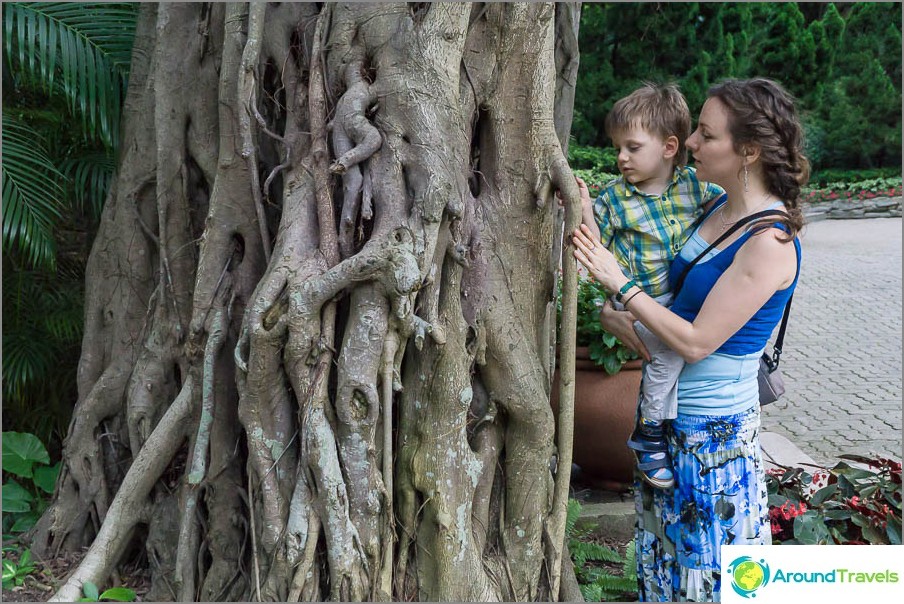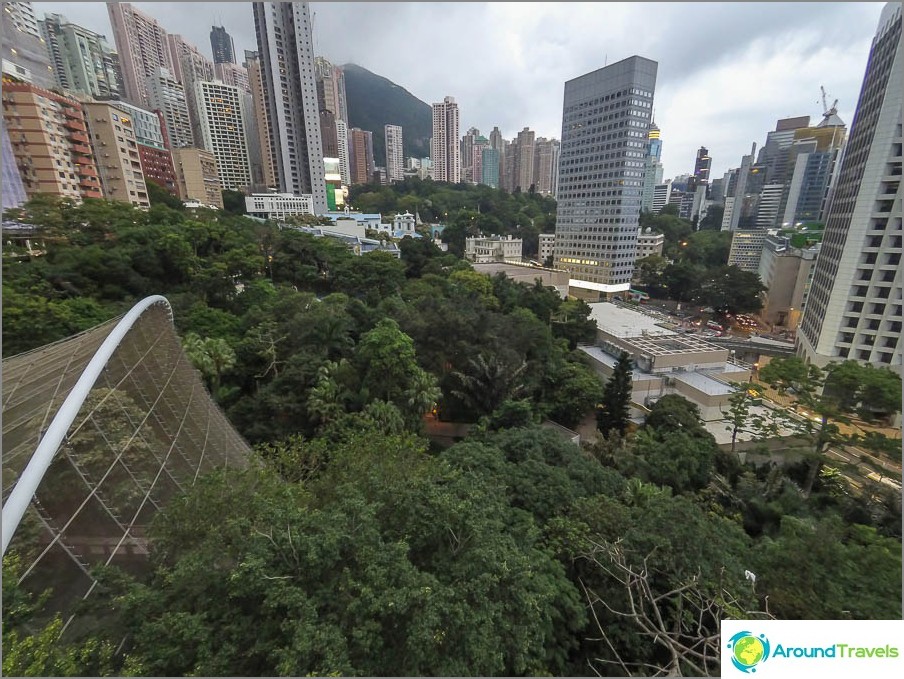 Avenue of Stars
It so happened that we were in Hong Kong during the seasonrains, so we wet often. So, along the Avenue of Stars, we walked with slow rushes from the roof - to the canopy. But what is great is: wherever we stand, everywhere there is a very beautiful view of the city's skyscrapers on the other side of the river, wherever we hide from the rain, everywhere music of street musicians was heard, and there are a lot of them there and they are great, I liked it . Well, as it turned out, we were not just going somewhere, but Oleg led us to the cafe to finish the evening with a pleasant cup of cocoa.
The only pity is that the Laser Show did not take place that day, although we were sort of at the right time and place. What is it like, Oleg already wrote in his post about the Avenue of Stars.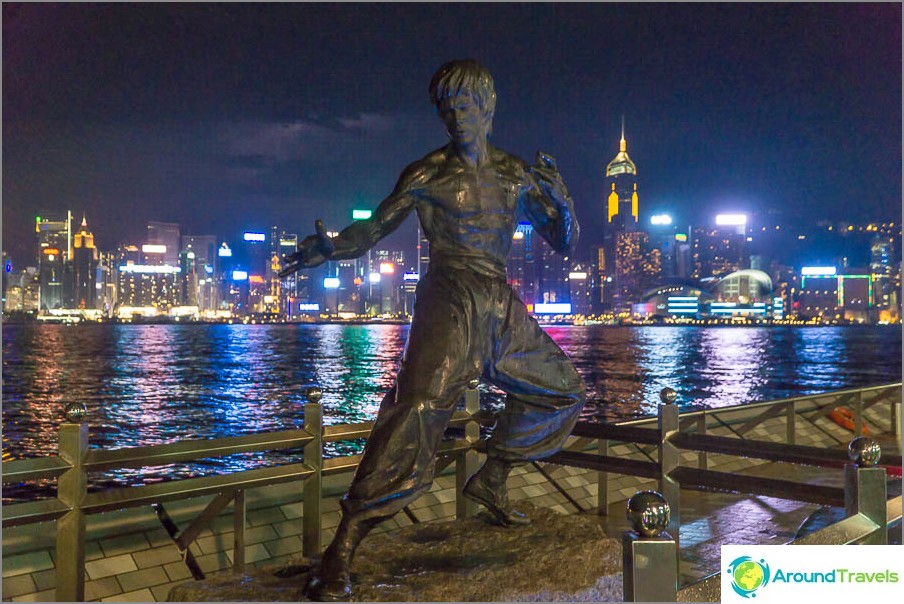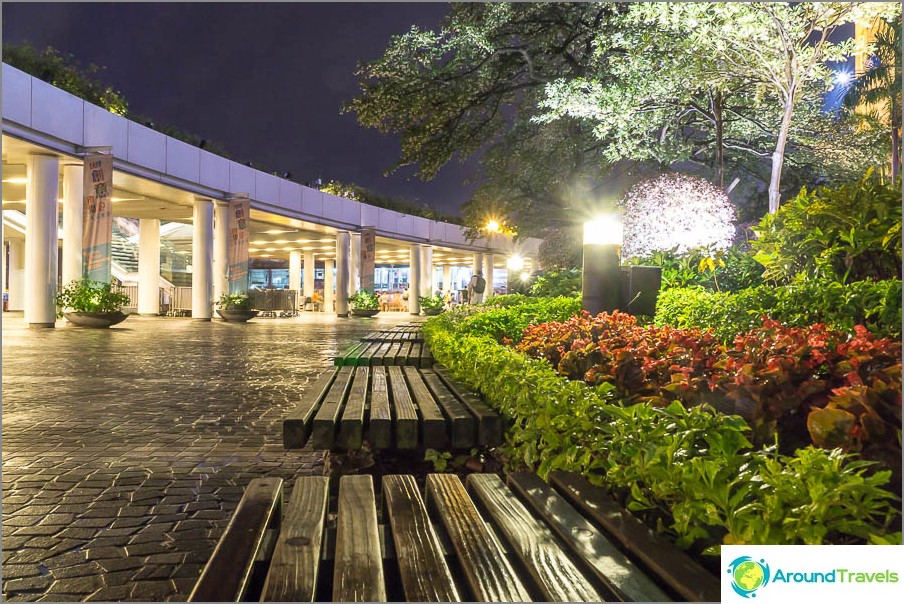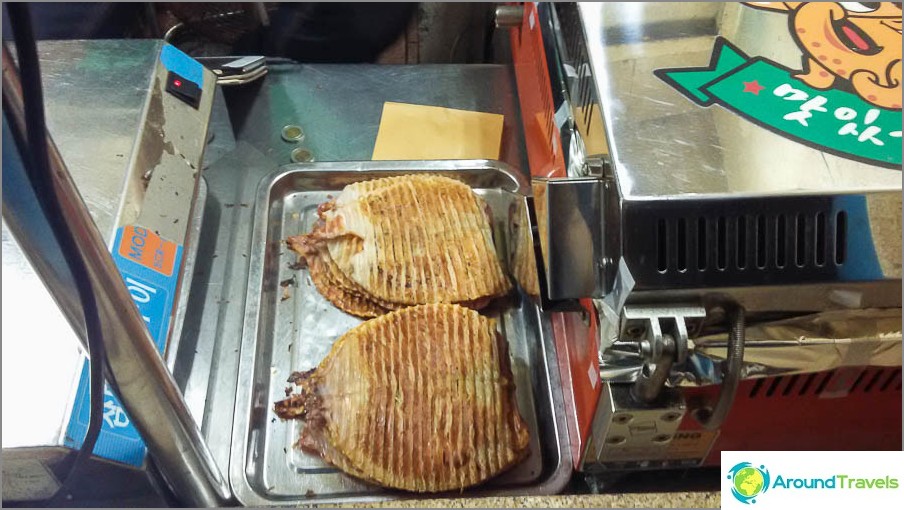 Science Museum
It was raining, and this was our last night atHongkong and really wanted to go to a place where both Egor and us would be interested. Oleg proposed the Science Museum, promising that there is a lot to touch and Egor should like it there. Those. We went there mainly for Egor, but in the end we got a lot of pleasure ourselves. We somehow did not understand right away that the museum consists of several floors and the higher, the more interesting, so we spent too much time at the very bottom, giving Egor the opportunity to study everything with pens. And then, when only half an hour remained before the closure and there was no one else besides us, we ran through the whole museum and ourselves, really like small children, everyone felt, tugged, touched every now and then, called up each other to show another cool thing. It was a slight feeling and excitement from the fact that we fell a little into childhood! Read more about our enthusiasm about the Museum of Sciencein a separate post.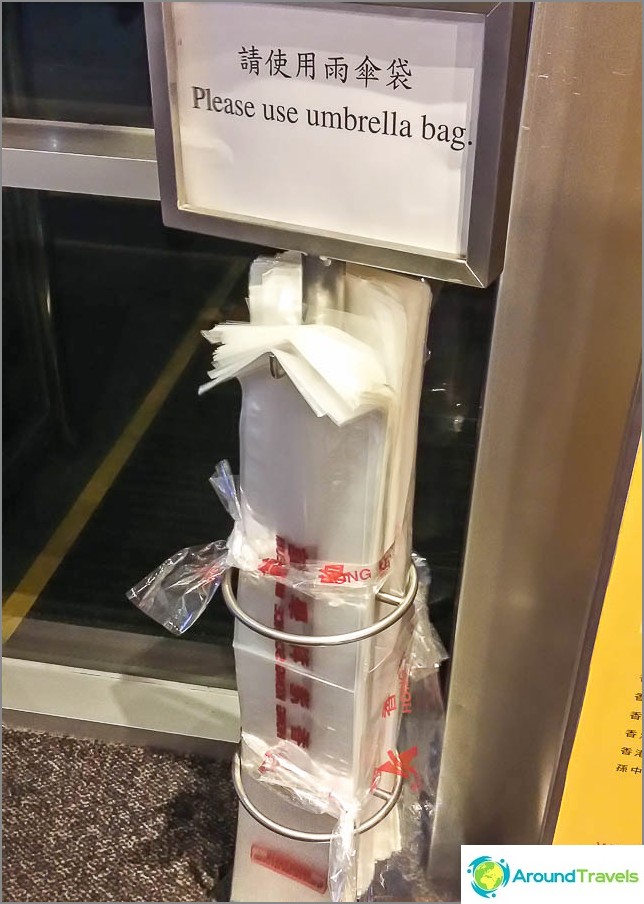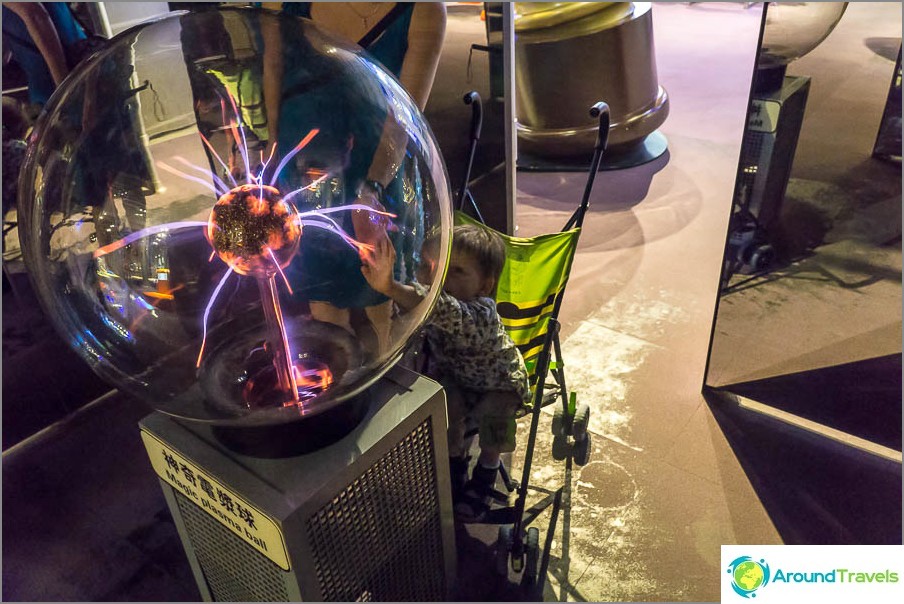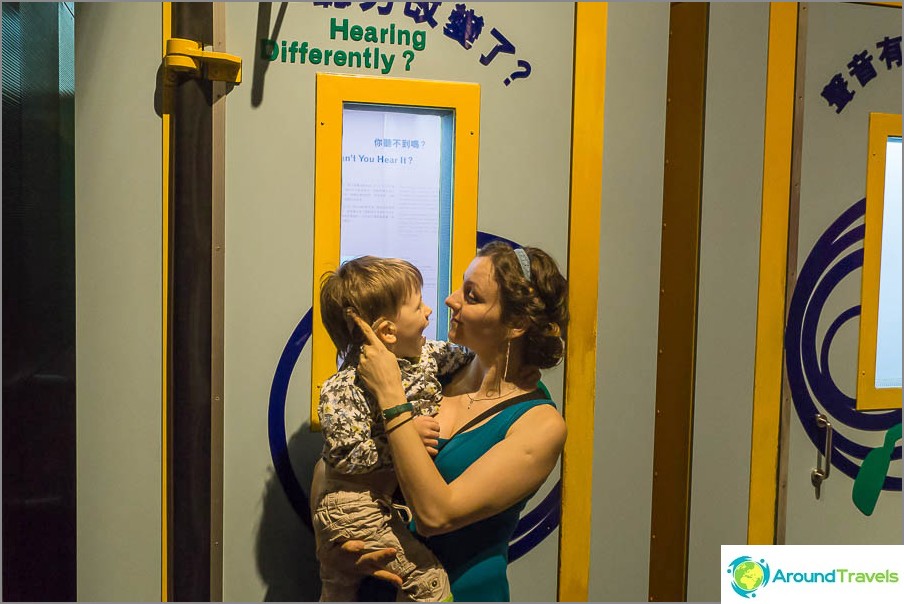 Flight Hong Kong - Moscow
The flight to Moscow began surprisingly for us,because we, with surprise still at the airport, concluded that the special escort in Hong Kong is the worst thing we have ever met. We refused the wheelchair, but still less hoped that, as always, the airport employee would lead us out of turn, as they did in other countries. But this did not happen, we were simply led by signs, put in the end of the queue and said "I will wait for you on the other side." Advanced Hong Kong - and there is such a strange service! We were surprised, to put it mildly, because the meaning accompanied by immediately lost.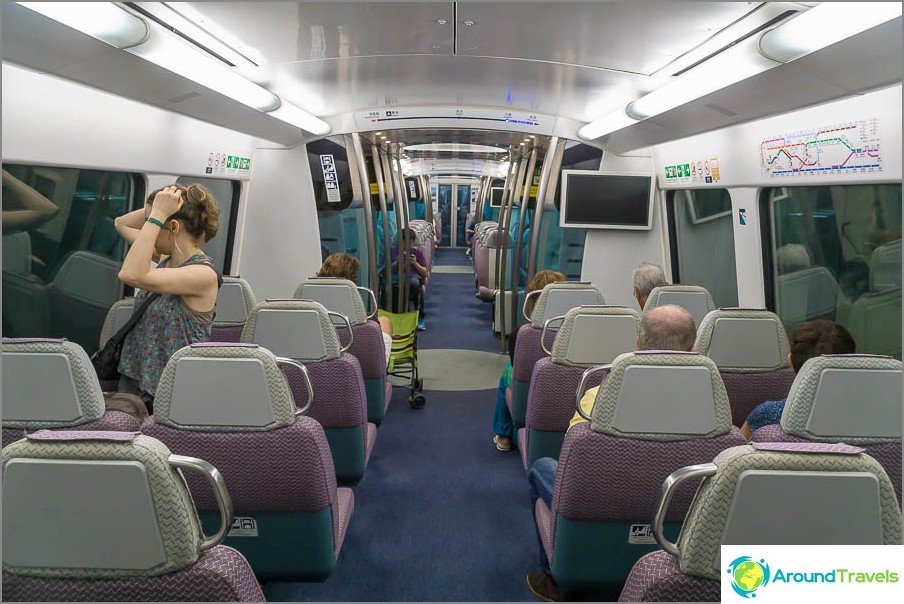 But the flight itself is very brightenedacquaintance and communication with a pleasant family - readers of our blog. As it turned out, there were another pair of readers on the plane, but they were too shy to approach. The world is small, however!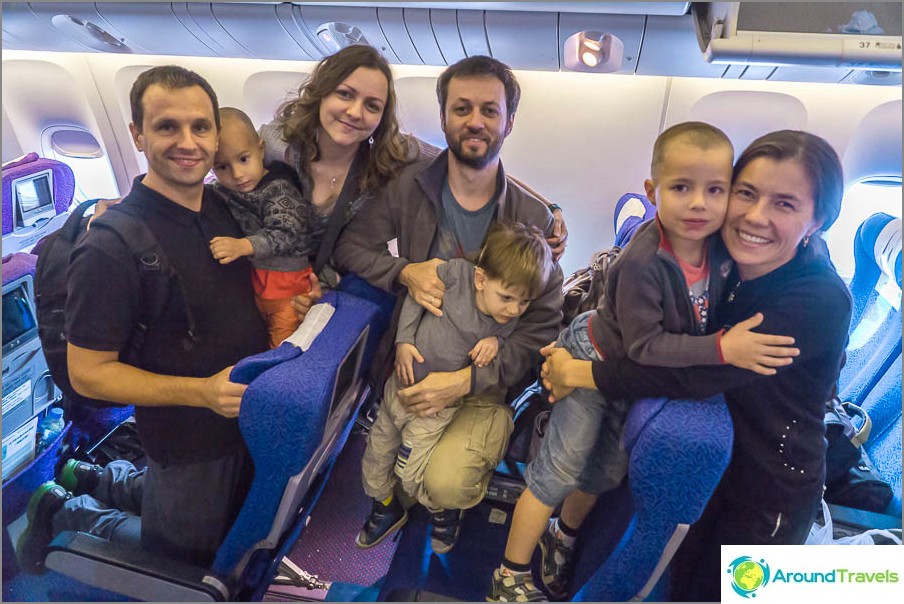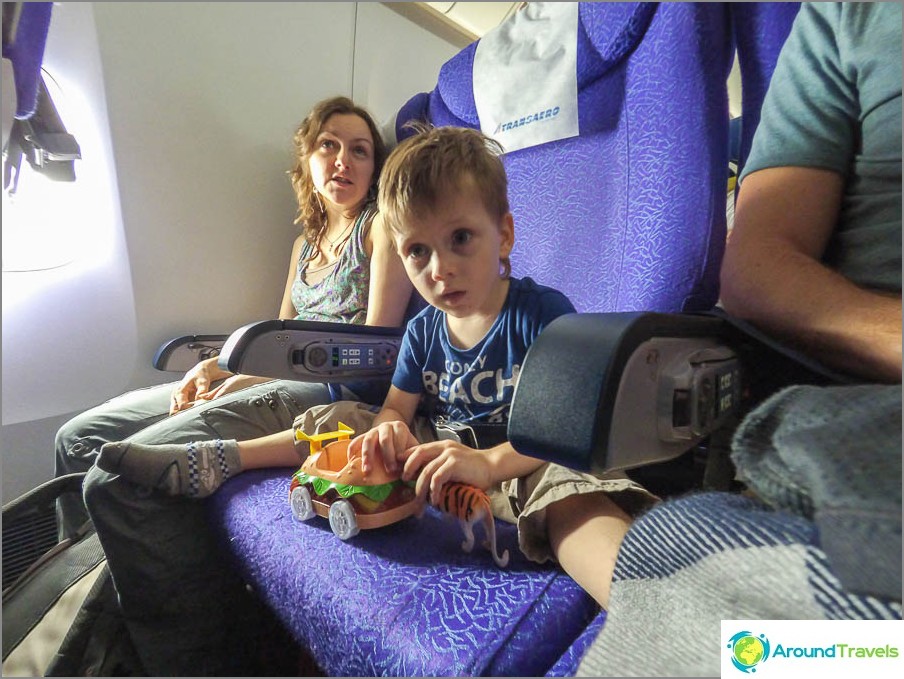 Well, our Egor, miracle boy, even though he slept in allan hour (and we hoped that he would give us more time), behaved very nobly and began to touch the neighbors by the hair just at the very end of the flight, and so: he drew all the way, read books with his mother, played toys prepared in advance and I ate with my dad buns, although usually we do not give him flour. And, despite the fact that the flight was delayed by more than an hour (despite the fact that we were already on the plane), these 10 hours of flight flew somehow calmly and even interestingly. Although it may well be that we are now after our first long thrash trip to bangkok a couple of years ago, everything now seems simple.
P.S. From Oleg: then about some place where we were, there will be separate short posts with photos
Life hacking 1 - how to buy a good insurance

Choosing insurance is now unrealistically difficult, so to help all travelers, I compile a rating. To do this, I constantly monitor forums, study insurance contracts and use insurance by myself.

Life hacking 2 - how to find a hotel 20% cheaper

First, choose a hotel on Booking. They have a good offer base, but the prices are NOT the best! The same hotel can often be found 20% cheaper in other systems through the RoomGuru service.

Discount hotels