No, I did not fall from the bike, although the whole hand looksso bandaged. Tritely formed a furuncle on his elbow, apparently combed his dirty hands. That's right just recently I thought that insurance should be checked, get a new experience and here you are on. Maybe, if it were not for the blog, I would not have gone to the doctor, I was used to delaying everything until the last moment. But in this case, I later read the post factum, it still made sense to go to the hospital, and then you never know what, the consequences could not be very. Moreover, I didn't sleep at all one night, it was better not to bend anywhere, it's better to be safe. Actually, for this insurance, we do. In general, catch fresh experience on the work of the company ERV.
The content of the article
Call insurance
Life hacking. If you buy by the link, it will be cheaper by 12% and will give the option "Telemedicine" as a gift. These are online consultations with Russian doctors, you can always find out if you already go to the hospital, clarify the appointments of the Thai doctor, ask about medicines, etc. detailed instructions.
ERV insurance with 12% discount>
Let me remind you that I have ERV coverage with annual coverage100 thousand dollars, the one that I advised all of you a couple of months ago. Insurance works not only in Thailand, but around the world. As you can see, everything that I recommend here on the blog, I use it myself.
I called the insurance ERV by phone specified inPolis (they have their own Euro-Centr assurance), told what was the matter. Somewhere in about 40 minutes they called back to the Thai number and at the same time came a text message to the Russian number with the name of the hospital. Sent to Samui International, about which I wrote a couple of years ago. Warned that the guarantee letter will beto act until 12 at night, so that I could get to this time in the hospital (it was in the evening). They promised that after 30 minutes after the call, the letter of guarantee should definitely be on the hospital. They asked for travel dates and a photo of the stamp and passport, well, all of a sudden, I bought insurance while I was traveling.
Well, it was interesting to check whetherletter of guarantee on time, so I drove somewhere in half an hour, my hotel was just 2 km away from this hospital. The letter of guarantee lay in place, right on top of all the papers. But the visit to the doctor did not take place. We looked at my elbow straight at the reception and realized that we need another doctor, who will be tomorrow at 6 pm only, a therapist. Apparently, it was initially thought that I had something with a bone because of an accident or just a fall, because I started to talk about X-Ray, but I immediately said that the problem is not a fall.
I know Samui International Hospital is notthe best hospital on the island, but my problem was not very serious, so I did not ask at Bangkok Samui Hospital. However, when I asked about insurance from him by telephone (just for the sake of interest), they told me that they only send him there in extreme cases, for example, when the question of hospitalization is coming. Well, we must understand that on Samui, in principle, all hospitals are not ice, if we are talking about the professionalism of doctors, so it is not such a big difference, so it is clear that conditions at Bangkok Samui Hospital are better.
Reception at the doctor
I went to the doctor the next day at the appointedtime. There was no guarantee letter, although I coordinated the visit with the insurance. You remember, yes? That every visit to the hospital should be coordinated, no initiative, even if the workers at the hospital do not say a word about it, or vice versa, they say that they come and you can not call anywhere.
So I called the insurance again and theypromised in 20 minutes to send a letter of guarantee. I also asked them to indicate something in the letter that this guarantee of payment was direct, that my passport would not be taken away. An announcement hangs at the reception that a passport or cash deposit is taken away in any way until they receive a guarantee of payment, and it takes 3-4 days, and my flight to Phuket was just planned. While I was at the doctor's office, a letter arrived in those same 20 minutes, and I was immediately returned my passport. Insurance worked as it should. I remember Liberty, a passport, really, then after 3 days I came to pick it up.
Examination by a doctor took a couple of minutes. I don't know how obvious everything was, but I didn't look at all. I wrote a prescription, said that it would be necessary to come a couple more times so that they looked and made a dressing. After that, the nurse removed all unnecessary, washed and bandaged (purely for fixing hands). From drugs gave 3 drugs: antibiotics, anti-inflammatory, and painkiller.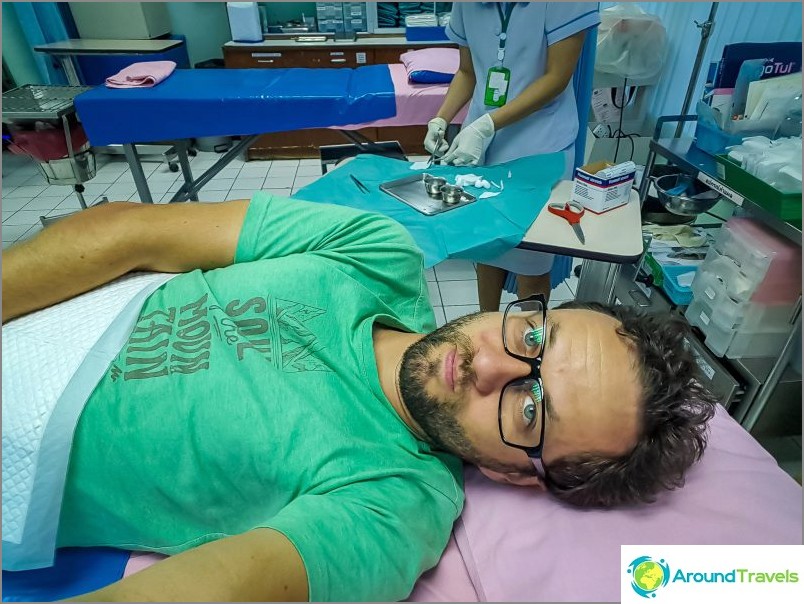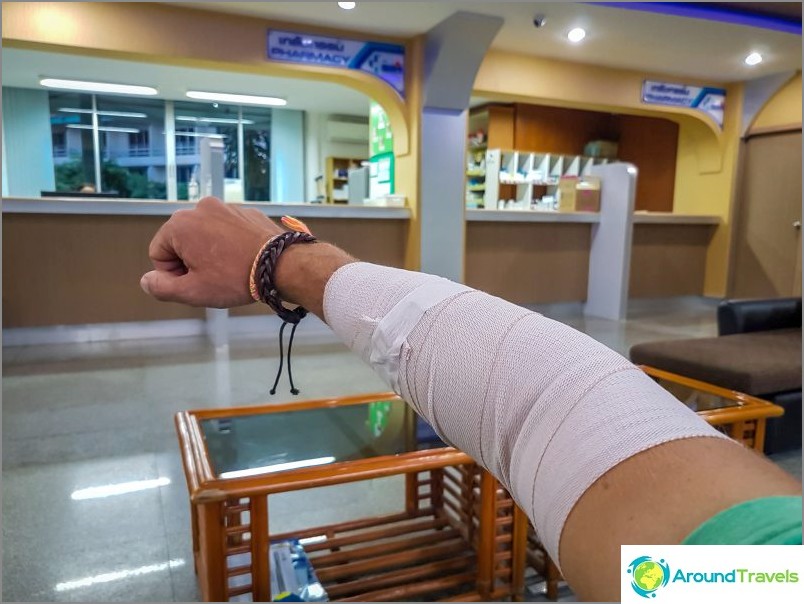 Score
Be sure to read my main post about insurance. There I have a fresh rating of insurancecompanies that are worth buying now, as information often changes. Also, there are all the answers to your questions: what is asistens and why it is important, how to use it correctly, which options should be added and which ones should not, and so on.
The bill for all together amounted to 4542 baht. That insured woman and strayed, and after all another 10 months will act. Although, if you do such procedures somewhere in Nathon (there is a cheap Thai hospital), I think I would give about 1,000 baht for everything.
A day later I came again. Previously, coordinating this visit with the insurance. The second time the bill was 500 baht, and the letter of guarantee was waiting for me when I arrived, that is, I did not even try to take my passport.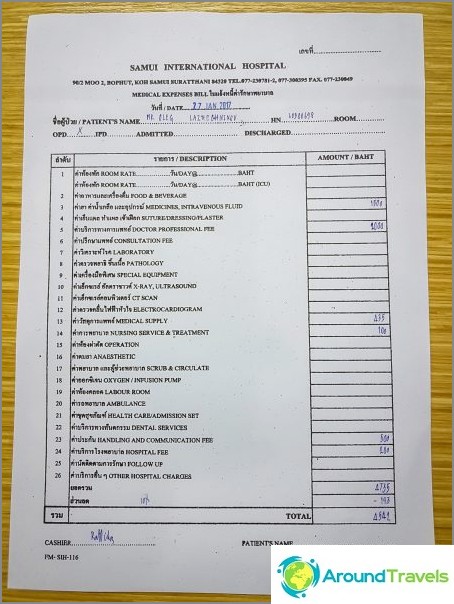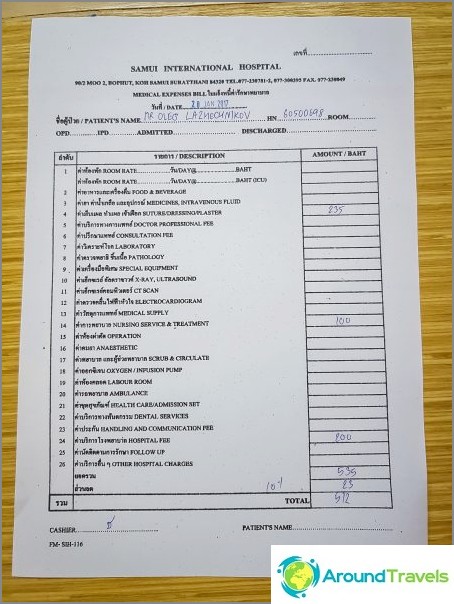 On the map
Samui International Hospital
Samui International Hospital
The second highest quality hospital in Samui (the first Bangkok Hospital). Service and qualifications of doctors are normal, the staff speaks English. Popular with tourists hospital.
Read more.
The second highest quality hospital in Samui (the first Bangkok Hospital). Service and qualifications of doctors are normal, the staff speaks English. Popular with tourists hospital. More details.
P.S. They say that in serious situations the EPB is still operational and works well, as was with me a year ago. You understand, I am glad about my personal experience of telling, but it is this experience that I really do not want to receive.
Life hacking 1 - how to buy a good insurance

Choosing insurance is now unrealistically difficult, so to help all travelers, I compile a rating. To do this, I constantly monitor forums, study insurance contracts and use insurance by myself.

Life hacking 2 - how to find a hotel 20% cheaper

First, choose a hotel on Booking. They have a good offer base, but the prices are NOT the best! The same hotel can often be found 20% cheaper in other systems through the RoomGuru service.

Discount hotels