Recent years, the purchase of real estate abroadhas become quite commonplace. It is understandable where else you can buy a good house or a large apartment on the shore of a lake or the sea at the price of budget accommodation in Moscow. Moreover, the country will be European with its inherent comfort, civilization and infrastructure. Therefore, for those who often travel to Europe, the choice is obvious. In addition, the undoubted advantage will be the fact that owning real estate, it is much easier to get a Schengen visa, and most likely it will be given immediately for a long time. And in some countries you can even get a residence permit after a while. For these reasons, people come to the idea of ​​buying a house on Lake Como, which I will discuss below.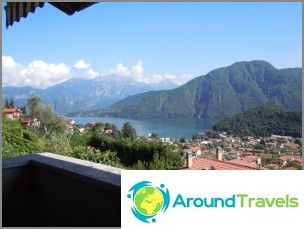 One of the nicest places to live orlong rest, is Lake Como, the third largest in Italy, and in depth so generally one of the deepest in Europe. Its length is 147 kilometers, and throughout the coastline there are many villages and small towns. From all sides Lake Como is surrounded by picturesque mountains, and therefore the view from the window of your new home will be excellent. Thanks to the local beauty, this place is favored by the directors, so the surroundings of the lake can be seen in such famous films as Ocean's Twelve or Casino Royal. However, not only the directors liked Italian landscapes, combining the severity of the north and the lush vegetation of the Mediterranean, some of the celebrities have already purchased a villa here, for example George Clooney. Buy a house on Lake Como</a> can and you!
The climate here is mild and humid, and the Alpine mountains protect from the wind. Half year, the temperature is about 22-25 degrees above zero. But in the winter weather contributes to the rest.
Many famous people stayed at Lake Como.people: Janne Versace, Madonna Winston Churchill, John Kenedy, and even our Russian empress. But now the heads of state visit this place. Many villas on the shores of the lake were built a long time ago and have their own history and their own special atmosphere. Some of them are still owned, others have turned into hotels and receive tourists from all countries. And how many viewing platforms here, do not count! Therefore, even if you don't even think about buying a house on Lake Como, then at least it's worth visiting the local surroundings. True, I'm afraid that after the trip, you may change your mind and want to stay here for the rest of your life.
Life hacking 1 - how to buy a good insurance

Choosing insurance is now unrealistically difficult, so to help all travelers, I compile a rating. To do this, I constantly monitor forums, study insurance contracts and use insurance by myself.

Life hacking 2 - how to find a hotel 20% cheaper

First, choose a hotel on Booking. They have a good offer base, but the prices are NOT the best! The same hotel can often be found 20% cheaper in other systems through the RoomGuru service.

Discount hotels