To make the information on my blog more complete,Let there be another list of things on the sea, provided that you are going to rest in a hotel. We often sometimes forget the necessary things, so this list will help you. If you are going to go to the sea in a camping or just with a tent, then you are more suitable. list of things on the sea in a camping. Lists of things partially overlap, but each takes into account the specifics of a particular trip.
(!) It is not necessary to take all things, God forbid! Here is a list of those things that, in principle, can be useful to different people. Simply, when there is such an extensive list before my eyes, I immediately understand whether I forgot what to take and what to push off from. So everyone will have their own way. We do not take half of this, so we don't post our personal list.
The content of the article
List of things at sea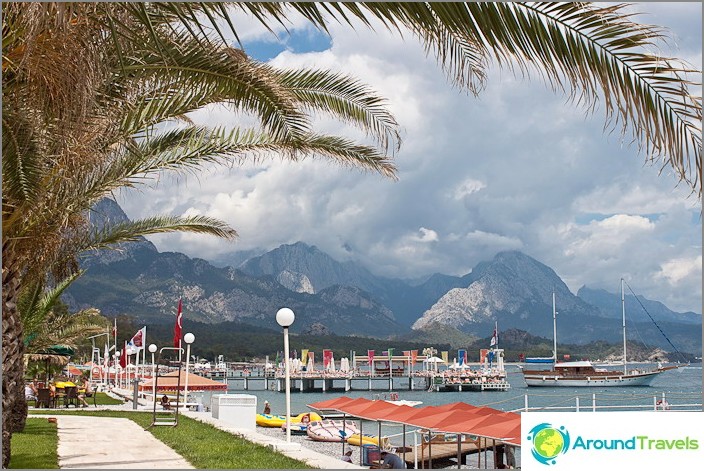 Main things
- passport of the Russian Federation, passport for travel abroad, ticket, money, plastic cards
- backpack / suitcase / bag
- beach bag / small backpack
- map and guide
- Phrasebook
- notebook, pen
- sunglasses
- Books and magazines
- handkerchief
- mobile phone with roaming enabled, charging
- player with batteries
- netbook / laptop
- camera and batteries / rechargeable batteries, memory cards, cable to camera / card reader
Things on the plane
- inflatable road pillow
- blindfold from the light
List of things for the sea
- mattress for the sea
- mask with snorkel, flippers, coral slippers
- towel for the sea
To the hotel
- adapter for euro sockets
- road iron
- hair dryer
- fumigator (from mosquitoes), plates
- ordinary rope
- clothespins
- boiler or small electric kettle
Hygiene
- soap, shampoo, shower gel, toothbrush and paste, and other means
- deodorant
- razor and shaving cream
- toilet paper
- cotton swabs, cotton pads
- wet wipes
- pads, tampons
- toothpicks
Cosmetic bag
- hairpins, krabik, gum
- tweezers
- small scissors
- hairbrush
- file
- mirror
- nail polish
- hair products
- moisturizing cream
- hand cream
- hygienic lipstick
- earplugs, can be useful with noisy neighbors or music outside the window
- bijouterie
- needles, threads, buttons, pins
First aid kit
- patch
- iodine
- aspirin / paracetomol / nurofen (all or one)
- rehydron and smecta
- noshpa
- asterisk
- cream after sunburn and sunscreen
- suprastin
- broad-spectrum antibiotic
- anything from motion sickness
clothing
- pajamas / night dress
- T-shirts / T-shirts
- something with a long sleeve from the sun
- headdress / bandana / panama / cap
- two warm things to put one on the other
- rain jacket
- jeans
- shorts or summer pants
- skirt / dress
- closed shoes / sneakers / sneakers, sandals / sandals, slaps
- socks
- elastic tights
- swimsuit, pareo, swimming trunks
- towel
- Underwear
What kind of things you can take with you to Asia
Since we most often go to Asia, and in particular to Thailand, and not on vacation, but for several months, we have formed certain sets of things. If you're interested, you can see the contents of my backpack for Thailandalso his light version (city backpack 30 liters). Just keep in mind that the last option for minimalists.
P.S. What else can you add to the list of things at sea, when you are going to rest at the hotel? And who writes that things are too much - read the second paragraph from the top.
Life hacking 1 - how to buy a good insurance

Choosing insurance is now unrealistically difficult, so to help all travelers, I compile a rating. To do this, I constantly monitor forums, study insurance contracts and use insurance by myself.

Life hacking 2 - how to find a hotel 20% cheaper

First, choose a hotel on Booking. They have a good offer base, but the prices are NOT the best! The same hotel can often be found 20% cheaper in other systems through the RoomGuru service.

Discount hotels