Abkhazia one day ... Is it worth it or not? So we thought, sitting in a campsite on the beach near the village of Lazarevskoye. One-day excursion cost quite decent compared to independent visit, and we got used to somehow ride ourselves. But there was little time, and it was decided to go! I really wanted to look at the beauty of Abkhazia, and compare what is now with my childhood memories of the 80s.
Report on a trip with an excursion to Abkhazia one day: Pitsunda, Lake Riza, New Athos
Excursion included visiting Pitsunda, lakesRitsa, New Athos (Novoafonsky caves and Novoafonsky monastery). I, frankly, do not like temples, museums and other things. Therefore, I was, above all, interested in the views from the bus and Pitsunda, I wanted to see what has changed. My wife was interested in everything; she was never in this mountainous republic. Of course, in order to soak up the atmosphere of the place, you need to go there not in the tour bus, and not one day. But this is another time.
We left at 5 am from Lazarevsky, to the borderAbkhazia a few hours, not far. The way there we were brightened by the stories told by our local guide from Sochi. The passage of the border took about an hour. Organized tours pass quickly. Although independent travelers do not delay. The border with Abkhazia is quite conditional. Immediately after the border point, a local guide visited us and talked almost all the way, which was interesting enough, although now there is almost nothing left of this information in my head. I remember that the prices of rooms in newly built boarding houses were called, and I did not like them. The private sector in Abkhazia, I think, will be much more budget.
Views from the bus fascinate. On the one hand the sea and the rusty railway with dilapidated stations, on the other hand the most beautiful mountains covered with forests. Everywhere there are abandoned houses without glasses. In a country of devastation ...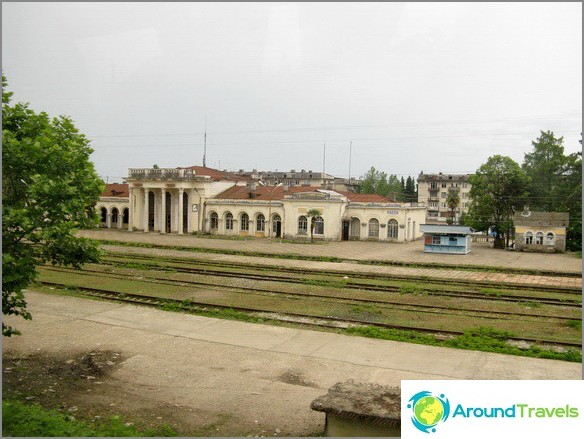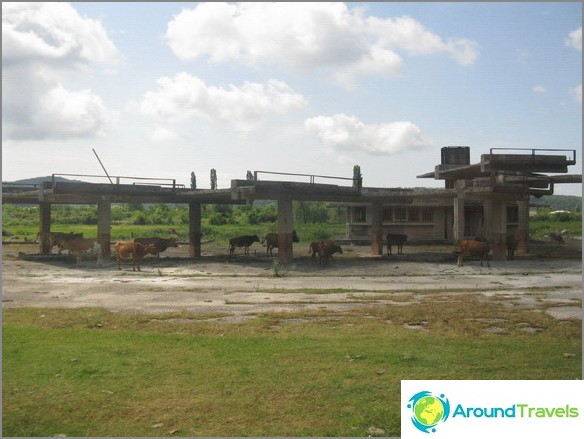 </a>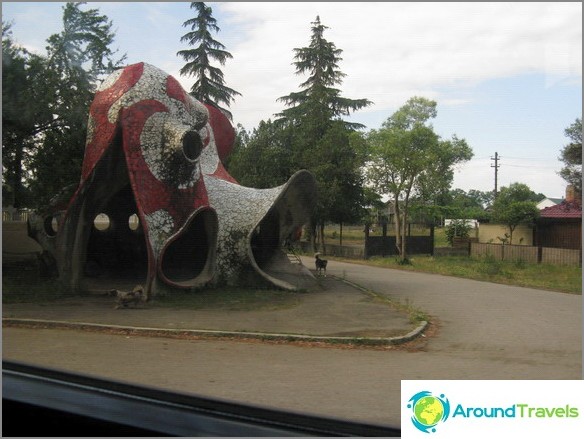 It's a shame, such a picturesque country, and such in itgoing on. Flashed outside the window of Gagra, also all in desolation. The buildings are shabby, thank God that the arboretum in Gagra has been preserved, but nature takes its toll, trees destroy asphalt, vines braid buildings. Still photo of Abkhazia.
We arrive in Pitsunda - the same picture: cracked tile on the embankment, overgrown with grass, the sea, littered with branches, beached.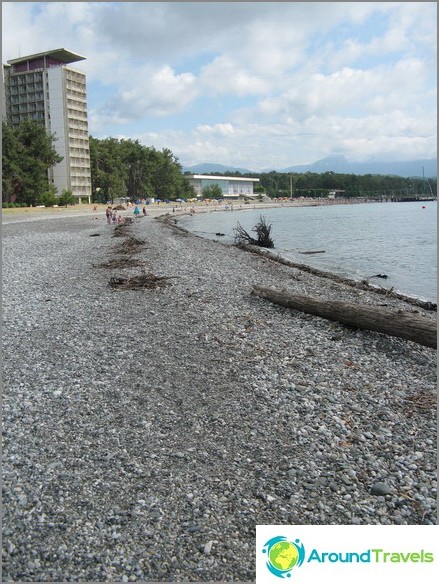 Buildings of the boarding house apparently too long agorepaired, some buildings are generally closed. You look at it and think how short-lived the creations of human hands are. Awesome picture, just a couple of decades, and there will be a jungle.
There are few holidaymakers, but this is good, afterovercrowded metropolis, the most it! In Sochi and nearby villages, crowds of people will not be able to rest exactly, for example, on the beach there you can only sunbathe while standing. And why do so many people travel by seals to the Black Sea, it is better to go sunbathing in Turkey. You give savages rest on the black sea! In general, it makes sense to go to Abkhazia for a quiet, relaxing holiday, with family and children. Hang out here especially nowhere, probably because of this we are here even more like it. After all, instead of a cafe, you can see a large number of natural beauties and for little money.
There are few local residents in Abkhazia, they liveit's poor, and therefore, in the tourist season, they are trying to earn as much money as possible, since there is practically no work there. But prices in Abkhazia are still significantly lower than on the Russian coast, and the private sector, and local food, and excursions. And their attitude to visitors is very good.
The next item is Lake Riza. Unfortunately, the guide took only an hour to Pitsunda to catch the rest. The road to the lake ran through the mountains, in a beautiful gorge, along the river Bzyb.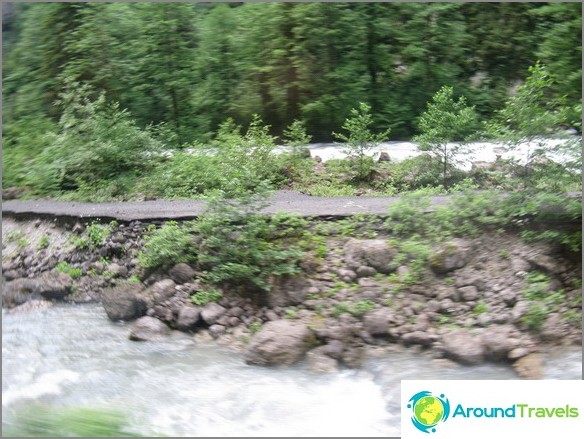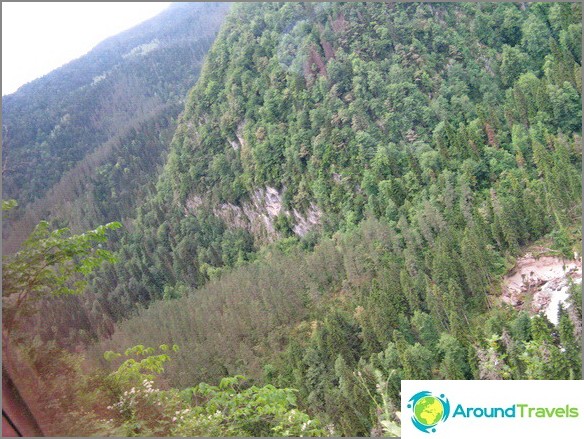 On the way, you can buy Abkhazian honey and achmu ...Tasty stuff. As we understood, each guide has an agreement with certain points of sale of food and cafes, so the bus stops only near them, but it is explained to us: they say it is dangerous in other places. Competition! Although it is necessary to be really careful with food, for example, at the market near Blue Lake, along the way, baklava and achma, turned out to be the same age as my grandmother, and they could compete firmly with bricks.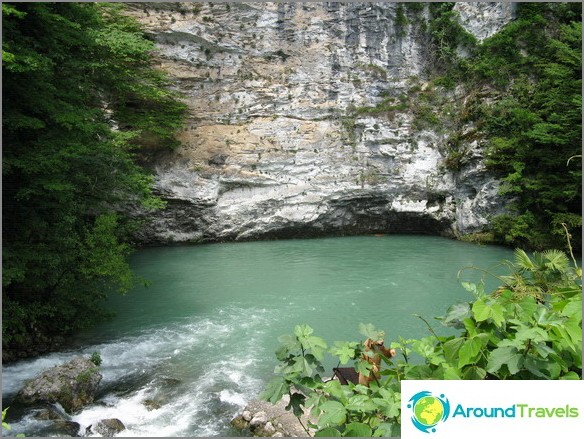 Lake Ritsa is a large lake surrounded by high mountains and with which many legends are associated. On the opposite shore is the cottage of Stalin.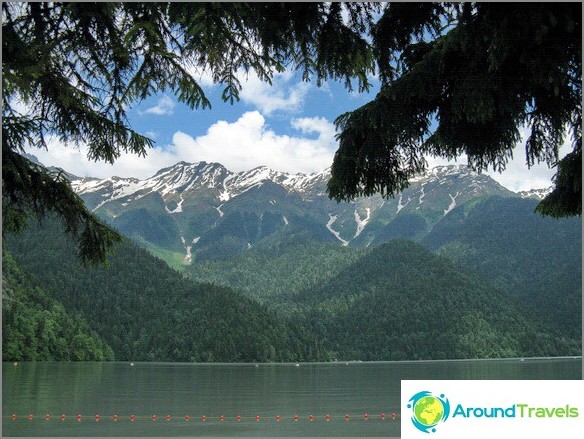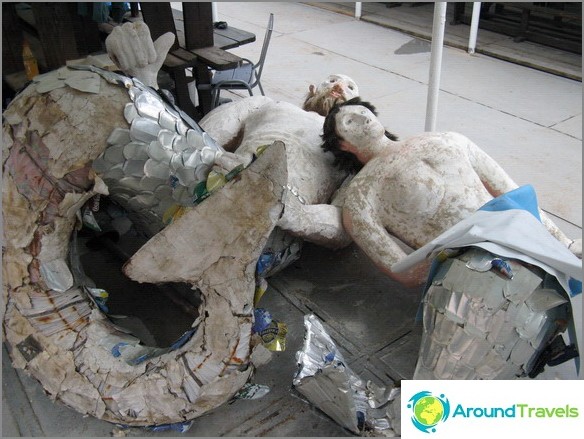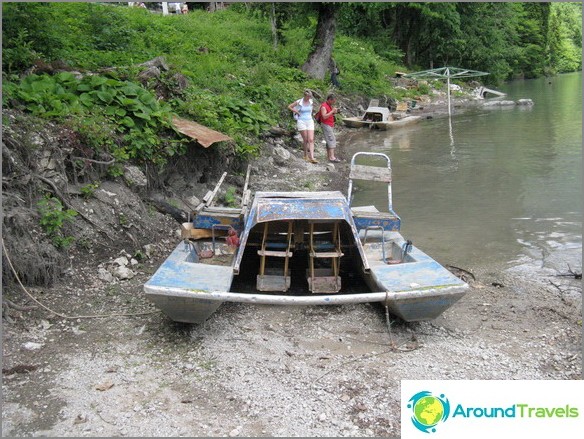 Then we came to New Athos, to the monastery and caves. At the ticket offices in the New Athos caves there are a lot of people, but we missed us as a tour without a queue. We forgot to buy a photograph ticket, but no one subsequently checked us. We went into the hall, decorated with granite, with Abkhaz panels on the walls, then we were waiting for the local subway - small and rattling carriages, which carry tourists to the cave and back. In the cave about 10 degrees, well, that took warm things. It seems to me that the interior of these caves is similar to one another. I traveled before to the Azish cave in Adygea, and I saw about the same thing: stalactites, stalagmites, stalagnates. And photos in the dark are badly received.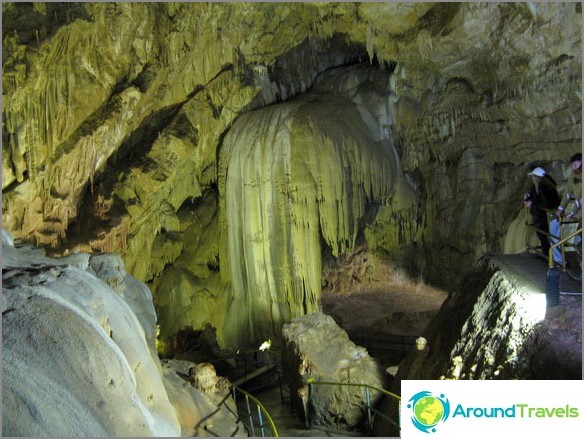 Novy Afon Monastery is located on a hilland there you have to go uphill, so for the lazy pilgrims, the local organized a transfer - a "comfortable" Soviet-era truck, with seats in the back, ride 5 minutes. The building of the monastery is being repaired, half the work has already been done. Inside the temple, on the high arches, traces of bullets.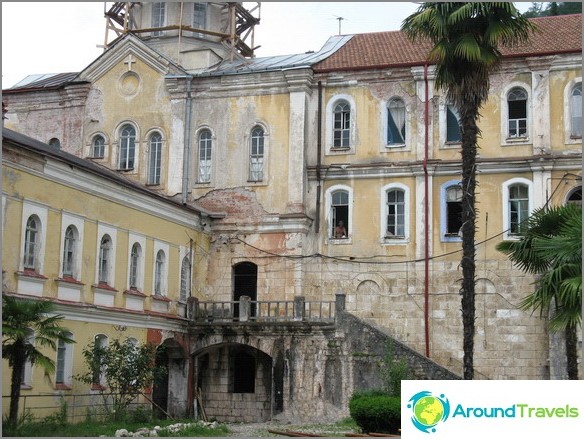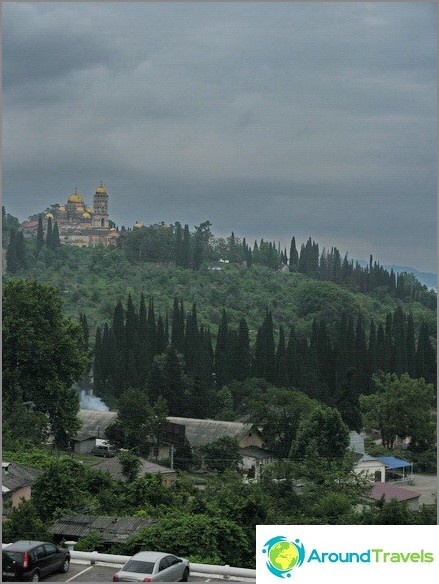 Immediately, in New Athos, we were all fed in a cafe. We didn't like mamalyga (national dish), maybe we should eat it with something ...
Sleep on the way back, still exhaustingvisiting in a hurry so many places. Now we definitely want to return to Abkhazia for a holiday, but for a longer time, and on our own, to immerse ourselves in the atmosphere of this fabulous country and enjoy its natural beauty.
By the way, we asked the guide abouthiking in the mountains of Abkhazia, and so, she urged us not to do this, only if with a well-known local guide. Reinsured?